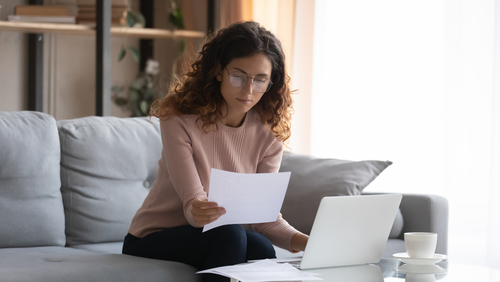 If the pandemic has caused you to fall behind on one or more of your bills, you may start hearing from a company called ACS Inc.
They are a third-party debt collection agency that specializes in recovering payments on behalf of creditors, lenders, and service providers.
They rely on a number of unpleasant tactics in order to collect payments from you, but that is not the scariest thing about them.
Because they must open a collections account on your credit report in order to collect your money, they can have a detrimental effect on your credit in the long run.
The best way to prevent a debt collector from damaging your credit significantly is to remove the collection account from your credit report.
This often involves taking advantage of your rights under federal law and even striking a deal with ACS Inc.
What is ACS Inc?
Many people will naturally question the legitimacy of a company that calls them out of the blue demanding money.
In fact, there are a lot of people that consider ACS Inc to be a scam.
However, they can be considered legitimate if they have acquired your debt through legitimate means and can provide proof.
Originally founded in 2012, ACS Inc is a medium-sized agency that is headquartered in Clearwater, FL.
They collect consumer debt in a variety of industries, including utilities, telecommunication, and automotive.
How Does ACS Inc. Make Money?
So, how exactly does a debt collector like ACS Inc make money?
They acquire old debts from original creditors and turns a profit by collecting payments from consumers.
They can acquire the debt in one of two ways: being hired as a third-party collector by the creditor or purchasing the debt at a discount.
If your original creditor has outsourced the collection process to them, they make a profit from whatever they are being paid for their services.
If they have purchased the debt at a discount, ACS Inc makes money off of the difference between what they paid and what they collect.
From there, ACS Inc makes it their mission to collect payments from you in whatever way they can.
Their tactics are often more unpleasant than whatever your original creditor attempted.
Get a Free Copy of Your Credit Report
How to Deal with ACS Inc
There are a series of steps that you can take to get ACS Inc off your back – and your credit report.
Know Your FDCPA Rights
Debt collectors are notorious for being difficult to deal with and even abusing their customers in an attempt to collect money.
Luckily, there is federal law in place that prevents these practices.
The Fair Debt Collections Practices Act is a federal law that was enacted in 1977.
Its main purpose is to ensure that debt collectors treat consumers with respect and professionalism throughout the collection process.
Under the FDCPA, debt collectors are prohibited from:
Calling before 8 a.m. or after 9 p.m.
Using profanity or abuses when communicating with the customer.
Contacting customers at work or at a time they have previously said is inconvenient.
Contact friends, family, or coworkers about a debt.
Continue to call after a customer has requested communication via U.S. mail.
Failing or refusing to validate a debt
ACS Inc and other debt collectors will often commit FDCPA infractions under the assumption that their customers don't know about their rights.
After all, you can't report them for wrongdoing if you aren't aware of your rights in the first place.
That is why it is important to know what your rights are under the FDCPA.
This way, you can advocate for yourself if ACS Inc steps out of line.
Request Debt Validation
Requesting debt validation is the most time-sensitive step in the entire debt collection process.
Due to ACS Inc's history of shady debt collection, it is perhaps the most crucial step in the process as well.
Debt validation is a right that is granted to you under the FDCPA, and it is a way for you to verify that ACS Inc has all the correct information about your debt before you pay it.
However, you only have 30 days to request validation so act fast.
Debt collectors are required to have specific information about a person's debt in order to collect it.
They usually get this directly from the original creditor during the transition of the debt.
This is also information that they use to open an account on your credit report and prove that they are authorized to collect your debt.
ACS Inc may not have the proper information if they are trying to scam you out of money.
Even if they are legitimately collecting your debt, they may have information that doesn't match your original files.
Start by writing ACS Inc a letter that asks them to validate specific information about your debt.
This is known as a Section 609 letter and is the standard way of requesting debt validation.
ACS Inc should respond to your request within 30 days of receiving your letter.
If they are unable to provide debt validation, they are required to contact the major credit bureaus and remove the account.
If this all seems like too much, we recommend seeking help from a credit repair specialist.
Negotiate a Settlement
If ACS Inc is able to validate your debt, this is both good and bad news.
The good news is that they are not scamming you and are collecting a legitimate debt. The bad news is that you now have to pay them for the debt.
What they won't tell you is that they will sometimes let you pay less than the full balance.
This goes back to how they make money and if they purchased the debt at a discount.
If they purchased the debt, they don't need to collect the full amount in order to turn a profit.
They just need to collect more than they paid for it. This is how you can use your payments as leverage and negotiate a deletion at a lower cost.
Offer to pay them half of the total amount of your debt and go from there. They will likely push back, but you can often find an amount that they are willing to settle on.
It is important that you get ACS Inc to specifically agree to remove their account from your credit report.
This is how you can prevent the debt from damaging your credit history for years to come.
Once you come to a compromise, ask them to send you the full terms in writing.
Make sure that you receive the document and review it thoroughly before you submit a payment.
It usually takes about a month for a debt collector to delete an account from a credit report.
Monitor your report for a few months to ensure that ACS Inc deletes the account.
If their account is still on your report after a month or two, reach back out to them.
Remind them that you have the agreement in writing and that they need to follow through.
Does ACS Inc Have Any Complaints?
ACS Inc has had a number of complaints filed against them over the years.
They currently sit with roughly 40 complaints with the Consumer Financial Protection Bureau (CFPB) and about 200 with the Better Business Bureau (BBB).
Customers complain that ACS Inc is a scam and that they have infringed upon their consumer rights.
Specifically, customers say that they have repeatedly violated their rights under the FDCPA.
Conclusion
ACS Inc is a particularly difficult collector to deal with given their history of questionable scam behavior.
However, you can easily deal with them if you arm yourself with knowledge of the FDCPA and take advantage of your consumer rights.
Do you have any tips on how to deal with ACS Inc? We'd love to hear from you!