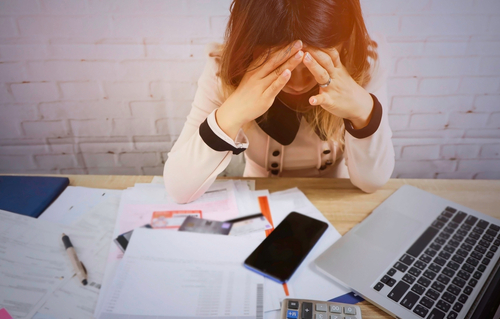 Ad Astra Recovery Services is a collection agency that may either call or write you about an unpaid debt.
Collection agencies either take over unpaid debts of an original creditor or purchase debts from the original creditor.
One way or another, you'll need to settle the account.
That means either proving it's not legitimately your account or having it removed from your credit report.
If you don't, the collection agency can bring a lawsuit against you, which will allow them to garnish your wages until the entire debt is paid.
To avoid that outcome, we're providing strategies for dealing with Ad Astra Recovery Services in this article.
About Ad Astra Recovery Services
Ad Astra Recovery Services is based in Wichita, Kansas, and began operations in 2007.
Unfortunately, very little information is available about the company on its website, which is not unusual with collection agencies.
In fact, the company doesn't even identify itself as a collection agency, but rather as a recovery service.
Otherwise, the website serves primarily as a payment portal for consumers to pay their accounts.
Is Ad Astra Recovery Services Legit?
Ad Astra Recovery Services is a legit debt collection agency, and has a Better Business Bureau rating of "A", on a scale of A+ to F.
The company has been BBB accredited since 2016, and has received a hefty 270 complaints in the past three years.
A cursory review of those complaints indicates most have been answered, but very few have been resolved to the consumer's satisfaction.
There are a number of complaint types filed, but a common one seems to be a lack of proper validation of a debt claimed by the agency against the consumer.
Ad Astra Recovery Services' website even includes a page ("Important Update") in which they acknowledge that an
"internal analysis of its current procedures as it pertains to credit reporting… has identified a burdensome and problematic system for consumers seeking a second chance after putting forth an effort to improve their financial well-being. (The company) has made a determination that it is necessary to bring an updated and equitable policy for reporting negative trade lines in the practice; a policy that will remain in line with our company's consumer-centric mode of operations."
It's good to see that even this collection agency recognizes that it has systemic problems in its credit reporting procedures.
Get a Free Copy of Your Credit Report
Before You Deal with Ad Astra Recovery Services
Based on the scarcity of information on their website, little is known about Ad Astra Recovery Services.
This includes the type of clientele and debts they represent.
It's best to assume they serve as a collection agency for a wide variety of debt types and proceed accordingly.
To do that, you'll need to understand several basic rules that apply in dealing with any collection agency.
1. Don't Communicate By Phone
This is probably the best advice we can offer in dealing with any collection agency.
Phone calls give the collection agency nearly complete control over the flow of the conversation.
That's because collection agents know how to intimidate consumers.
None of that will ever work in your favor, because collection agency phone calls are almost always recorded.
That means any information you provide—or promises you make—in the phone conversation can be held against you as evidence in a lawsuit.
If your first contact with Ad Astra Recovery Services is a phone call from the company, keep it brief.
Get as much information as you can while providing as little as possible.
In fact, that should be your basic strategy in any exchanges with a collection agency—get information, but don't give information.
2. Communicate in Writing
You have a legal right under federal law to demand all communications with a collection agency take place by written correspondence, and not by phone.
By exercising this option, you'll be denying the collection agency one of its primary weapons against you.
It will also put a stop to those annoying and intimidating phone calls collection agents like to place.
Communicating in writing turns the tables, and gives you most of the advantages.
Not only does it limit the ability of the collection agency to get more information out of you, but it also gives you a greater ability to get information from them.
And, just as important, written correspondence gives you a track record of all communications.
You should keep the letters—theirs and yours—in a file. Those letters can serve as evidence in your defense if Ad Astra Recovery Services escalates the collection account to a lawsuit.
Be sure to keep your letters brief, once again requesting information, but not providing it.
Also, avoid making any promises or inferences about making payments unless you have the money and intend to send it.
Be sure that all letters are sent by certified mail, return receipt requested. That will not only prove you sent your letters, but also that they were received.
3. Do Not Promise To Pay
One of the main objectives of collection agents—and one they like to press in phone conversations—is to get you to promise to send money.
If you do, and then fail to follow through, the collection agency can use your missing payment as evidence of bad faith and even fraud.
That would be a potent weapon in a lawsuit, whether the promise has been made or implied in a phone conversation or in a letter.
Never make a promise to make a payment, unless you fully intend to follow through, and have the money available to do it.
4. Know Your Rights Under Federal Law
The Fair Debt Collection Practices Act (FDCPA) provides consumers with certain protections from collection agency abuses.
You can learn these protections by reading the Debt Collection FAQs provided by the Federal Trade Commission (FTC).
Just knowing your rights under federal law may give you the upper hand when a collection agency starts getting ugly.
Get Help Dealing with Ad Astra Recovery Services
If in the process of dealing with Ad Astra Recovery Services you feel you don't want to take them on directly, you can get professional help.
Start by engaging the services of a good credit repair company.
They work with collection agencies all the time and will have a better chance of both settling your debt and minimizing the damage to your credit report.
And, just as important, they'll save you the time and aggravation of dealing with the collection agency.
But, if Ad Astra Recovery Services threatens you with legal action, or you are afraid it may go in that direction, you can engage the services of a credit law firm, like Lexington Law.
They can both protect your interests and keep a collection account from turning into a judgment.
How To Remove Ad Astra Recovery Services From Your Credit
With the four basic rules of dealing with collection agencies in mind, let's dive into specific strategies for removing a collection from your credit report.
Demand Debt Validation
Under federal law, you have the right to have any obligation asserted against you by a collection agency validated.
In your first contact with Ad Astra Recovery Services, you must request a completed debt validation letter.
The letter should include all information relevant to the debt, including:
the date it went into collection
specific dollar amount
original creditor
other information that establishes the claim as a legitimate debt
It should also have information that clearly connects the debt to you personally.
In many cases, collection accounts are either about misapplied payments or about mistaken identity.
If you can prove either to be the case, which can often be done with one or two pieces of documentation (like a canceled check), you can:
demand Ad Astra Recovery Services delete the account from your credit reports and
stop further collection efforts against you
If they fail to do so, you may need to hire a credit attorney to represent you against them. We'll cover that strategy at the very end of this guide.
Request a Goodwill Deletion
There are certain circumstances under which a collection agency may delete a collection account from your credit reports.
But, for this to happen, the account will need to have been fully paid, and you'll need to have a compelling reason why the account went into the collection in the first place.
If your explanation is credible, the collection agency may delete the account.
But, a goodwill deletion will not happen automatically. You need to request it by sending Ad Astra Recovery Services a goodwill letter, requesting that they remove the negative information from your credit reports as an act of goodwill.
The letter should confirm that the debt has been paid, and provide an explanation of the reason why it went to collection.
If you can include documentation supporting your claim, that will improve the chances of the account being deleted.
Offer a Pay-for-Delete Agreement
This is a strategy you may attempt if you're willing and able to pay off the collection account.
It's an excellent strategy in theory, but it's hardly guaranteed to work.
You'll send Ad Astra Recovery Services a pay-for-delete letter in which you make your proposal.
You'll agree to pay the debt in full in exchange for Ad Astra Recovery Services removing the collection account from your three credit reports.
The collection agency may agree to the arrangement because it offers the promise of quick and full payment. But, just because they agree to the arrangement doesn't mean it will work.
If they do agree, request they provide a letter acknowledging your agreement before sending payments.
However, be aware that even if they do provide a letter, pay-for-delete arrangements are not legally enforceable.
The collection agency can accept your money in full payment of the debt and not remove the collection account from your credit reports.
Demand Deletion The Debt Cannot be Validated
A missing or incomplete debt validation letter may be your best opportunity to eliminate both the debt itself and the collection account from your credit reports.
If Ad Astra Recovery Services can't fully validate the debt, they're required by law to drop it and correct information with the credit bureaus.
You can dispute the account with the credit bureaus, who will investigate your claim within 30 days.
If Ad Astra Recovery Services is unable to validate the debt fully with the credit bureaus, they'll delete the collection account from your credit reports.
They may still attempt to pursue you for the debt even after it's been dropped from your credit reports.
If they do, you may need to get legal representation to force them to comply with federal law.
Settle the Debt for Less than the Amount Owed
This is probably the most common way collection accounts are settled, but it can also be the most complicated strategy.
That's because you'll need to engage in a series of negotiations to make it happen.
Send Ad Astra Recovery Services a letter proposing to settle the full amount of the debt for a lesser amount.
Start at no more than 50% of the full amount of the debt owed. If they counteroffer, that'll be an indication they're open to settle it.
You'll continue to negotiate back and forth until an agreeable settlement amount is reached.
But, send no money until you receive written confirmation from Ad Astra Recovery Services of your entire settlement agreement.
That must include an acknowledgment that they are accepting the reduced amount in full satisfaction of the entire debt.
It must also confirm that they will stop further collection efforts against you and report the account as paid with the major credit bureaus.
If you send payment before Ad Astra Recovery Services issues the confirmation letter, there's an excellent chance they'll accept your money but continue to pursue you for full payment of the debt.
The basic rule in dealing with collection agencies is if it isn't in writing, it didn't happen.