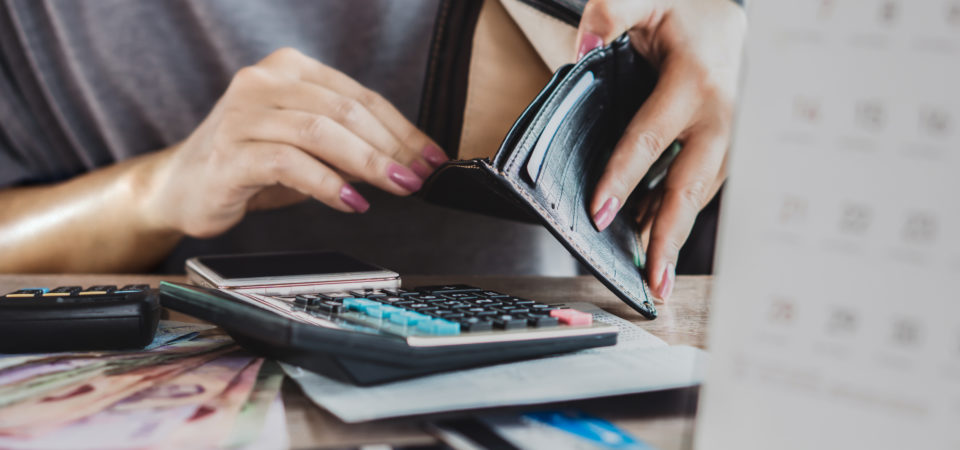 If a company known as Allied Interstate — or more formally as Allied Interstate LLC — is harassing you, don't ignore the collection calls or letters.
Allied Interstate is a legitimate and well-established debt collection agency.
Though the debt itself may or may not be your legitimate obligation, you will need to contact the company to notify them they have the wrong person to resolve the matter.
If you don't, the debt can appear as a negative item on your credit report as reported by the three major credit reporting agencies, lowering your credit score.
And in some cases, Allied Interstate can pursue a court judgment against you that could lead to wage garnishment or allow them to garnish your bank account, possibly both..
If successful, and they usually are, the debt will go from being a collection account to a formal legal obligation.
As unpleasant as an encounter with Allied Interstate maybe, you have no choice but to face it head-on.
Fortunately, there are several options for dealing with the company, which we will discuss in some detail in this article.
Sometimes you'll be able to remove Allied Interstate from your credit report and stop bothering you altogether.
What is Allied Interstate?
Allied Interstate LLC is based in New Albany, Ohio, and has been operating since 1954.
It's a debt collection agency, and it even has an "A-" rating from the Better Business Bureau (BBB), one of the highest ratings they issue.
They have at least 12 call centers located in the United States and fall under their parent company, IQOR Holdings.
Allied Interstate, Inc. handles a variety of account collection services, primarily for blue-chip companies.
That includes accounts receivable and customer retention, but from the typical consumer standpoint, they mostly provide debt collection services.
The company offers a toll-free number for you to contact if they are attempting to collect a debt from you.
They advertise that you can "speak to one of our friendly representatives," but exactly how friendly that exchange is will depend on the debt you owe, how much it is, and how long it's been outstanding.
How Allied Interstate Works
In most cases, Allied Interstate is a third-party collection agency that purchases old, outstanding debts from client companies.
In doing so, Allied Interstate becomes the primary creditor. That is, the only way you can settle the debt is by paying Allied Interstate.
This is a common practice in the debt collection field. A company attempts to collect past-due accounts from their customers for a certain amount of time.
But, if the debt remains outstanding for more than say, six months, nine months, one year, or whatever time limit that company uses, they'll sell the debt to a credit collection company.
In that way, the original creditor gets at least some money for the debt.
But, even though Allied Interstate purchases the debt for less than the full amount owed, they'll nonetheless attempt to collect the original balance — plus collection fees — from you.
For that reason, the amount you owe Allied Interstate is likely to be higher than the amount owed to the original creditor.
Who Does Allied Interstate Collect For?
The company doesn't indicate exactly who they perform collections for, other than to refer to them as blue-chip companies across a wide variety of industries.
However, based on the complaints lodged against them, they do collect for student loan companies such as Sallie Mae/Navient.
If you receive a call or correspondence from the company about a debt, chances are, it's money you owe to a well-known company.
How to Remove Allied Interstate from a Credit Report
Exactly how you should deal with Allied Interstate will depend on whether or not the debt is actually yours, and if it is, how much you owe and how aggressive the company is being about making you pay.
Given all the variables, let's look at several different strategies, based on the circumstances as they become available.
Let's start with this — if Allied Interstate contacts you by phone, be polite, keep the conversation short, provide no information whatsoever, and absolutely, positively agree to do nothing.
Phone calls from collection agencies are never harmless. They're almost always recorded for the purpose of getting information from you and convincing you to make promises that you can be held legally responsible for after-the-fact.
1. Get a Copy of Your Credit Report
After receiving a phone call or a letter from Allied Interstate, your first move is to order a copy of your credit report.
But you should understand from the beginning that you don't have one single credit report, but three. That's because there are three major credit bureaus: Experian, Equifax, and TransUnion.
Since not all creditors report to all credit bureaus, you'll need to get a copy of a report from each to know exactly what's going on.
You can order your reports from all three bureaus through an online service provider known as AnnualCreditReport.com, who offer one free report a year to Americans.
They're the only source officially authorized to provide you with a copy of your credit report from all three bureaus. And fortunately, when you order your reports from this source, they are free.
Once you have a copy of all three credit reports, review each carefully. Look for any debt that may match what Allied Interstate is claiming you owe.
Remember once again, Allied Interstate is a collection agency and not an original creditor. That means while you may have an entry on the credit report showing the collection account owed to Allied Interstate, there's likely to be a charge off on your report from the original creditor.
If you can match the debt Allied Interstate is claiming you owe to an original creditor, you'll know the obligation is legitimate. But if you can't match up an original creditor, the debt may not be yours.
Whichever outcome turns out to be the case will determine how you should proceed with Allied Interstate.
2. Learn Your Rights Under the FDCPA
Contact by a collection agency opens up the possibility of facing abusive behavior.
Not all credit collectors conduct business in this manner, but it's a poorly regulated industry with a wide variety of business practices.
That's why it's important to become familiar with your consumer rights as a debtor under federal law.
You can learn those rights by reviewing the Debt Collection FAQs provided by the Federal Trade Commission (FTC) Consumer Financial Protection Bureau (CFPB), which goes into detail about the Fair Debt Collection Practices Act.
Knowing your rights can give you more confidence in dealing with a debt collector. It can also help you to disarm an overly aggressive collection agent.
Often, just reciting one or two provisions of the consumer protection law is enough to make an agent more agreeable
For example, a debt collector is prohibited from contacting co-workers in regard to your account or using vulgar language in attempts to collect on the debt.
Knowing your rights is all about leveling the playing field with the collection agency.
Whatever you do, don't neglect to take this step. The information is readily available on the Internet and will take no more than 30 minutes of your time to learn the basics.
3. Request Allied Interstate Provide a Debt Verification Letter
A debt collector has a legal obligation to provide you with complete verification of any obligation they claim you owe.
That includes furnishing the name of the original creditor, the date the obligation began, and when it became delinquent, the specific amount owed, and other important information.
You can and should get this information from Allied Interstate by requesting they provide you with a debt verification letter.
That's a formal explanation of the details of the debt they claim you owe.
If they're unable to furnish validation, or if the information is incomplete, you can challenge the legitimacy of the debt.
Don't overlook this step. Companies like Allied Interstate that purchase old, outstanding debts from original creditors often buy them in bulk.
They may purchase hundreds or thousands of debts in a single transaction.
Those debt batches often contain errors, like mistaken identity or incomplete information. In either case, the debt may not be yours.
4. What to do if Allied Interstate Can't Prove You Owe the Debt
You can either challenge that directly with Allied Interstate, or indirectly through the three credit bureaus.
If you go through the credit bureaus, you'll need to open a dispute of the account. Since Allied Interstate will not be able to prove the debt, the credit bureaus will be required to delete the entry from your credit report.
If Allied Interstate concedes you don't owe the debt, make them confirm — in writing — that the obligation is not yours, that corrected information will be supplied to all three credit bureaus, and that they will cease collection efforts against you.
The purpose of having them confirm the new information in writing is to give you a legal basis to challenge the debt if Allied Interstate doesn't fully cooperate in the future.
For example, it's very common for collection agencies to concede on a debt, but not have the information corrected or removed from your credit reports.
If that's the case, you'll be able to send their letter to the credit bureaus when you dispute the obligation. The letter will serve as proof that the debt isn't yours.
And in the not-so-rare instance where they may attempt to collect the debt even after they issue the letter, you can force them to call off the hounds by providing them with a copy of their own letter.
5. What to do if Allied Interstate Proves the Debt is Yours
If the debt verification letter succeeds in proving the collection account is yours, you'll need to work out a settlement with Allied Interstate.
We're using the word "settlement" intentionally because settling debt isn't the same as paying it in full.
There may be instances where paying a collection account in full is the only way to make it go away. But in most cases, at least with collection agencies, you can usually get them to agree to accept a reduced payment in full satisfaction of the debt.
If you agree that the debt is legitimate, you must be prepared to negotiate. Start with a lowball offer.
The older the debt is, the lower your offer should be. For example, if the debt is two years old, offer 50% of the full amount as your first offer. If it's five years old, offer 30%.
The older the debt is, the less likely it is that it will ever be settled, and that will make the collection agency more likely to agree to a reduced payment. In addition, the older the debt is, the less money Allied Interstate will have paid to purchase it.
That will provide more flexibility in how much they'll accept in full satisfaction.
Once you make your initial offer, the negotiations will have begun. Be ready for a back-and-forth process. If you offer them $400 in full satisfaction of an $800 debt, they'll likely come back and insist on $700.
Fine, increase your offer to $500. Most likely, you'll settle at about $600.
Getting Your Agreement in Writing is Mission-Critical
If they agree to accept $600 in full payment of the $800 obligation, don't send any money.
Insist that you'll send payment upon receipt of a letter from Allied Interstate confirming the following information:
That they're accepting $600 as full satisfaction of the entire amount owed.
That any negative information that's been entered on your credit report as a result of the collection will be removed with all three major credit bureaus.
Allied Interstate will halt all future collection activities on the debt.
You can send payment once you receive that letter. Wait 30 days, then obtain updated credit reports. If the negative information hasn't been removed, contact Allied Interstate to remind them to make the corrections.
If they don't, send a copy of the letter to all three major credit bureaus, and they'll make the corrections directly.
Get Legal Help if Allied Interstate Plays Hardball
If Allied Interstate is uncooperative, or they're attempting to have you pay a collection amount you can't afford to pay, you may need to bring in legal representation to aid in your credit repair.
This will be especially important if you are threatened with legal action, like a court judgment.
You'll need the services of a law firm that specializes in dealing with credit.
We recommend Lexington Law because they're one of the best-known credit law firms in the country and typically offer a free case review.
Many times just having the law firm contact the collection agency is enough to get them to be more willing to negotiate a settlement.
Allied Interstate Contact Information
Here's a little contact information on Allied Interstate Collection for you:
Mailing Address: P.O. Box 19312, Minneapolis, Minnesota 55441
Phone Number: 1-800-811-4214
Website: www.allied-interstate.com
Final Thoughts
Unfortunately, the first time many consumers find out about a collection account is when it appears on a credit report.
That almost always happens when making an application for a loan or credit card. Other times, a notification arrives in the form of a letter or a phone call from the collection agency.
If that happens, stay calm, ask questions, but provide no information. Get a copy of your credit reports and familiarize yourself with your rights under federal law.
Make the collection agency verify complete information about the amount they claim you owe. If they can't, require them to remove the information from your credit reports and cease future collection efforts.
But if you do owe the debt, work to settle it for less than the full amount owed. If the collection agency — Allied Interstate, or any other agency — becomes uncooperative or threatening, don't hesitate to get legal assistance.
You're never helpless in dealing with a collection agency, as long as you have a strategy in place.
If you want to learn more strategies for dealing with collection agencies, or if you have multiple collection accounts to deal with, check out our article, How to Remove Collections From Your Credit Report, for a more comprehensive strategy for dealing with collection accounts.
As a general disclaimer, the information in this article is not meant to substitute as legal advice. Please seek legal counsel should your situation warrant it.