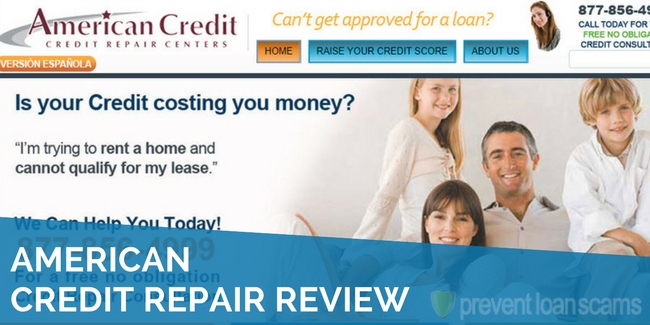 In our review of American Credit Repair (referred to as ACR), the firm seems a lot like other credit repair companies.
Nothing about their online reviews is out of the ordinary. Their story isn't unique and neither is their business model.
What makes ACR stand out is the method they've developed to help customers. Is it completely ethical? We don't have the answer to that, but we've done an extensive review of ACR, and here are our results.
What We Like About American Credit Repair
American Credit Repair stands out among the competition because of their honest and upfront approach to talking about their services.
Here's a look at what we like about American Credit Repair:
1) Upfront and Honest
On their website, ACR says that their services are not for people in the midst of a crisis.
If someone is in the midst of a bankruptcy or legal battle, they're more likely to be desperate to spend money in the hopes of getting help.
For this reason, not many credit repair companies are willing to make this kind of statement.
2) Unique Approach
When it comes to how ACR works, they are clear and direct:
"American Credit Repair Centers follows the same pre-litigation process Consumer Credit Law attorneys follow…"
Based on our research, this is a different process than most of the other credit repair companies we've looked at.
3) Flexible
For some, flexibility is an important factor in deciding to sign up with a credit repair company. ACR offers payment options depending on your situation.
They offer an installment program for customers who need help making payments for the program.
4) Responsive
We called American Credit Repair to find out about their services and got a call and text from a representative with the company within 24 hours.
This was over the end-of-year holidays, typically a difficult time of year for customer service departments. ACR's site says they have a 'proactive and reactive' customer service department.
What We Don't Like About American Credit Repair
Despite their transparency with information on their services, we found some areas where American Credit Repair could have done more to be clear on what they provide.
Here's what we don't like about ACR:
1) Questionable Guarantee
American Credit Repair says they offer a money back guarantee if they do not satisfy customers with their services. However, they also say customers must pay a non-refundable deposit of $225.
Based on their pricing page it seems that customers pay a lump sum. If the company is able to remove negative items from each credit bureau, they subtract fees from that lump sum.
"If there is a negative item that has been successfully removed per bureau, we would deduct an additional $150 from any monies paid for our services."
2) Questionable Tactics
The Consumer Financial Protection Bureau is clear on what makes up a credit repair scam and what doesn't.
Some of the things printed on ACR's website raise red flags because the language suggests they're willing to break the rules.
For example, ACR says:
"There is a $225 non-refundable processing fee that offsets a portion of the costs associated with our staff on payroll that are working hard on your credit."
But it's not clear if this fee is for work already completed, and if so, what exactly it covers.
American Credit Repair Reviews
Reviews for ACR can be found in three places: Yelp, Facebook, and on the business' profile page with the Better Business Bureau (BBB).
Representatives at the company seem to have tried their best to resolve complaints.
One reviewer appreciated that they "are local and my clients can walk into their office and deal directly with their friendly staff" (from Santa Monica).
As of June 2019, the company has a rating of C with the BBB, with one positive review and one complaint. They are not BBB accredited at the time this article was written.
Another reviewer said she hadn't heard back from anyone at the company in eight months after signing up to use the service. Yet another reviewer also mentioned that she felt the company "needs to be more in touch with the customer…"
Many positive reviews sound like taglines from advertisements:
"Thank you Garrett and American Credit, I can now prepare to purchase the next home for our family!"

"Before I would be embarrassed to apply for CC and now I get approved at every department store without a sweat!"
A few reviewers (both positive and negative) mention expense, suggesting that the cost for the service is not cheap.
When To Use American Credit Repair
ACR makes a point to emphasize that their service is not for everyone. They list five specific circumstances where someone may want to contact them:
Trying to qualify for a home loan.
Trying to rent a home and cannot qualify for the lease.
High interest rate on a loan, and a poor credit score.
A future or current employer requires a clean credit report.
Trying to qualify for a business line of credit or loan, and having a hard time.
They also make it clear that if you are in crisis, that is not the best time to contact them.
What Can Be Removed From Your Credit?
The representatives at ACR can 'legally and permanently remove" any information on your credit report that is inaccurate or unverifiable.
This includes:
Short Sales
Medical Bills
While ACR may have been able to remove these items from previous customers' credit reports in the past, this doesn't mean they'll be able to remove these from your credit report.
The government also makes it clear that it is against the law for credit repair agencies to misrepresent what they do to potential clients. This includes advertising that they can remove accurate accounts on your credit report.
It's important to remember that you don't need to hire a credit repair agency to remove inaccurate information on your report. How long it takes will depend on your specific circumstances, but it is possible to restore your own credit for free.
How Does American Credit Repair Work to Repair Your Credit?
ACR says that they are different than most credit repair agencies because of how they approach what they do.
They use a pre-litigation process which essentially prepares a customer's file under the assumption that they would eventually go to court.
The first step in the process is sending a demand letter to creditors. This letter says that the creditor must provide proof that the account on the customer's credit report is accurate and was reported to credit bureaus correctly.
They also send a copy of the Fair Credit Reporting Act and a threat of legal action if the creditor doesn't respond to the request and if the information that the credit bureau has is incorrect.
Then they send a request to credit bureaus to ask that they look into the account on the customer's credit report.
How Much Does American Credit Repair Cost?
ACR charges a fee for getting a customer's credit report after sign up (if the customer doesn't have one already).
They charge fees on an individual basis, depending on how serious the case is. ACR does not provide a fee range.
As of 3/26/21, they charge a $225 fee for processing and to pay for work that they will complete on your account.
For each negative item that they remove from a credit report, ACR takes $150 from the money customers pay for services.
What to Expect When Signing Up
ACR offers a free consultation that customers can start by phone or by filling out a form on the company website.
The consultation involves an agent looking over a recent credit report. According to American Credit Repair, the consultation is not just a sales pitch — they go over any credit questions you may have, review credit scores and offer guidance on what prospective clients can do to raise their scores.
During the consultation, the ACR representative will tell you what they can fix on your report, and let you know if they will be able to help you.
What Results Can I Expect from American Credit Repair?
ACR says on their website that on average, clients see credit scores go up by 100 points over sixty to ninety days.
However some reviews we found online suggest that a client could be working with ACR for up to a year.
Considering their success rate, customers can expect inaccurate accounts to be removed from their credit report.
One testimonial on their website said the client had all derogatory items removed (but this experience is probably not the norm).
Company Background
Who Is American Credit Repair?
ACR is a 'credit restoration and consultation' company that opened in 2003. ACR currently has more than 25 employees, and offers services in English and Spanish.
Some of ACR's business comes from referrals — mortgage and real estate professionals who refer clients.
Based on information from the founder's LinkedIn profile, the company is a leading credit repair agency among real estate agents.
Who Owns American Credit Repair?
Steve White has been the company's president and CEO since it opened in 2003.
He manages over 25 employees and has received certification as a Credit Analyst from MyFico.com.
Where Is American Credit Repair Located?
ACR is based out of Santa Monica, California. According to a reviewer on Yelp, customers are welcome to go into the office to speak to representatives in person (though you may want to call first if you choose to become a client).
Santa Monica is casually called a 'beach town', even though it is a city. Because of this and its close proximity to LA, the city is also known as a tourist destination.
Frequently Asked Questions
Does American Credit Repair offer a guarantee?
ACR offers a money-back guarantee for customers who complete their program and are not satisfied with the results.
In general, credit repair companies have to be careful with the nature of how they offer guarantees for services.
For example, a company cannot guarantee that they can and will raise a customer's credit score, nor can they guarantee that negative items will be removed from a credit report.
Can deleted items reappear on my credit report after my credit is repaired by American Credit Repair?
If your credit has truly been repaired, deleted items should not reappear on your credit report. However, it's possible for errors to be made on the part of the reporting agency or the creditor (post-repair).
This is true regardless of the credit repair company you choose to work with, or if you do your own credit repair by contacting bureaus and creditors yourself.
If negative items have been removed from your report, the repair agency you're working with (ACR or Lexington Law, for example) should be in contact with you to let you know what's going on as they work to repair your credit.
How Long Does American Credit Repair Take to Repair Your Credit?
On their website and business profiles, ACR says they're able to show clients results in as little as 90 days, but this is an average according to their information.
Keep in mind no one can guarantee positive results within a specific time frame in regard to credit repair.
In some reviews, clients of ACR reported it took up to a year of working with the company to see results.
How long it takes and your individual results will depend on a number of factors, including the length and complexity of your credit history.
Is There a Couples, Family or Active Military Discount?
According to their Yelp profile, ACR offers a military discount. Based on our research, the company does not offer family or couples' discounts.
Many credit repair agencies offer different types of discounts if you refer family members or your partner. If these types of perks are important to you, consider looking at other agencies.
You could also personally ask ACR if they can offer you a discount for signing up a family member or partner.
What Are American Credit Repair's Hours?
American Credit Repair is open Monday to Friday, from 9 a.m. to 7 p.m. They are closed on Saturdays and Sundays, according to their Yelp profile (hours of operation are not listed on the website).
Monday 9:00 a.m. – 7:00 p.m.
Tuesday 9:00 a.m. – 7:00 p.m.
Wednesday 9:00 a.m. – 7:00 p.m.
Thursday 9:00 a.m. – 7:00 p.m.
Friday 9:00 a.m. – 7:00 p.m.
Saturday CLOSED
Sunday CLOSED
What is American Credit Repair's Phone Number?
Toll Free: 1-800-791-6365
Phone: 1-310-829-9900
How do I cancel an American Credit Repair membership?
The best way to go about getting your ACR membership cancelled would be to call the company and ask to speak to the agent who is working on your account. We'd also recommend emailing the company and your representative so you have a record of when you requested your account cancellation.