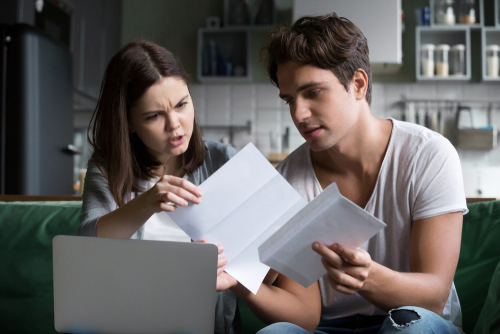 If you have an old hospital bill that is hanging over your head, you may start hearing from AssetCare LLC demanding payment.
Medical debt is, unfortunately, very common in America. In fact, it is one of the top reasons that people declare bankruptcy.
You may initially think that they are a scam, but AssetCare LLC is 100% legitimate.
They are a third-party debt collector and have likely been hired by your healthcare provider to collect money from you.
While it's scary to deal with a debt collector, there are steps that you can take to ensure that their effect on your credit is minimal.
Namely, you will need to remove their collections account from your credit report.
What is AssetCare LLC?
AssetCare LLC is a legitimate third-party collection company that focuses exclusively on collecting medical debt.
They are relatively small and have been in business since 2016.
They also operates under the name CF Medical VI LLC.
If you see either appear on your phone log or credit report, it is the same company.
Get a Free Copy of Your Credit Report
How to Deal with AssetCare LLC
When it comes to AssetCare LLC, the most important objective is getting their collections account removed from your credit report.
This account can damage your credit score and prevent you from qualifying for loans and credit cards.
Outright paying for the debt isn't going to help you remove the account. Instead, you need to take advantage of your rights under the FDCPA and negotiate a deletion.
Here are the steps to take to deal with them and remove their collection account from your credit history.
Request a Goodwill Deletion
If you have already paid off the debt in full, you may be able to get AssetCare LLC to agree to a goodwill deletion.
A goodwill deletion is when a debt collector removes their account from your credit report because they can tell that the debt was due to extenuating circumstances.
To request a goodwill deletion, you will need to write them a letter and let them know exactly why you were late on payments.
Given the current state of things, some debt collectors may be inclined to let customers off the hook for delinquent bills brought on by the pandemic.
If you missed payments due to a job loss or COVID-related circumstance, this is something that you should mention in your letter.
It's important to remember to be honest when you write your goodwill deletion letter.
They will probably ask you to back up your story with supporting documents.
If they catch you in a lie, it will only make your situation worse.
If this all seems like too much for you to deal with,
we recommend that you seek help from a professional credit repair company.
Write a Debt Validation Letter
Goodwill deletions don't always work for people. Perhaps this is not your first debt that has gone to collections or you haven't paid it off yet.
If this is the case, your next step should be to request debt validation.
Debt validation is a right that is guaranteed under the Fair Debt Collection Practices Act (FDCPA). It allows you to make sure that AssetCare LLC is collecting the debt based on correct and complete information.
It is relatively common for information to get lost in the transition from the original creditor to the debt collector.
If they have any inaccurate information about your debt, requesting debt validation will allow you to identify it.
It is very important that you do not procrastinate this step! The FDCPA only guarantees your right to request debt validation within the first 30 days of contact, so make sure that you act fast.
To request debt validation, write AssetCare LLC a Section 609 letter, which is a formal request for them to look into the account.
Make sure you include your name, account number, debt amount, and original creditor.
They are required by law to validate your debt within a month of receiving your letter. If they do not, they are in violation of the FDCPA.
After about a month, they should return with documents that list all the information about your debt. Go through this and mark any information that does not match your records.
If you find anything that is inaccurate, you can file a dispute with the three major credit bureaus.
They should conduct independent investigations into the matter and will remove the account if they find that AssetCare LLC is reporting in error.
Work Out a Settlement with AssetCare LLC
If AssetCare LLC is able to validate your debt, then you are legally responsible for repaying it. This is when you need to work out a settlement with them that works in both of your interests.
The most common type of settlement that customers make with debt collectors is known as a pay-for-delete agreement.
This is essentially when a debt collector agrees to remove their account from your credit report in exchange for payment.
If you play your cards right, you may be able to get away with paying less than your full balance.
This is because AssetCare LLC may have bought your debt at a discount, and they will only need to make some of the balance back to make a profit.
Your top priority, however, should be securing the account deletion no matter how much you pay. This will help you the most in the long run when it comes to your credit history.
To kick off negotiations, offer to pay them half of what you owe them in exchange for deletion. Inch your way up until you reach terms that work for both parties.
Ask AssetCare LLC to send you a signed agreement in writing.
Once you receive this document, review it in its entirety. Only make your first payment to them when you have determined that the contract reflects the agreed-upon terms.
AssetCare LLC should remove their entry from your credit report in about a month. If you notice that their entry is still there after about 30 days, remind them of your agreement and ask them to delete the account.
Does AssetCare LLC Have Any Complaints?
In the world of debt collection, it is very common for a collection agency to have complaints filed against them. AssetCare LLC falls in line with these expectations.
AssetCare LLC currently has a B- rating with the Better Business Bureau (BBB). This is a reflection of their interactions and relationship with their customers.
Additionally, AssetCare LLC has had a number of complaints filed against them with the Consumer Financial Protection Bureau (CFPB).
Customers complain that AssetCare LLC violated their rights under the Fair Debt Collection Practices Act (FDCPA), which is federal legislation meant to regulate the debt collection industry.
If you believe that AssetCare LLC has violated your consumer rights, you should report it to the CFPB and the BBB. This can help prevent further harassment from them in the future.
Conclusion
No one wants to spend their time dealing with a debt collector, but it's better to do it quicker than reap the consequences on your credit.
If you follow the steps outlined above, you should be able to remove AssetCare LLC from your credit report and begin rebuilding your credit history.
Do you know any surefire ways to deal with AssetCare LLC? Leave your tips in our comments section below.