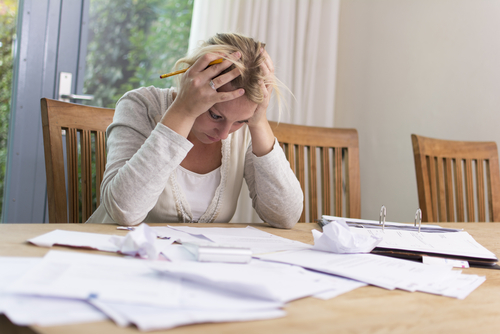 If you have begun hearing from a company called Atlantic Credit & Finance, you are likely one of those people.
They are a third-party collection agency that works with creditors across the spectrum to collect overdue bills.
You may be tempted to ignore their attempts to contact you, but this is a mistake that can cost you down the line.
To begin collecting a debt from you, they must first open a collection account on your credit report.
This collection account tells creditors and lenders that you've had trouble paying bills on time in the past and may continue this practice in the future.
This will lead to higher interest rates on loans or credit cards, which can cost you serious cash over the years.
To prevent damage to your credit history and wallet down the line, you need to take care of Atlantic Credit & Finance's entry sooner rather than later.
Luckily, there are tried-and-true methods to remove negative accounts from your credit report for good.
What is Atlantic Credit & Finance?
Atlantic Credit & Finance is a debt collection agency that is headquartered in Roanoke, VA, with an additional location in St. Cloud, MN.
Founded in 1996, they specialize in the collection of unsecured consumer debts from various industries, including:
health care
utilities
telecommunications
credit cards
How to Deal with Atlantic Credit & Finance
Dealing with Atlantic Credit & Finance is a nerve-wracking affair, but there are proper steps to take to ensure success.
Here are the essential rules to follow to stop their harassment and remove the collection from your credit report.
Familiarize Yourself with the FDCPA
Many consumers have no idea that they are protected from certain abuse from debt collectors.
Debt collectors are certainly not going to tell you because they are willing to do whatever it takes to get payments on debt.
That is why it is important that you educate yourself on the FDCPA so that you can call out Atlantic Credit & Finance if they try to overstep their bounds.
The Fair Debt Collection Practices Act (FDCPA) is federal legislation that clearly outlines the types of behavior that are strictly prohibited by debt collectors.
This is so that debt collectors cannot abuse your rights as a consumer in order to collect debts.
These are some of the practices that are prohibited under the FDCPA:
Calling

before 8 a.m. and after 9 p.m.
at work after you have told them to stop
loved ones, neighbors, or colleagues about your debt

Using profanity or threatening violence against you
In addition to restricting practices, the FDCPA also grants you the ability to ask Atlantic Credit & Finance to contact you strictly through writing.
This is something that you should take advantage of quickly after you begin hearing from them.
Having all your correspondence in writing allows you to keep track of all your communications with them.
It will also come in handy when you need to work out a settlement with them down the line.
Get a Free Copy of Your Credit Report
Ask for Debt Validation
Another right that is granted to you under the FDCPA is the ability to request debt validation.
This can help you determine if Atlantic Credit & Finance is pursuing you for someone else's debt.
Even if you know the debt belongs to you, you should still take advantage of your right to dispute the debt.
This is because they may be attempting to collect based on false information.
If you can prove this, you can have the debt removed from your record without having to pay a penny.
Start by writing a letter to Atlantic Credit & Finance, asking them to validate the debt.
You should ask them to verify specific pieces of information, such as the name, date of last account activity, and total balance.
We have a debt validation letter template that can help you get started on your own.
They should get back to you within about 30 days with documents meant to prove that the debt is yours.
If they cannot validate the debt, they must contact the major credit bureaus and delete their entry from your report.
It's important to remember that the FDCPA only grants you the ability to request debt validation within 30 days of Atlantic Credit & Finance's first contact.
If you procrastinate this step, you won't be able to verify that the debt belongs to you. This can make things harder for you in the long run.
Make a Pay-For-Delete Settlement
If Atlantic Credit & Finance is able to validate your debt, your next step is to negotiate a pay-for-delete settlement.
This is the most common type of settlement that people work out with debt collectors, but it is by no means simple.
Debt collectors are hesitant to grant pay-for-deletes because it essentially falsifies an official record.
However, you may be able to get them to agree if they are desperate enough for you to make your payments.
Start by offering to pay Atlantic Credit & Finance half of what you owe them and work from there.
Make sure that, no matter how much you settle on paying them, they agree to fully delete the collection account from your credit report.
A 'paid' status is not a sufficient compromise and will still affect your credit score and loan prospects.
Once you come to an agreement, have Atlantic Credit & Finance send you the full terms in writing.
Make your first payment on the debt when you receive this document and approve of the wording.
They should remove their account from your credit report within 30 days of receiving your payment.
If they do not, you must reach out and remind them that they need to uphold their end of the bargain.
Work with a Credit Repair Company
If you've had a few missteps in removing Atlantic Credit & Finance from your credit report, you may benefit from the help of a professional.
A credit repair company is a type of credit professional that specializes in removing damaging accounts from your credit report.
They can work directly with them to negotiate settlements and deletions so that you don't have to.
In fact, it's likely that you won't have to communicate directly with them ever again.
There are many different credit repair companies to choose from, and all of them have different strengths.
Does Atlantic Credit & Finance Have Any Complaints?
The unfortunate reality is that most debt collectors have had complaints over the years. Atlantic Credit & Finance is no exception.
Since their founding in 1996, Atlantic Credit & Finance has had 45 complaints filed with the Consumer Financial Protection Bureau (CFPB) and 136 complaints filed with the Better Business Bureau (BBB).
These complaints cite issues with customer service representatives, inaccuracies in reporting, and failure to respond to debt validation letters.
The majority of complaints filed against Atlantic Credit & Finance document violations of the Fair Debt Collection Practices Act (FDCPA).
As mentioned above, the FDCPA lays out certain guidelines that debt collectors are supposed to follow regarding how to properly collect debts.
If you find that they are violating your rights, you can file a complaint against them as well.
Conclusion
Debt collection is an unfortunate part of life, but a collection account doesn't have to be a negative stain on your credit report for years to come.
If you follow the steps outlined above, you can successfully negotiate a deletion with Atlantic Credit & Finance and move on with your life free of debt.
Have any tips on how to deal with Atlantic Credit & Finance? Feel free to leave a comment below telling us how you do it.