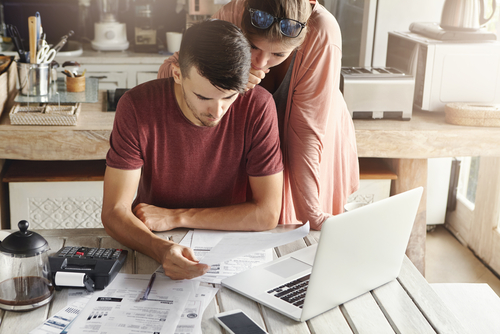 Have you forgotten to pay your AT&T phone bill? If you have a lingering balance on your account, you may find yourself hearing from AT&T Collections.
AT&T will move your bill to their collections team if you fail to make payments on your balance for an extended period of time.
This means that they will begin relentlessly calling you, sending you letters, and even threatening lawsuits or wage garnishment.
All of this is scary, but what's scary is their impact on your long-term financial health.
When a debt moves to collections, the agency or creditor will open up a collection account on your credit score.
This is a negative mark that lets other lenders know that you have a history of nonpayment.
Collection accounts can prevent you from qualifying for loans and credit cards down the line, which can push you towards higher interest loans.
They will also cause your credit score to drop significantly.
These effects can stay in place for as long as seven years unless you act now to remove the entry.
Read our full article below to get a breakdown of how to deal with AT&T Collections.
What is AT&T Collections Agency?
Headquartered in Dallas, TX, AT&T Collections is the collections arm of AT&T, which is the popular telecommunications provider that we all know.
They offer phone, data, and TV plans to customers, and their collections team works to get customers to make payments on their late AT&T bills.
Much like third-party debt collectors, AT&T Collections' main goal is to get you to make payments on your debt.
Unlike other collectors, however, they do not service multiple clients. They only work to collect money on unpaid AT&T bills.
How to Deal with AT&T Collections Agency
An unpaid AT&T bill may not seem like a big deal, but it can quickly snowball into something that can tank your credit score.
AT&T Collections is unyielding and will stop at next to nothing in order to get you to pay for your debt.
You may be unsure about what to do when you are getting calls and letters from a debt collector like AT&T Collections.
Luckily, there are some tried-and-true methods that can get them off your back – and your credit report – for good.
Take Advantage of Your FDCPA Rights
The Fair Debt Collection Practices Act (FDCPA) is meant to protect you from aggressive, intimidatory, or abusive tactics from debt collectors.
It essentially keeps them in check to ensure that they are treating you in a respectful and professional manner.
Some of the things that are prohibited under the FDCPA include:
Calling

before 8:00 a.m. or after 9:00 p.m.
you at work or at another time you have said is inconvenient
after you have requested communication via U.S. Mail

Failing to notify you of your right to dispute the debt
Trying to collect more than you legally owe
One of the top tactics for dealing with AT&T Collections or any debt collector is to educate yourself on your FDCPA rights and take advantage of them.
Namely, you should tell them that you would like to only communicate via U.S. Mail and request that AT&T Collections validate your debt.
The importance of written communication is that you are able to hold AT&T Collections for how much and how often they contact you regarding your debt, and you can hold onto each correspondence.
This becomes useful for keeping them in line as well as holding them accountable for their agreements, which will become important later.
DEBT VALIDATION
Debt validation is another important right under the FDCPA, but it is only guaranteed within the first 30 days of AT&T Collections' first contact with you.
Requesting debt validation allows you to ensure that AT&T Collections is reporting the correct information on your debt.
If they aren't, you can dispute it with the major credit bureaus, and they will remove the collection account from your record.
Before you communicate with AT&T Collections, spend some time familiarizing yourself with the FDCPA.
Let them know that you are aware of your rights, and they will be less likely to pull a fast one with you.
Get a Free Copy of Your Credit Report
If You Paid the Debt: Ask for a Deletion
Sometimes life gets in the way, and we are unable to pay a bill for a little while.
If you had outstanding circumstances that caused your income to shrink, you may be able to convince AT&T Collections to grant you a goodwill deletion.
Goodwill deletions are typically granted by debt collectors if they can see that you have a mostly clean record and paid off the debt quickly after it went to collections.
They won't always grant you a deletion, but it is possible to persuade them into doing so.
Write a letter to AT&T Collections explaining why you were late on your phone or cable bill.
Perhaps you had a serious medical crisis or an unexpected layoff.
These are good to mention as long as they are the truth.
Debt collectors are great at spotting a tall tale and may even ask for documentation to back up your story.
If You Haven't Paid the Debt: Make a Pay-For-Delete Agreement
If you haven't paid the debt, you can use the leverage of payment as a way to negotiate a settlement with AT&T Collections.
This is known as making a pay-for-delete agreement.
A pay-for-delete agreement is when a debt collector stops reporting the details of your debt to the major credit bureaus in exchange for payment on your debt.
The secret that AT&T Collections won't tell you is that they are often willing to settle for less than the full amount of your debt in order to make some of their money back.
HOW TO NEGOTIATE A PAY-FOR-DELETE
Start by offering to pay anywhere from 30% to 50% of the total balance on your bill.
Work with AT&T Collections until you come to an amount that works for both of you.
The key here is to make sure that AT&T Collections agrees to fully delete the entry from your credit report.
If they simply change the status to 'paid', future lenders will still be able to see that you failed to pay a bill.
It will also still impact your overall credit score.
Once you come to a compromise with AT&T Collections, have them send you the full agreement in writing.
Make your first payment once you receive this document and approve of the terms as they are written.
You should notice that AT&T Collections disappears from your credit report within 30 days of your first payment.
If they are still there, you will need to call them up and remind them of their promise to delete the account.
Work with a Credit Repair Company
Dealing with debt collectors requires a lot of negotiating and some confrontation, which may make some people uncomfortable.
If you would prefer to not deal with AT&T Collections, you can always hire a credit repair company to deal with them for you.
Credit repair companies are credit professionals that can help you remove any dings or negative marks from your credit report.
They handle all of the gritty details so that you don't have to.
In fact, you may not have to communicate directly with AT&T Collections ever again.
There are plenty of credit repair companies out there, so it's important that you choose the right one for you.
Here is a comparison of the top credit repair companies to help you choose.
AT&T Collections Agency Complaints
While AT&T Collections is different from other debt collectors in structure and clientele, they all have one thing in common; no one enjoys getting a call from them.
AT&T Collections has had complaints filed against them over the years with various oversight bureaus such as the Consumer Financial Protection Bureau (CFPB) and with the Better Business Bureau (BBB).
Most of these complaints have to do with aggressive or rude customer service representatives, inaccurate reporting of debt information, and violations of the Fair Debt Collection Practices Act (FDCPA).
The FDCPA is federal legislation that is meant to protect consumers from mistreatment from debt collectors.
We will talk more about what rights you are afforded under the FDCPA later on.
If you feel that AT&T Collections is violating your right, you may want to consider filing a complaint against them.
Conclusion
AT&T Collections may be a little different from typical collection agencies, but their motivation is still the same: get you to pay your debt.
By leveraging payments as a way to negotiate a deletion, you can remove their entry on your credit report and begin rebuilding your score.
Got any tips on how to deal with AT&T Collections?
Be sure to drop them in the comments section below.