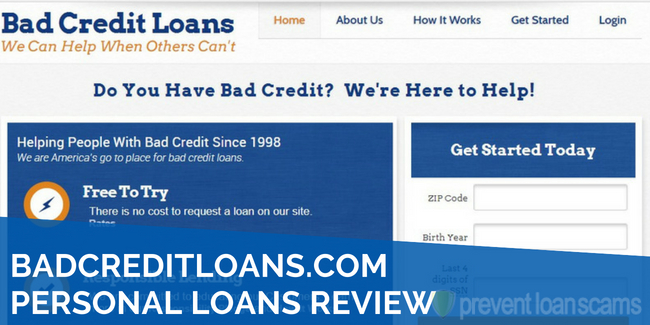 Our BadCreditLoans.com review is focused on this site's personal loans.
This lead generator is a one-stop-shop, however, for a variety of different personal finance loans, including mortgage, auto, and student loan products. We'll take a closer look at that in a bit.
That lead generator term might be throwing you off a bit, so here's a quick rundown.
Personal loan options are incredibly important for millions of Americans to make ends meet, pay for unforeseen expenses, debt consolidation, or enjoy a vacation that might not be affordable otherwise.
They are, however, financial instruments, meaning they can be pretty complex to understand.
Additionally, and more importantly, shopping around for the best personal loans can be daunting.
Scooting around from site to site, trying to find the best APR loan rates, payment terms, and loan amount can be difficult, especially if you don't have the minimum credit score needed.
That's where BadCreditLoans.com comes in.
How Does BadCreditLoans Work?
The website takes all your financial information in the loan application process, including your income, any current debts you have, runs a credit check using your FICO credit report (Experian, Equifax, and Transunion).
Then they put the word out to a network of lenders. Whether you have fair credit or poor credit, you receive the results and get an offer from a loan lender that matches the information you've put on your loan request.
Once you receive your offer from a lender, you'll be working directly with the financial institution you've been matched with.
The best interest rates will be awarded to higher credit scores meaning higher interest rates are awarded to poor credit scores.
BadCreditLoans.com steps out of the way.
Wait…so how do they get paid?
Generally, lenders will pay a "finders fee" to any lead generator that sends business their way.
While it's not specifically stated how BadCreditLoans.com gets paid, this is the most likely scenario.
This arrangement may seem a little pushy to some, but recognize that a credit decision is ultimately the lender's to make.
Bad Credit Loans wants to send applicants with good credit history/credit ratings who get approved to lenders.
Only the higher credit scores are awarded the best rates.
Who Should Use BadCreditLoans?
Generally, online lenders spell out their perfect customer (someone with at least a good (600+) credit score or someone who wants to borrow between $500 – $1,500 for example).
BadCreditLoans is not necessarily clear about who their perfect customer is.
In addition, they do not spell out the kind of borrower their lenders are looking for through any credit inquiry process.
The information they do provide is that borrowers should:
Be 18 years or older
Be able to provide proof of citizenship or legal residency in the United States including a social security number
Have a regular income, either full or part time, self-employed or via benefits
Have a checking account/bank account
Provide a phone number
Provide an email address
This doesn't really provide a lot of detail on the type of borrower (bad credit score or good), something that would be helpful for prospective customers.
What Kind of Loans Does BadCreditLoans Offer?
BadCreditLoans.com's personal loan products range from as low as $500 to as much as $10,000.
If you're looking for an amount lower or higher than that range, you may be better off visiting another website.
BadCreditLoans also connects borrowers and lenders with a variety of different financial products, unsecured loans, including auto, student, home equity, and short-term loans.
Additionally, BadCreditLoans highlights lenders that offer mortgages.
How Long Does it Take to Get my Money?
Once you input your information, you could receive a loan offer from one of BadCreditLoans' partners in as little as a few minutes.
Generally, you'll get something via email and may be asked to call in to confirm some details.
The time it takes to get your money varies depending on the lender.
For well-qualified borrowers, it can take as little as the next business day to have your money deposited in your account.
Sometimes underwriting and confirming your loan can take a bit longer, but generally, BadCreditLoans and their partners can complete and deposit personal loans in under three business days.
Let's Do It – How Do I Apply?
Before you apply, you'll want to take a close look at your finances and ensure you have all the information that is required. You can get a free credit report from AnnualCreditReport.com, a service of the US government.
That website allows you to get your credit report once a year. Additionally, many credit cards and even credit reporting agencies are offering free looks at your report and score.
When looking at your report and score, look closely for errors or recent changes. Have you purchased something large using credit lately? Is it appropriately reflected? If not, be sure to file a complaint with the credit report company.
Get a Free Copy of Your Credit Report
Once you've reviewed your credit report and have your documentation gathered, head over to BadCreditLoans.com, and click on Get Started.
You'll enter your zip code, birth year, and the last four digits of your social security number.
The next screen will ask you for the amount you are requesting, your credit type, the reason for your loan, your full name and your full date of birth.
It's important to note that the reason you need a loan won't be a deciding factor in giving you one. Generally, lenders just want to know this information for their own purposes.
You'll also enter if you are an active-duty military. There are specific and special loan terms that lenders must adhere to if you are actively serving in the armed services.
You'll then enter employment information, when and how much you get paid, and other identifying information.
Be aware that after you continue the process from here, you'll have your credit pulled. This isn't necessarily a bad thing but is important to know. You're entitled to a look at your report, as well.
BadCreditLoans makes these menus very easy to navigate and understand. Better yet, the next series of options appear after you press "submit," making the process easy to complete.
After you complete the form and submit your responses to BadCreditLoans, you'll receive an email confirming receipt and, if your creditworthiness meets certain standards, you'll receive solicitations for loans.
They may need you to fax in documents to lenders so that they can confirm your eligibility and process your loan.
Once you agree to work with a lender, you'll move away from BadCreditLoans and work solely with them.
What Are Some Red Flags?
BadCreditLoans is an upstanding company that makes it easier for borrowers and lenders to connect.
The disclosures from the company are straightforward on their website. They include compliance with laws that protect consumers from fraudulent lenders.
Still, you should always keep some red flags in mind when shopping around for a loan. Always check out Better Business Bureau as a vetting process.
First, took a close look at the repayment terms. A lender should never charge you a fee for paying off your loan early (prepayment penalty).
Second, be sure to insist on a loan that is fully amortized, meaning that each monthly payment goes to both principal and interest.
If you're only making interest payments, you are not actually paying down your loan. Also, pay attention to any late payment fees as well.
Third, check to see if they report your payment history to credit bureaus. That way, you'll be able to improve your credit with on-time payments.
Finally, you should never have to pay any money to get a loan.
Are They a Good Resource?
The key to smart financial planning is doing your research. You'll want to find a number of different sources, including the lender or lead generator you choose to go with.
BadCreditLoans are usually a better option than payday loans or installment loans who generally offer low credit score applicants high-interest rates instead of the lower interest rates generally reserved for the better credit score applicants.
They are generally the go-to company for those unable to get loans through the traditional routes or credit unions.
BadCreditLoans offers a very comprehensive blog and FAQ page explaining the many different options available to consumers as well as some of the terms and practices that exist within the industry.
The series of blog articles looks at a number of different scams that consumers should be aware of. It also defines many of the terms that you may see during the loan process.
BadCreditLoans at-a-Glance
It's very difficult to compare BadCreditLoans to other lending companies because they aren't lenders themselves.
The loan amounts, terms, origination fees, and conditions will vastly depend on the lender you choose to go with.
BadCreditLoans works with reputable lenders, however, so the rates and terms that you receive in response to your inquiry are upfront and legitimate.
Conclusion
BadCreditLoans helps match qualifying consumers with reputable lenders.
It does this by taking borrower information and submitting it to lenders, meaning you don't have to shop around for a loan. Just log in, submit your info, and get your money.
The site is also a great resource for information about the different loan products they offer.
Mortgages, auto loans, business lending, and personal loans are all in BadCreditLoans' wheelhouse.
Best of all, once you submit your information and agree to work with a lender, BadCreditLoans steps out of the way.
Working one-on-one with a lender, with no middle man, means that you get access to your money faster with great customer service.