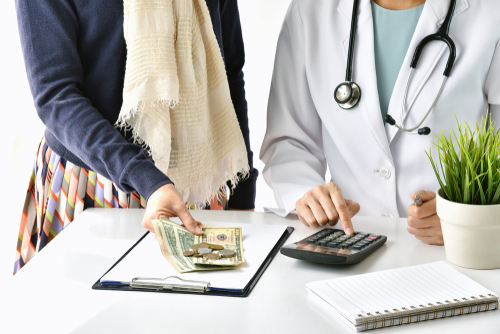 If you have had trouble paying back a certain medical debt, you may start getting letters and calls from a company called BCA Financial Services Inc.
As you may have gathered, BCA Financial Services Inc is a debt collection agency that works within the healthcare industry to help recover unpaid bills.
If they're contacting you, it's because they are pursuing you for payment on a debt.
Just because they are contacting you doesn't mean that you necessarily owe them money. But ignoring them could do more harm than good.
Debt collectors will open up collection accounts in your name before they begin contacting you. These entries can, at a minimum, cause damage to your credit score for seven years.
This can hurt your chances of qualifying for loans and credit cards.
The best course of action is to dispute the debt and get them to remove their account from your credit report.
In this article, we'll tell you exactly the steps you need to take in order to deal with BCA Financial Services Inc for good.
What is BCA Financial Services Inc?
Founded in 1956, BCA Financial Services Inc is a small debt collection agency headquartered in Palmetto Bay, FL.
They work exclusively with healthcare providers, such as doctor's offices and hospitals. If you have an overdue medical bill, you stand a chance of ending up on their call list.
Does BCA Financial Services Inc Have Any Complaints?
Debt collectors are among the most unpleasant entities to work with. It follows then that BCA Financial Services Inc would have a number of complaints against them in their 60+ years in business.
Customers have accused them of several abuses over the years. Specifically, customers claim that they have had their FDCPA rights violated.
The Fair Debt Collection Practices Act (FDCPA) is federal legislation that was enacted to prevent debt collectors from overstepping their bounds when collecting a debt.
This creates a more fair and respectful debt collection process for all parties.
When you begin to hear from them, you should familiarize yourself with your rights under the law. This will help you advocate for yourself throughout the debt collection process.
If you find that BCA Financial Services Inc continues to abuse your FDCPA rights, you can file an official complaint with the Consumer Financial Protection Bureau (CFPB).
The CFPB is in charge of enforcing the FDCPA and can help put an end to the mistreatment.
If you are overwhelmed by dealing with negative entries on your credit report,
we suggest you ask a professional credit repair company for help.
How to Deal with BCA Financial Services Inc
There are three courses of action to take when dealing with BCA Financial Services Inc. Here is what you need to know:
Validate Your Debt Information
Before you make a payment to a debt collector, you should verify that the debt is actually yours.
This is where validating your debt information with BCA Financial Services Inc becomes important.
It is your right under the FDCPA and the Fair Credit Reporting Act (FCRA) to ask BCA Financial Services Inc to provide evidence that they are reporting accurate information to the credit bureaus.
This is a process known as debt validation. And it can prevent you from paying an incorrect amount or a debt that doesn't even belong to you.
However, you should not procrastinate requesting debt validation. The law only guarantees this right within the first 30 days of contact with a debt collector.
If you wait beyond that, they are not obligated to respond.
Start by writing a Section 609 letter and sending it to BCA Financial Services Inc. This letter is an official request for them to validate the debt and it should include information about your account.
If you are unsure how to write a Section 609 letter, there are plenty of templates on the internet to help you get started.
Once they receive your letter, they are required by law to respond to your request within 30 days.
They should come back with various documents that show the most recent and accurate information about your debt.
If any of the information on these pages is inaccurate or outdated, you can submit a dispute with the credit reporting agencies. They will investigate and remove the collection account from your credit report accordingly.
Negotiate a Settlement
If you couldn't find any inaccuracies with your account or waited too long to request validation, you should start negotiating a settlement with BCA Financial Services Inc.
In the world of asset recovery, debt collectors are sometimes willing to remove an account from a customer's credit report in exchange for their payment on a debt.
This is known as a pay-for-delete agreement. Consumers use it to remove negative accounts from their credit report.
To get started, reach out to BCA Financial Services Inc and let them know that you would like for them to remove their account in exchange for 50% of the balance.
This will likely get shot down, but you can work your way up until you reach an amount that they are comfortable with.
Once both parties can agree, write out a document that lays out the terms and conditions of your settlement.
Insist that they sign it before you send them a payment on your debt.
Removing a collection account doesn't happen overnight. Give them about a month to get the job done before you follow up and insist they get a move on.
Work with a Credit Professional
Getting a collection agency to agree to a deletion is not an easy feat.
If you are struggling to negotiate a settlement with BCA Financial Services Inc, it may be time to work with a credit professional.
Credit repair companies are an excellent resource for people struggling to improve their credit.
Their job is to go over your credit report and identify any entries that are dragging down your score.
They will then work directly with the collection agencies to negotiate deletions.
They can remove damaging accounts such as collections, bankruptcies, liens, judgments, and more.
If you are interested in hiring a credit professional, I suggest you work with Lexington Law.
They are highly effective at improving their customers' credit scores and enriching your financial health.
Dealing with BCA Financial Services
Going head-to-head with BCA Financial Services Inc may be a daunting experience. But dealing with them early on is much better than accepting the damage to your credit report.
If you decide that you would rather hand the task off to a professional, you can try Lexington Law.
They can help you avoid legal trouble because they are experienced in dealing with debt collectors.
We are always looking for new ways of dealing with debt collection agencies.