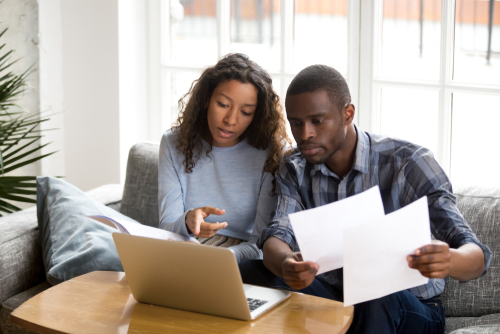 If you've missed a few payments on a cable or credit card bill, you may start getting calls from Bonneville Collections.
It's natural to question the legitimacy of a company that's requesting payments, but, unfortunately, they are the real deal.
They are a debt collection agency that has been given your debt by your original creditor.
Their job is to collect payments from you using any means necessary.
This can involve unsavory methods, such as nonstop calls and threatening letters.
While their collection tactics may be intimidating, it's their effect on your credit that you need to worry about.
Before they are permitted to contact you for payment, Bonneville Collections must open a collections account on your credit report.
This entry indicates to future lenders and creditors that you have a habit of failing to pay bills.
It can cause you to disqualify for loans and credit cards and will lower your credit score over time.
Before you count your losses, there are some tried-and-true methods to remove them from your credit report before it's too late.
What is Bonneville Collections?
Founded in 1980, Bonneville Collections is a debt collection company that is headquartered in Ogden, UT.
They are certified by the Professional Practices Management System (PPMS).
Reporting an annual revenue of approximately $9.4 million they are considered a medium-sized debt collection agency.
They have a headquarters staff of 80 employees.
They have approximately 130 total employees across all of their locations.
What Debts Does Bonneville Collections Collect?
Bonneville Collections collects delinquent accounts for businesses across a variety of industries.
This includes commercial, banking, government, health care, utility providers, and financial services.
Additionally, they also offer services such as web access, legal resources, and check recovery services.
Get a Free Copy of Your Credit Report
How to Deal with Bonneville Collections
If you're interested in removing a collections account from your credit report, these are the steps you'll need to follow.
Understand Your Rights
Debt collectors have a bad reputation for a reason. They are known to coerce payments from customers using any means necessary.
This often includes threats, deceit, and harassment, all in the name of collecting a debt.
You probably don't realize that there is legislation in place that protects you from abuse like this.
Bonneville Collections isn't going to play by the rules unless they realize you know about them. This is why you need to learn your rights under the FDCPA.
The Fair Debt Collections Practices Act (FDCPA) was enacted in the seventies.
It has a series of tenants that are meant to keep Bonneville Collections from acting out of line.
Some examples of collection tactics that are forbidden under the FDCPA are:
Threatening you with violence
Threatening to bring criminal charges on you
Shaming you publicly for your debt
Contacting your coworkers, friends, or family about your debt
Calling you all hours of the day and night
Using profane or abusive language.
If you are dealing with any of the above with Bonneville Collections, you have a right to file a complaint with the CFPB and the BBB.
This may seem like too much for you to handle on your own,
we suggest that you seek help from a professional credit repair company.
Write a Debt Validation Letter
One of the most important rights you have under the FDCPA could actually help you get out of paying the debt altogether.
I am talking about your right to request debt validation from Bonneville Collections.
Debt validation is when you confirm with the debt collector that they are collecting the debt based on accurate information.
This can prevent you from paying an incorrect amount or for someone else's debt.
In order to request debt validation, you will need to send a Section 609 letter to Bonneville Collections.
This is considered the official way for notifying a debt collector that you dispute the debt and would like proof that it is yours.
They are required to respond to your request within 30 days of receiving your letter.
You can request a return receipt with your letter to know exactly when it arrives at their offices.
You should receive official documents in the mail that list the details of your debt. If you find any errors, you can file a dispute with the major credit bureaus.
They will open their own investigations and remove Bonneville Collections if they agree that they are reporting in error.
Work Out a Pay-For-Delete Agreement
If Bonneville Collections is able to validate your debt, you still have one more trick up your sleeve. You can work out a pay-for-delete agreement with them.
A pay-for-delete agreement is relatively common in the debt collection industry.
It refers to paying an agency for the debt in exchange for them removing their account from your credit report.
Start negotiations with them by offering to pay them anywhere from 30% to 50% of the total balance.
Work with them until you get to an amount at which they are willing to remove the account from your credit report.
Once you come to an agreement, draft a contract that both parties can sign.
Having this in your back pocket will prevent them from backing out of the deal once you make your first payment.
It usually takes about 30 days after your first payment for Bonneville Collections to remove the account from your credit.
Keep an eye on their entry to ensure that it disappears from your report after this time.
If it is still there after 30 days, reach out to them and remind them of the contract you both signed.
This should light a fire under them to remove the account.
Does Bonneville Collections Have Any Complaints?
It is relatively common for debt collectors to have complaints filed against them, and, Bonneville Collections is no exception.
Bonneville Collections currently has 195 complaints filed with the Consumer Financial Protection Bureau (CFPB).
They also have 36 complaints with the Better Business Bureau (BBB) and at least 7 cases of civil litigation filed against them.
They are known to violate consumers' rights under the FDCPA, which leads to complaints and litigation against them.
Conclusion
Removing Bonneville Collections from your credit report isn't easy, but it certainly pays off in the long run.
Eliminating damaging collections accounts from your credit report will improve your score.
Ultimately, you'll be saving money on interest rates, so dealing with Bonneville Collections is money in your pocket!
Do you have any proven methods for dealing with Bonneville Collections? Let us know in the comments section below.