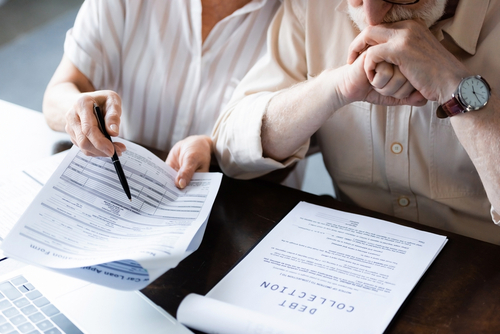 BYL Collection Services is one of the debt collectors you may deal with if you have overdue bills.
If you begin to hear from them, it is because they have been hired to recover your missed payments.
Much like other debt collectors, they rely on many irritating tactics to get you to pay up.
However, the worst thing that comes out of BYL Collection Services' advances is their effect on your credit.
When they are hired to pursue you for a debt, they first have to contact the major credit reporting agencies and open an account.
This collection account is a form of assurance that the debt is real and that they can collect it.
It will also cause your credit score to drop significantly over the next seven years. This could happen whether or not you pay the debt.
The best way to deal with BYL Collections and improve your credit score is to remove the collection account from your record.
Keep reading, and we'll tell you exactly how to do that.
About BYL Collection Services
Founded in 1998, BYL Collection Services is a small collection agency out of West Chester, PA.
They were incorporated in 2000 and are currently managed by their president, Jeffrey Heft.
BYL Collection Services collects on behalf of a number of industries, including:
banking
telecommunications
credit cards
They claim an annual revenue of over $4 million, and they have a headquarters staff of about 40 employees.
If you are overwhelmed by dealing with negative entries on your credit report,
we suggest you ask a professional credit repair company for help.
Does BYL Collection Services Have Any Complaints?
It probably comes as no surprise that BYL Collection Services has had complaints filed against them.
The Better Business Bureau (BBB) lists 12 complaints. And the Consumer Financial Protection Bureau (CFPB) lists over 30 complaints against them.
Customers claim that the issues stem from their billing, credit reporting, and customer service representatives.
Specifically, it is alleged that BYL Collection Services has violated the Fair Debt Collection Practices Act (FDCPA).
They have provided inaccurate reporting and have harassed customers.
The first thing you should do when a debt collector contacts you is to read up on your FDCPA rights.
This will give you some insights into how to deal with them. You'll need to know when they have crossed a line.
How to Deal with BYL Collection Services
These are the four steps you need to take to deal with BYL Collection Services and remove the collection account from your credit report.
Ask Them to Stop Calling
Did you know that you can simply ask BYL Collections to stop calling you? It's true!
Thanks to the FDCPA, you are permitted to ask a debt collector to stop calling you. Instead, you can request them to communicate strictly through U.S. mail.
This prevents them from blowing up your phone or leaving aggressive and threatening voicemails.
All you need to do is tell them that you are aware of your rights under the FDCPA. Let them know that you would like to communicate strictly in writing.
If the customer service representative on the other end starts to argue, tell them that they are in violation of the FDCPA and hang up.
Keep doing this each time they call until they agree to send you letters instead of calling you.
Demand Debt Validation
Another important right under the FDCPA is your right to demand validation on the debt.
It is important that you act fast when requesting debt validation. The FDCPA only guarantees this right within the first thirty days of contact with a debt collector.
Debt validation is an important step to understanding if BYL Collections has any inaccurate information about your debt.
They are required to send you all the information that they have about your debt so that you can know if the report is timely and accurate.
To request debt validation, you will need to send BYL Collection Services a formal appeal in the form of a debt validation letter.
This is a letter that lists information about your account, such as account number and creditor, and asks them to provide proof that the account is yours.
They must reply to your request within thirty days of receiving it.
You can ensure that they have gotten the letter by asking for a return receipt from the carrier.
After processing your request, they should return with various documents that list the information they are reporting to the credit bureaus.
If this information is outdated or inaccurate in any way, you can file a complaint with the credit bureaus.
Each credit bureau will investigate the claim independently and come to a conclusion regarding BYL Collection Services' reporting.
They will remove the account from your credit report if they agree that the collection account is erroneous.
Offer a Pay-For-Delete Agreement
If you are unsuccessful at removing the collection account through debt validation, your next step will be to offer a pay-for-delete agreement.
At this point, the most important thing is that you remove BYL Collection Services' entry from your credit report.
You are required to pay the debt, but it doesn't mean that you can't get anything out of it.
Removing the collection account from your credit report will boost your score and improve your chances of qualifying for a loan.
But you'll need to do some negotiating to get there.
Offer to pay a portion of the debt if they agree to delete their account.
This will probably be met with a flat refusal, but don't lose hope. Continue to inch your way up until they agree to an amount at which they'll remove the entry from your record.
Once you come to an agreement, make sure that you get BYL Collection Services' word in writing.
All of this will be for naught if you don't get proof that they agreed to a pay-for-delete.
You will need to secure a signature or official letterhead before you make a payment.
After you make your first payment, you should notice their account disappear from your credit report.
It typically takes about a month for debt collectors to remove accounts, so be patient.
Get Professional Help
If you don't consider yourself to be a master negotiator, you should consider hiring a professional that is.
Credit repair professionals are skilled at communicating and negotiating with debt collectors.
They know exactly what makes companies like BYL Collection Services tick, which means they know just what to say to get your way.
Credit repair companies are a dime a dozen, and there are some that are simply not that great.
This is why it's important to work with a reputable group that will give you your money's worth.
I recommend that you work with Lexington Law.
They have over 28 years of experience and have an excellent track record of removing collection accounts from customer's credit reports.
Conclusion
If your goal of building your credit is being hindered by BYL Collection Services, there are proven ways that you can stop their collection attempts and remove them from your report.
You don't have to go at the situation alone. You can always hire a credit repair company to help you.
Check out our comparison of the top credit repair companies to help you pick the best one for your needs and budget.
Do you have any tips for dealing with BYL Collection Services? Let us know in the comments section below.