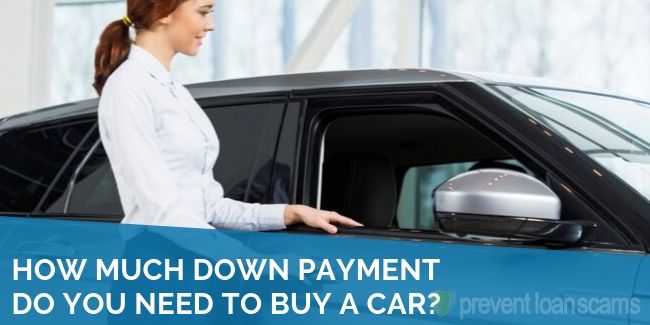 So how much do you need to put down on a car? It very much depends on the situation.
There are a few purchases in life that you likely won't be able to make with cash. More than likely, you're not going to be able to stroll into your local realtor's office and plunk down a couple hundred thousand dollars for a new home.
You need a financial institution, bank or credit union to help you by supplying financing. Cars are the exact same way. You might be a bit more likely to pay cash for a car than you would a house. However, it's still more than likely you're using credit.
A down payment on a vehicle is equally as important as making a down payment on a home. Lenders often require that you make a down payment, too.
Where is the Financing Coming From?
Before we jump into how much you need to put down, we need to make sure we clear up where your financing is coming from. If you're headed to the dealership and plan to finance with one of the options they provide, you'll definitely be looking at making a down payment when you purchase.
If, however, you go to your local credit union, bank or financial institution and get a loan, you won't be. A loan of this kind is just a straight financial arrangement between you and the bank. The seller of the vehicle will take the money as cash.
How Much Should I Put Down on a Car?
If you're looking into getting financing from the dealership or one of their partners, we'll look into down payments. To answer this question, we need to take a look at the type of car you're looking to buy.
The amount you'll need to put down is highly dependent on two big factors. Are you buying a new car or a used car and what's your credit score?
New cars
A little known secret about car dealerships is that they are paying for the cars to be on their lot. They too have a loan, called a floor plan loan, that allows them to buy a number of cars all at once and then sell them at a profit.
In short, they need to sell cars quickly so that they can make their loan payments. This, combined with a number of other factors like expected inventory and new car delivery, leads car dealers and their financing partners to offer a whole host of different financing deals.
Take advantage of these deals, if you can. Things like 0% or no money down are a good way to get into a vehicle (more on no money down below).
These deals are often only offered on new cars. The down payment rule of thumb for new car purchases is 20% and most lenders will be satisfied.
Used cars
Used cars do not often come along with specials or attractive offers. This is because the car dealership likely owns that vehicle outright. It's taking up space on the lot and they need to move it, but they're not paying to keep it there.
This means you'll likely be making the down payment directly to the dealer and that you can likely pay a bit less. The going rule for used vehicles is 10%, depending on credit.
Credit score
In both cases, your credit score will change that amount you need to put down and repay. This is particularly true for used cars.
Because the value of the car is already reduced, a finance company won't be able to get their money back very easily if you default. To compensate, they often require a larger down payment, particularly if you have poor credit.
The other side will be a sharp increase in interest rate. You can help mitigate some of these effects by making a larger down payment or extending the term of the loan. Understand for the latter case, however, that doing so will end up costing you more money in the long run.
Why Make a Down Payment At All?
If you dealer is offering a 0% down deal, why should you make it at all? There are three big reasons.
First, it lowers the monthly payments you'll be responsible for. Second, if you have an interest bearing loan, you'll end up paying much less if you make a larger down payment.
And finally, making a larger down payment keeps you right side up on the loan. This means that the car should be worth at least the amount of the loan when you drive it off the lot.
When you're buying a new car, you should shoot for 20% of the purchase price as your down payment. This will help you reduce interest costs, lower your monthly payment and keep you from being underwater on the loan itself.
When buying a used car, consider no less than 10% as your down payment for the same reasons. You can fiddle with the term of the loan in order to get the monthly payment you can afford.
Before you do anything, ensure that you've done the research to ensure that you can craft the best deal for you.