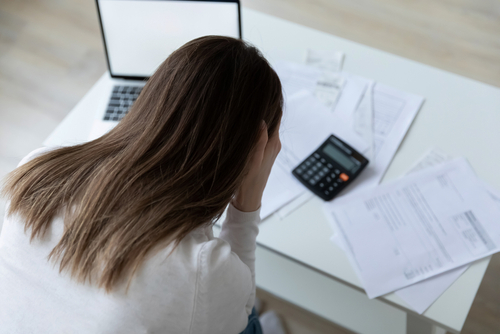 If you have received a letter or phone call from a collection agency known as CBE Group, you'll need to be prepared to deal with them.
Whether you believe the debt they're attempting to collect is legitimate or not, you'll need to respond to them.
This is the first advice we provide consumers for dealing with all collection agencies.
But the nature of the debts CBE Group attempts to collect makes it even more imperative that you don't ignore them.
CBE Group provides collection services for a wide range of companies and institutions, including the US government.
That's not an attempt to scare you, but rather to make you aware of the potential seriousness of collection efforts by this particular collection agency.
What Is CBE Group?
CBE Group describes itself as a receivable management company, which loosely translates to a collection agency.
Based in Cedar Falls, Iowa, the company has been in existence since 1933, making it one of the better-established collection agencies in the nation.
They have more than 1000 employees working out of four facilities, including three in the US and one in the Philippines.
What Does CBE Stand For?
Neither the company website nor the Better Business Bureau gives us a clue.
CBE Group is a subsidiary of CBE Companies and likely derives its name from the parent company – whatever that abbreviation stands for.
What Does CBE Group Collect?
Just about anything and everything. The company website provides a laundry list of clients, including providers of:
medical services
cable TV
phone services
utilities
credit cards
student loans
They also provide collection services for unpaid obligations to governments not related to taxes or education.
But, perhaps the most interesting CBE Group client is the IRS.
CBE Group is one of only four private collection agencies the IRS has partnered with to collect unpaid federal income tax.
Is CBE Group Legit?
CBE Group has a Better Business Bureau rating of "A+", the highest rating on a scale of A+ to F.
BBB has received 228 complaints against the company in the past three years.
A cursory review of those complaints provides no details on most.
However, it appears all complaints have been answered by the company, with many resolved in the consumer's favor.
Get a Free Copy of Your Credit Report
Before You Deal with CBE Group
The wide variety of debts CBE Group attempts to collect will make dealing with them more than a bit tricky.
Exactly how you'll deal with them will depend on who the original creditor is, and how large the debt is.
But, in doing so, keep the following rules in mind—they apply to virtually all collection agencies.
1. Don't deal with CBE Group by phone
Our normal advice in dealing with collection agencies is that you should never deal with them by phone, at least not on an ongoing basis.
That's true with most debts CBE Group will collect.
Phone contact gives all the power to the collection agency, because it enables them to call at all hours, whether you are at home, at work, or even away from home.
It also gives the collection agent an opportunity to draw more information out of you, and even move you toward making a promise to pay you won't be able to keep (which has legal implications we'll discuss below).
If CBE Group is attempting to collect any debt, other than an IRS tax debt, you should avoid phone contact completely.
You have a legal right to make that request, and the collection agency must honor it.
But, the complication with CBE Group is the IRS tie-in. The IRS gives partnering collection agencies the authority to contact you by phone.
They make it clear that the collection agency will ask you a series of questions, including verifying your identity and providing portions of your taxpayer authentication number.
The collection agency will then work with you to help you settle the debt.
Be aware that all payments made on the debt will be made directly to the IRS, and not to CBE Group.
If CBE Group contacts you about an IRS debt, we recommend you cooperate and work to resolve the account. If you don't, the IRS may eventually take action against you.
That will not be easily avoided. Generally speaking, they will want you to engage in a monthly payment arrangement at least, rather than payment of the entire balance upfront.
2. All contact with CBE Group should be in writing
Other than an IRS collection account, you should insist all communications with CBE Group be handled in writing.
Under federal law, you have a right to make this request, and the collection agency must comply.
Written correspondence will give you more control over the collection process.
You'll be able to keep your letters short to avoid providing additional information to the agency, or making promises of payments you're not in a position to make.
In addition, written correspondence will give you an all-important paper trail that may be your best defense if CBE Group pursues legal action against you.
Just be sure all correspondence you send to the company is sent by certified mail, return receipt requested.
That will provide evidence you sent your letters, and that they have been received by the agency.
3. Never promise to make a payment unless you're willing and able to make it
This is one of the major reasons we recommend you avoid phone contact with a collection agency. Collection agents will attempt to get you to commit to making payments.
If you agree to make the payments, but can't, the collection agency can use that failure to pay as evidence against you in court.
Collection agencies routinely record phone calls, so even a verbal promise will be the same as a written one.
Never promise to make a payment that you either don't intend to make, or don't have the funds to cover.
4. Familiarize yourself with your rights under federal law
The Fair Debt Collection Practices Act (FDCPA) provides consumers with certain protections from collection agency abuses.
You can learn these protections by reading the Debt Collection FAQs provided by the Federal Trade Commission (FTC).
Just knowing your rights under federal law may give you the upper hand when a collection agency starts getting ugly.
Get Professional Help in Dealing with CBE Group
For the average consumer, dealing with any collection agency can be both stressful and frustrating.
Despite your best efforts, you may not be able to achieve your objectives.
If you feel like you're bumping up against a brick wall, get help. Start with a good credit repair company.
They'll be able to take over the process, saving you time and sparing you plenty of aggravation.
They may even be able to get a collection account completely wiped off your credit report.
But, if CBE Group threatens you with legal action, or you believe they might, you'll need legal representation.
If so, Lexington Law is a credit law firm that can represent you and protect your interests.
They may also be able to prevent the collection account from turning into a judgment, especially if there have been issues with the debt validation letter.
Specific Strategies for CBE Group
With the basic rules for dealing with all collection agencies in mind, let's look at specific strategies for getting this collection off your credit report:
Demand CBE Group Provide a Debt Validation Letter
If a collection agency is attempting to collect a debt, they must be able to substantiate that the obligation is legitimately yours.
In your initial contact with CBE Group, you'll need to request a debt validation letter.
The letter should include all information relevant to the debt, including the date it went into collection, the specific dollar amount, the original creditor, and other information that establishes the claim as a legitimate debt.
It should also have information that clearly connects the debt to you personally. (CBE Group will provide validation on a tax debt, as part of their agreement with the IRS.)
Once you receive the debt validation letter, examine the details carefully.
Does the information about the debt tie into information you have about the original creditor and the obligation?
And just as important, is the debt really yours, or is it a case of mistaken identity?
The debt validation letter will give you an opportunity to determine either situation.
It will be the basis of any attempt on your part to challenge the debt.
Request a Goodwill Deletion
If the debt validation letter proves the debt is yours, or you know it to be the case, you may be able to pay the debt in full, then request a goodwill deletion from CBE Group.
You'll do this by sending the collection agency a goodwill letter.
In the letter, you'll need to provide a convincing explanation that the reason the debt went into collection was due to circumstances beyond your control.
That can include a prolonged time of unemployment, the death of a loved one, a disability, or similar major events.
Your case will be stronger if you can include documentation supporting your claim.
If the account has already been paid, or you're in a position to pay it now, the combination of the payoff and your explanation may persuade CBE Group to delete the collection account from your credit reports.
Offer a "Pay-for-Delete" Agreement
This is another strategy to use if you're in a position to pay off the debt completely, and your primary concern is removing the collection account from your credit reports.
You'll send CBE Group a pay-for-delete letter in which you'll agree to pay the debt in full in exchange for their removing the collection from your credit reports.
They may agree to this arrangement because it provides an opportunity to receive full payment on the debt.
But if they do agree, ask them to provide written confirmation of the terms before sending payment.
That said, even if the company agrees to the arrangement and does so in writing, they may not follow through with their end of the agreement.
Unfortunately, not only are pay-for-delete agreements not legally enforceable, but they represent a violation of the collection agency's agreement with the three major credit bureaus.
CBE Group may agree to the arrangement, accept your payment, and then fail to delete the account from your credit reports.
And, if that happens, you'll have no legal recourse.
Demand Deletion if CBE Group if Can't Fully Validate the Debt
Remember that debt validation letter we discussed earlier? It's a legal requirement for collection agencies to provide it.
If they don't, or if they can't provide complete information about the debt or your personal responsibility, you have a basis for disputing the obligation.
Legally, CBE Group will be required to end collection activities against you and remove any negative entries from your credit reports.
But, that's not the way it always works with collection companies.
You may need to send the incomplete debt validation letter (or note that it has not been received) to the three credit bureaus—Experian, Equifax and TransUnion—and open a dispute.
They will also attempt to validate the debt with CBE Group, and if the information isn't forthcoming, the credit bureaus will delete the collection account from your credit reports.
If CBE Group still pursues you for payment of the debt, you may need to get legal representation to put a stop to it.
Settle the Debt for Less than the Full Amount Owed
This is another strategy you'll want to consider if the debt is legitimate. It'll be a way of settling the debt for less than the full amount owed, though it won't remove the collection account from your credit reports.
You'll start by sending a letter proposing the settlement to CBE Group. If they make a counteroffer, they'll be signaling their willingness to settle.
You'll continue to negotiate back and forth until a mutually agreeable settlement amount is reached.
But, send no money until CBE Group provides you with a letter confirming your entire agreement.
That will include, first and foremost, that they're accepting the reduced payment in full satisfaction of the entire debt.
It will also confirm they will end collection efforts against you and report the account as paid with all three major credit bureaus.
Do not send payment until this letter is received! If you do, the collection agency may ignore your agreement, accept your payment, and then continue to pursue you for the balance of the debt.
In Conclusion
Ignoring collection agencies is never a good strategy, but that's especially true with CBE Group.
In general, a collection account on your credit report will remain there for up to seven years from the date the debt first went into collection.
That's true even if you pay the account in full. But, as long as it appears on your credit report, it will hurt your credit score.
However, that's not the worst possible outcome. Given the nature of CBE Group's clientele, there's probably a greater chance a collection account pursued by the company will turn into a judgment.
If that happens, CBE Group will be able to garnish your wages and take other steps against you until the debt is fully paid.