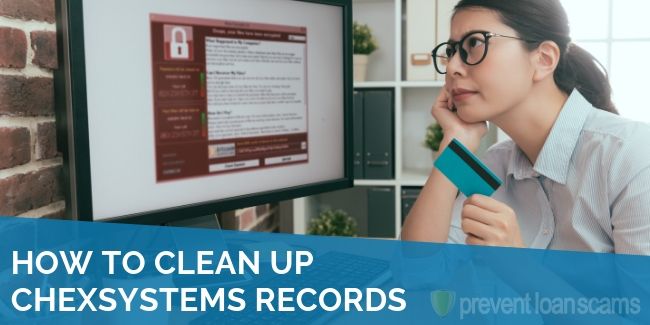 ChexSystems is similar to how the credit bureaus work, but instead of checking your credit history, ChexSystems has a record of your bank accounts. So you may be wondering how you can clear your ChexSystems report.
By now, you probably know that you have a credit report and a score. Those reports are generated by one of the three large credit bureaus, Equifax, Experian, and TransUnion.
They contain a whole host of information, including your payment history, how many open accounts you have, how old your credit history is, and more.
They hold all sorts of information like your mortgage, your auto loan, and any revolving debt you might have.
Your credit report and score give prospective lenders a good idea about your credit history and your ability to repay a loan.
The lower your score, the more difficult and expensive it is to get credit. The higher it is, the better off you are.
What is a ChexSystems Report?
ChexSystems collects information about your activities as they relate to your checking and savings accounts. Specifically, your ChexSystems report includes your personally identifiable information, like your name, Social Security Number, address, and more.
It also includes any unpaid negative balances you may have with banks. These could be caused by overdrafts that you didn't resolve or accounts that were closed by a bank. It also includes account inquiries, unpaid fees, and public records, like bankruptcy, court judgements or garnishment agreements.
Why Do I Have a Report at All?
In the same way prospective lenders use your credit report and score to determine if you are eligible for a specific credit product (and how much you'll pay to access it), ChexSystems reports can tell banks and financial institutions how successful you are at keeping bank accounts current and funded.
If you have a number of negatives on your report, other banks may not allow you to open an account. If they do, they may charge you a higher fee for their service, to offset the risk of negative balances.
How Do I Know What My ChexSystems Report Says?
Again, just like your credit report and score, ChexSystems must by law provide consumers one free report per year. You can request your report by visiting the ChexSystems website.
Here, they will ask you for quite a bit of information, including your Social Security Number and current and past addresses. Then, they will ask you to confirm your identity by answering a number of questions, the answers to which are derived from your credit report.
An example would be, "With which lender do you have a current relationship?" They will then provide you with four choices and ask you to pick the correct one.
None of them may be correct. The idea here is that only you would know the answer to that question. Note that they will prepare and mail the report to you.
How To Clear Your ChexSystems Report
Once you get your report, you'll notice that it is set up similarly to a credit report.
You'll see a number of accounts listed, the date on which you opened them, and any negative areas, like fees or negative balances.
Review the report carefully and make a note of anything that looks erroneous or you don't understand.
If you find an error or omission, you can file a dispute with ChexSystems to have that inquiry removed.
Note that you can't do this simply for things you don't like. You must have a legitimate reason for the error.
Submitting a dispute is relatively easy.
ChexSystems allow you to submit in writing, online, or over the phone.
You'll also need to submit a dispute with the bank that reported the item.
Both entities investigate incorrect ChexSystems notes and will work together to determine if any changes need to be made.
What if I've Been Denied and the Mistakes are Legitimate?
If your ChexSystems report contains some negatives and they're legitimate, it's not the end of the world. People make mistakes and there are some things you can do.
First, take a close look at what you're applying for. If you legitimately owe money and haven't paid it, a bank is unlikely to approve you for even the simplest checking account. Do your best to pay the debt.
If you need to, you can apply for one of a variety of different types of second-chance accounts. These generally have higher fees and offer reduced services, but would give you the ability to rebuild "trust" with banks.
Clearing Your ChexSystems Report
Your ChexSystems report is, in many ways, more important than your credit report (or even improving your credit score) because it allows you to access the standard banking system.
Ensuring your report is free of errors and in good standing will ensure that you get the financial products you need.