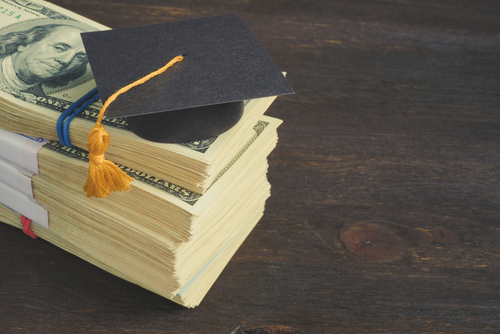 Coast Professional is a debt collector that works with higher education institutions seeking repayment on overdue debts.
This includes tuition, parking fines, auxiliary accounts, and any other campus-based debt.
If they contact you, you may be wondering what to do next.
Before you pay them a dime, make sure that you exercise all of your rights under federal law to try to stop their collection efforts or even lower your repayment amount.
What is Coast Professional?
Coast Professional is a large debt collector that specializes in collecting student debt from colleges and universities.
They work with over 200 colleges and universities to recover student loan debt in the US and abroad.
Their focus is on student loan debt, but they have also been known to collect other campus-based debts, such as parking fines and primary care debt. They report annual revenue of $83.5 million.
Originally founded in 1976, they are currently headquartered in Geneseo, New York.
They opened a west coast office in Nevada in 2004. They employ 80 people out of their headquarters location and boast 300 employees across all locations.
If you are overwhelmed by dealing with negative entries on your credit report,
we suggest you ask a professional credit repair company for help.
Does Coast Professional Have Any Complaints?
Getting calls from a debt collector is irritating, so it's no wonder that Coast Professional has many complaints against them.
However, some complaints may indicate a larger problem with their collection tactics.
As of this year, they have 102 complaints filed with the Better Business Bureau (BBB) and 242 complaints filed with the Consumer Financial Protection Bureau (CFPB).
Additionally, they have been named as a defendant in at least eight cases of civil litigation.
As I mentioned above, some of these complaints may just come from people that are irritated about being contacted by a debt collector.
Many of these complaints cite major issues when it comes to how they regard customers' federal rights.
We will discuss below what you should know regarding your consumer rights under federal law.
This knowledge can help you recognize when Coast Professional has overstepped their bounds and get them back in line.
How to Deal with Coast Professional
Below, we've outlined the three steps you'll need to take to stop Coast Professional's collection attempts and improve your credit.
Know your Federal Consumer Rights
Being contacted by a debt collector can be intimidating.
However, there are limits to what Coast Professional can do or say when trying to collect a debt from you.
There are federal laws in place that protect consumers from abuse, deception, or intimidation from debt collectors.
This includes the Fair Debt Collection Practices Act (FDCPA) and the Fair Credit Reporting Act (FCRA).
The FDCPA, in particular, has several rules that outline improper collection conduct. Under these rules, they are not permitted to:
Contact you by phone before 8 a.m. or after 9 p.m.
Contact anyone except for you regarding your debt.
Use profane or abuse language.
Threaten you with physical violence.
Contact you by phone after you have requested written communication.
Threaten you with legal action that they don't intend to take.
Threaten you with criminal charges
Report inaccurate information about your debt to credit bureaus.
Publicize information about your debt.
Fail to provide validation on your debt.
If Coast Professional does any of the above when contacting you regarding the debt, you should tell them that you are aware of your rights under the FDCPA and will report them to the CFPB if the abuse continues.
You can also choose to work legal representation if they continue to abuse your consumer rights.
This can result in your earning up to $1,000 per FDCPA infraction.
Ask for Validation on the Debt
One of your most important rights under consumer law is your right to request debt validation from Coast Professional.
When they purchase your debt from the original creditor, they are eager to begin collecting on it as soon as possible.
This means that they often hastily open a collections account on your credit report, sometimes at the expense of the account's accuracy.
Debt validation allows you to ascertain whether the debt collector has inaccurate information about your debt.
If they are reporting incorrect or out-of-date information, you can file a dispute with the credit bureaus and have the account removed.
You should still request debt validation from Coast Professional even if you suspect that they have all of the correct information.
It's possible that they have an inaccuracy that will merit the entire entry to be deleted.
To ask them for debt validation, start by writing a letter that asks them to prove that the debt is yours.
Make sure to include your account information so that the debt collector can find your debt.
Send the letter to Coast Professional no later than 30 days after the first contact from them.
Request a return receipt from the carrier so that you are notified when they get your letter.
If they are unable to provide validation, they are required to remove the collection account from your credit report.
This means that you will be relieved of repaying the debt entirely.
Strike a Deal with Coast Professional
It's somewhat uncommon to have a collection account completely removed due to inaccurate reporting.
If Coast Professional validates your account, your next step is to settle the account.
The most common type of settlement deal that customers make with debt collectors is known as a pay-for-delete agreement.
This is a relatively self-explanatory concept where Coast Professional agrees to stop reporting the debt in exchange for payment.
To begin negotiations, ask them to delete the account for 50% of the total balance.
This offer will likely be rebuffed, so work with them to come to a settlement that works for both parties.
Once you reach an amount at which Coast Professional is ok removing the account, have them send you a physical contract that both parties can sign. Don't pay them until you get this document in the mail.
After you pay, they should contact the credit bureaus and remove the account from your report.
Make sure that they follow through with this by monitoring your credit report.
Conclusion
Student loans are among the most annoying expenses that people have.
When you forget to pay them, however, you can find yourself in a much more frustrating dilemma.
If you're dealing with Coast Professional, be sure to exercise your rights under the FDCPA and FCRA before you pay the debt.
This will help you catch any reporting errors and streamline the process from the get-go.
Above all, make sure that you don't procrastinate.
Leaving Coast Professional on red can make them more desperate and aggressive, so be diligent about dealing with them now.
Your credit will thank you later.
If you have any top tips on dealing with Coast Professional, we'd love to hear from you!
Drop a comment below and let us know what has helped you when dealing with debt collectors.