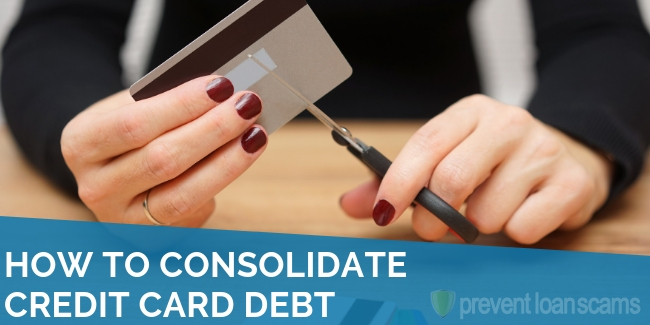 Debt consolidation can help you rebuild damaged credit or simply help you organize your payments for credit you have under control. Understanding how to consolidate your credit card debt is a key to achieving your financial goals.
Some methods are better than others, however.
Many consumers often find that unscrupulous debt repair companies have taken advantage of their need for consolidation.
We researched & reviewed the best 
credit repair
companies. They can help you dispute inaccurate items on your report & work towards improving your credit score.
How To Consolidate Your Credit Card Debt
Here, we'll take a look at a few strategies to consolidate your credit card debt.
We will also look at some important things you should stay away from.
Debt Repair & Consolidation Companies
Let's make this incredibly clear. There is virtually no reason you can't repair your credit yourself.
Debt repair and consolidation companies are usually doing nothing more than taking advantage of people when they are at their lowest point. Many disreputable debt repair companies sell a "system" that will help consumers rebuild their credit after they've made some credit mistakes. Typically, the only real cures for repairing your damaged credit are time and on-time payments.
Consolidation companies also sell a system that is purported to help consumers out of high cost, high interest loans. Of course, there is a fee to use their service. And what do they do for that fee? The same thing you could do yourself, and usually, they're not very good at it.
Let's take a look at a few of the ways you can consolidate your debt.
Transfer Credit Cards
One of the most popular ways to consolidate debt is to shift that debt around to a variety of different credit cards that offer 0% APR for a period of time. Credit card companies want your business and definitely are happy to take your transfer, especially if you have decent credit.
Using transfer credit cards to consolidate your debt does require that you have decent credit, so if you have a less than a stellar credit report, this may not be the method for you.
A variety of different websites have a review of payment cards that can help you find the right one for you. If you can, consider getting a balance transfer card that you can use for other things. After all, if you're going to ding your credit, you'll want to be able to use the card for other things after your finished paying off your debt.
Keep in mind, however, that credit cards have fairly high interest rates. Cards are only good if you are planning to pay off your debt sooner rather than later.
Additionally, check out your financial institution that holds your bank account or other credit cards. They may be able to help you with a balance transfer card at a discounted rate since you are already a customer.
Personal Loans
Personal loans are an excellent way to consolidate your debt without credit cards and make things easier to track. Proper personal loans from companies like PersonalLoans.com, Best Egg, and OneMain will help you build your credit report and score, offer a defined payoff date and have set payments that you can count on each month.
Moreover, personal loans offer much lower interest rates and can likely be taken out for higher balances. This can help you consolidate more of your outstanding debt in one place.
There are some drawbacks to personal loans, however. If you don't have decent credit, you will be taking on a higher APR than you might be expecting. However they can be very helpful as you develop long-term financial plans, especially in building your credit.
Other companies of note: LightStream
Home Equity Loans
If you own a home, you can borrow against it to consolidate your outstanding debt. This has a number of attractive elements.
First, the APRs tend to be lower because homes intrinsically have value as collateral. Additionally, the payments and terms are very flexible, meaning you can generally work with the financial institution to pay what you'd like, when you'd like, too. Note that the term APR will be lower as the term extends.
The same things that make home equity loans positive also make them negative. Having a loan attached to your home means that if you default on that loan, the lender has the right to foreclose on your home.
Student Loans
It's a bit unorthodox, but using your student loans to consolidate your debt is possible and preferable if possible. Student loans almost always come paired with very low APRs and very flexible repayment plans.
This does mean, however, that you need to overborrow on the loans you have in order to make payments to other lenders. This isn't always preferable and requires that you have a positive income flow after graduation.
Why consolidate?
Why consolidate in the first place? There are two big reasons.
First, consolidating your debts will help you get out of high interest loans in other places. For example, if you have a maxed out credit card that charges 30%, and can refinance to a more affordable 15%, it will certainly go a long way.
This is even true if, in order to consolidate your debt, you have to lose some low interest loans. If you've got several loans to consolidate, some with high APRs and others with low APRs, you may end up with something in the middle. If the net of the APR is still less, you come out ahead.
Second, consolidating your debt simply makes things a whole heck of a lot easier to track. If you are someone that likes to set up automated payments and forget them, you'll want fewer payments to worry about.