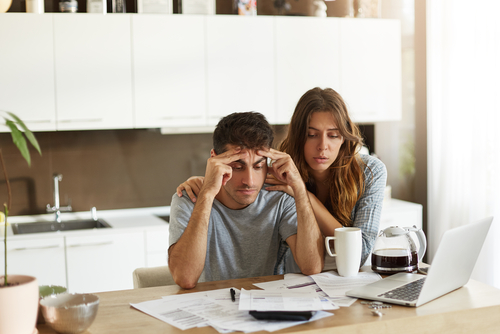 If you've been getting threatening letters and voicemails from a company called Credence Resource Management, it's probably due to a payment you missed a while ago.
When you fail to make a payment on a debt or bill, the company that you owe money will outsource the collection to a third party.
That collection agency will open a collection account on your credit report and begin contacting you for payment.
A collections account is an entry that certifies that they are permitted to collect your debt.
It will remain on your credit report for as long as seven years and can damage your credit score and interest rates.
Once Credence Resource Management is on your credit report, they will not stop contacting you until you pay them.
Unfortunately, this can cause your score to drop even more.
The best way to stop their collection efforts is to remove them from your credit report.
Keep reading for our step-by-step guide on how to best accomplish this.
What is Credence Resource Management?
Credence Resource Management is a medium-sized debt collection agency that was founded in Nevada in 2013.
They are currently headquartered in Dallas, TX, and have roughly 50 employees at their headquarters.
Additionally, they have locations in Bellevue, WA; San Jose, CA; Pune, India; and Mumbai, India.
What Debts Does Credence Resource Management Collect?
They are most commonly known for collecting on behalf of popular cable, satellite, and mobile services providers.
However, their clientele span several industries, including banking and healthcare. Their annual collection is around $5 million each year.
Get a Free Copy of Your Credit Report
How to Deal with Credence Resource Management
Want to prevent Credence Resource Management from ruining your credit history?
Here are the four essential steps to remove the collection from your credit report.
Write a Goodwill Deletion Letter
If you are generally good about paying your bills but had one slip up, Credence Resource Management may be inclined to let you off the hook.
This is known as requesting a goodwill deletion.
A goodwill deletion is when the debt collector agrees to remove their collections account from your credit report out of benevolence.
Typically, a debt collector will agree to this if the debt was due to circumstances that were out of your control, such as a job loss.
Asking for a goodwill deletion must be preceded by having already paid the debt.
You should avoid this strategy if you haven't paid Credence Resource Management yet or have other debts in collections.
To request a goodwill deletion, write them a letter that explains why you were late on your payments.
You should mention any recent financial stressors that may have led to the nonpayment, such as a hospital visit or an unexpected layoff.
They will probably ask for documentation that backs up your claims, so make sure that you are being truthful in your letter.
You should also make sure that your tone is polite and kind. After all, you are asking Credence Resource Management for a favor.
Ask for Validation on the Debt
If a goodwill deletion isn't an option, you can ask Credence Resource Management to validate your debt and check for any inaccuracies on the account.
Debt validation is your right granted to you under the Fair Debt Collection Practices Act (FDCPA).
The purpose of debt validation is to ensure that debt collectors are not collecting a debt from you that is based on inaccurate information.
You should still take advantage of your right to request debt validation even if you are sure that the debt is yours and is for the correct amount.
This is because you can file a dispute to have the collection entry removed if there is any information wrong about your debt.
You do not need a reason to request debt validation, but you must do it within the first 30 days of hearing from Credence Resource Management.
Otherwise, they may refuse your request or ignore you altogether.
How to Request Debt Validation
To ask for debt validation, you will need to write Credence Resource Management a debt validation letter.
This is an official request for them to send you all the information they have on your debt so that you can review it for any mistakes.
They are required by law to respond to your request within 30 days of receiving your letter.
If they do not, you can file a complaint with the CFPB.
If they are unable to verify your debt or provides inaccurate information, you can file a dispute with:
TransUnion
Equifax
Experian
They will investigate the matter and delete the account if they discover that the debt collector is reporting inaccurate information.
Negotiate a Pay-For-Delete
Many people can successfully remove a collections account through debt validation.
If Credence Resource Management is able to validate your account, you will need to turn to negotiate a settlement.
The standard settlement that people make with debt collectors is called a pay-for-delete agreement.
As the name suggests, a pay-for-delete agreement is when you agree to pay for your debt in exchange for Credence Resource Management to stop reporting your debt to credit bureaus.
However, they will probably be less than thrilled about negotiating with you for a pay-for-delete.
Debt collectors don't like these sorts of agreements because it involves them altering credit reports, which is considered an official record.
If you negotiate with them long enough though, you may be able to get Credence Resource Management to agree to it.
How to Negotiate a Pay-for-Delete Agreement
Kick-off negotiations by offering to pay Credence Resource Management half of the total balance.
This is meant to set the bar low so that they will be more likely to agree to deletion at a higher percentage of repayment.
Work with them until you come to a repayment amount at which they are willing to delete the account.
Then, write up a contract that both parties will sign. Do not make your first payment until Credence Resource Management signs this document.
After you make your first payment on the debt, you should notice their account disappear from your credit report.
This typically takes about a month.
If 30 days come and goes, and Credence Resource Management is still on your credit report, reach out to them.
Remind them that you have a signed contract and that they are required to remove the account.
Work with a Credit Repair Company
Not everyone is comfortable negotiating settlements with debt collectors.
If you would prefer to hand off the communications to someone else, you should look into working with a credit repair company.
Credit repair companies are credit professionals that specialize in identifying and removing negative accounts from your credit report.
They will take over all of the back-and-forths with Credence Resource Management so that you don't have to deal with it.
In addition to removing collection accounts, credit repair companies can help you improve your credit in other ways.
They can review your overall financial habits and point out areas for improvement.
While credit repair companies are generally an excellent resource, some are simply not worth the money.
It is important to work with a reputable and effective credit repair company so that you get what you pay for.
We have compiled a list of the best credit repair companies out there so that you can compare and choose the best one for you.
Does Credence Resource Management Have Any Complaints?
Most debt collection agencies have at least a few complaints against them. Credence Resource Management, unfortunately, has more complaints than even the average debt collector.
Since its founding in 2013, they have had nearly 1,000 complaints filed with the Consumer Financial Protection Bureau (or CFPB) and over 300 complaints with the Better Business Bureau (BBB). They have also had 28 cases filed against them in civil court.
The majority of these complaints are in regard to violating the Fair Debt Collection Practices Act (FDCPA).
The FDCPA protects consumers from debt collector abuse. Consumers allege Credence Resource Management committed infractions such as:
calling at unreasonable hours
using profane or obscene language
failing to validate debts
If you believe that they have violated your consumer rights, you have the right to file a complaint against them as well.
Conclusion
If you're rebuilding your credit, you should first deal with any collection accounts on your credit report.
They will lower your credit score over time and can prevent you from qualifying for loans and credit cards.
If Credence Resource Management is on your credit report, you should follow the steps outlined above to remove them.
If you have trouble dealing with them on your own, lean on a professional to help you out.