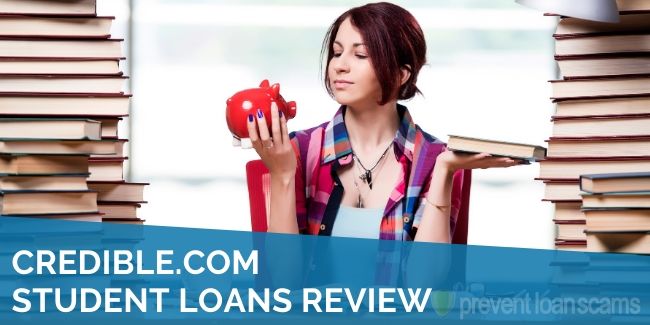 Websites and companies like Credible.com aim to make shopping around for your student loan refinancing a lot easier. The company isn't a lender itself.
Instead, it serves as an aggregator that takes your information. Then, it shops it around to a variety of different lenders, allowing you to shop and choose conveniently.
Founded in 2012 in San Francisco, Credible offers a whole host of loan types (including personal loans, like Lending Club). Here, we'll just be looking at student loans.
When a company is offering something for no cost to you, it can seem a little bit out of the ordinary.
In the case of Credible, however, the service allows you to shop around for various student loans. There will be no risk to you.
Let's take a look at how Credible works and how they get paid. Let's also look at whether or not a student loan found on Credible might be right for you.
How Credible Works
The first step to using Credible is to gather all the information you need to apply for a student loan. This usually means that you must have filled out the FAFSA — or the Free Application For Student Aid — form. You'll need to do that for the school year you're looking to borrow.
Why would you have to fill out a government form if you're getting a loan through Credible? All lending companies, including Credible, use your FAFSA form to determine your eligibility for loans. They'll be able to easily see and understand how much you can expect from the government and how much you'll need to borrow.
After you fill out your FAFSA, be sure you have all your charges lined up with your school of choice or with your student loans. You'll need to include all of that information with your application. You don't need to have all of this gathered to grab your rates, but you will need it moving forward.
It's important to note that none of the companies that work with Credible offer an origination fee of any kind. Some companies may do so for personal loans (Best Egg's personal loans, for example), but those offering student lending options will not.
Requirements
There are no minimum requirements to use Credible. Anyone with any credit report and score can use the service.
However, most lenders have a minimum score that they will look for in prospective borrowers, generally around the mid 600s. You should also have a relatively stable income and bring in enough money to cover your existing debts as well as the new student loan payments.
Refinancing vs. First-Time Borrowing
Credible has two distinct areas for consumers who are refinancing student loans versus those who are taking out loans for the first time. The rates, terms and loan amounts can be very different depending on whether you're getting a student loan for the first time or refinancing old debt.
The refinancing area will prompt you to fill out a short form about your financial standing, including your personally identifiable information (name, address, etc.) and ask you about the amount of debt you're looking to refinance.
Filling out and submitting the form will not affect your credit (soft inquiry). Once you complete the form, Credible will return results based on the information you submitted. It could include as many as ten different lenders "bidding" on your business.
Note too, that you will likely see a number of different responses from the same lender. This is because lenders offer a variety of different loan products, including variable or fixed rates, term length and loan.
Once you select a loan, you'll work directly with the lender to apply. You may need to supply more information to the lender and you'll fill out a more robust credit application. Additionally, the lender will perform a credit check which will affect your credit (hard inquiry).
For first-time borrowers, Credible offers private student loans. It's important to check out what loans you qualify for through the federal government before shopping around for a private loan.
Private loans, like those Credible offers, tend to be more expensive and lack some of the financial protections offered by loans backed by the government.
You can do this by ensuring you fill out your FAFSA form. The Free Application for Federal Student Aid — the FAFSA — is your key to unlocking student aid. Even private lenders often require that you fill out your FAFSA form.
Then, you'll pick up the same process as those choosing to refinance their existing loans. The rates may be a bit different, depending on your credit history, but the number of possible loans will generally be the same.
Why Refinance at All?
Refinancing your student loans can help you lower your payments, extend your term and lower your interest rate. If you have a good credit score and report to support refinancing your loans, doing so can be exceptionally helpful.
Shop around for refinancing options. Different lenders often different rates and each can offer different aspects that may be helpful to you.
A company like Credible can help you shop around quickly and easily without going to many different places. Having your "quote" submitted to a number of lenders all at once and have them return rates and loan information, in one convenient place is easy and effective.
Wait…How do they make their money?
Good question, consumer! It's always smart to ask how a company you're working with makes the payroll every month. Credible, like many other lead generators, gets their money when you apply for a loan and money is dispersed.
This is fairly normal — the lenders pay a small fee to be listed on the site and you are never charged anything. This works out well for the consumer, because you can compare loan rates in one place, and very well for the lenders, who are able to reach customers in places they normally couldn't.
Credible is a great option for those refinancing or new borrowers. Make sure you've filled out your FAFSA if you're a new borrower to make sure you take advantage of the what the federal government offers. Then, you can use Credible to get rates and compare lenders to get the best bang for your buck.