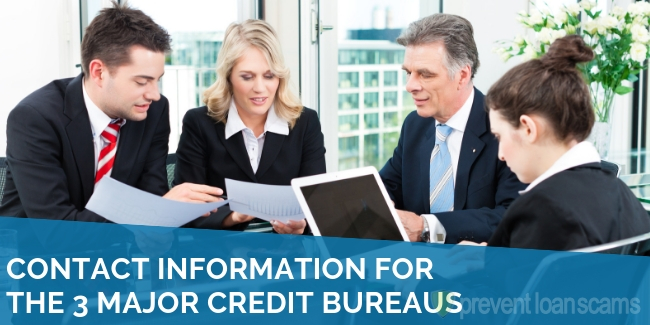 If you're checking through your credit report and notice an error or omission, or simply have some questions, it may be a good idea to have the major credit bureaus' contact information handy. In recent years, the internet has made it exponentially easier to contact credit bureaus.
Previously, consumers used to have to call in blind without the benefit of having their credit information in front of them.
Now, you can easily call in with a report from any of the three bureaus right up front and have the bureau answer any questions you have.
The 3 Major Credit Bureaus Contact Information
Here's a rundown of the contact information for the three major credit bureaus:
Experian
Experian
P.O. Box 9701
Allen, TX 75013
(888) 397-3742
www.experian.com
Equifax
Equifax Information Services, LLC
P.O. Box 740256
Atlanta, GA 30374
(866) 349-5191 (for disputes)
www.equifax.com
TransUnion LLC
TransUnion LLC
P.O. Box 2000
Chester, PA 19022
(800) 916-8800
www.transunion.com

We researched & reviewed the best 
credit repair services
. They can help you dispute inaccurate items on your report & work towards improving your credit score.
Preparing to Contact Them
There are some things you should have ready when you're contacting them. First, expect a series of automated menus. The credit bureaus get a ton of phone calls so you'll have to wait on hold for a while and navigate through a maze of automated computer responses.
If your request isn't time-specific (i.e. you haven't had your identity stolen or you are actively making a credit purchase), consider sending a secure message through the bureau's contact portals. This can save you time and a headache.
Once you get someone on the phone, ensure you have a few pieces of critical information. You'll need your full name, address, phone number, email and Social Security Number.
Additionally, you'll have to answer some questions about your credit history so that the bureau can verify that it's you they're talking to. These questions take a lot of different forms, but typically they come from info right on your credit report.
For example, the bureau may ask what address at which you previously lived. Note, that the answer may not appear there at all. That's part of the question.
Finally, ensure that you have the question you want to ask down pat. Credit reports are complicated. The more information you can provide to the customer service agent, the better off your interaction will be.
There Are More than Three Credit Bureaus
You may not be aware of this, but there are more than three credit bureaus. They are substantially smaller and for the vast majority of Americans, are not a critical part of the financial landscape.
These bureaus tend to work in very niche areas or focus on subprime consumers. These are folks that have damaged credit
These bureaus use a bit more information to try to paint a more accurate picture of the consumer. These include things like phone and utility bills and even social media accounts.
In recent years, many of the smaller bureaus have been purchased by the big three as the marketplace consolidates and Experian, Equifax, and TransUnion look to expand their businesses. However, some of them still exist.
You likely do not have to contact these bureaus, particularly because they take their lead from the big three. Just in case, however, here's contact info for two of the larger of the small bureaus.
MicroBilt Corporation
MicroBilt Corporation
1640 Airport Rd, Suite 115
Kennesaw, GA 30144
(800) 884-4747
www.microbilt.com
Innovis
Innovis
Attn: Consumer Assistance
P.O. Box 1689
Pittsburgh, PA 15230-1689
(800) 540-2505
www.innovis.com
Do's & Don'ts for Contacting the Credit Bureaus
As with all customer service, there are a few things that you should and should not do when contacting the credit bureaus.
DO have all your information ready when you're calling.
DO set aside some time for the call itself. You may be on hold for a while.
DON'T give out your personal details before you're asked for them.
DON'T use social media. You can reach out to the bureaus via social media, but you'll have to call to have them look at your account.
Conclusion
Contacting the credit bureaus can be time-consuming but is sometimes the only way to rectify issues.
As always, do your research and come prepared.