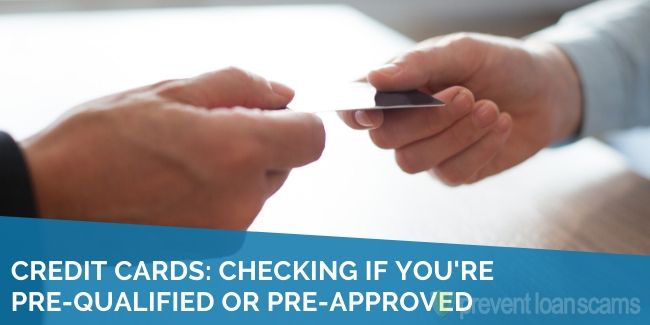 Pre-qualification for a credit card can be, more than anything, a very good feeling. In many cases, it means that a credit card company or bank believes your credit history is good enough that they're willing to give you a line of credit without pulling your full credit report.
But how do you know if you are pre-qualified? If you're of the younger generation and generally toss all your paper mail in the trash can, you may have no way of knowing.
Pre-qualification is a great feature that credit card companies offer. That's because it allows you to gather a number of different rates. You can also compare various accounts and card features to others.
Let's take a look at what pre-approval or pre-qualification actually is. We'll also look at how it works. We'll also tell you how you can tell if you're already in line for a shiny new credit card.
What is a Credit Card Pre-qualification & Pre-approval?
Simply put, pre-qualifications and pre-approvals are a way for financial institutions to perform a soft pull on your credit to determine if you may qualify for their credit products.
They do this by taking the last four digits of your social security number, combined with your name, to produce a small snapshot of your payment history and outstanding debts. They do not necessarily need your permission to do this because they're not affecting your credit at all. Although, you could choose to opt out of future credit card offers from that company.
All in all, a pre-qualification is the financial institutions saying, 'based on what we can see, we think we'll approve you for our product.'
So this means I'll be approved, right?
Not necessarily. Remember that the pre-qualification process is a quick way for a financial institution to determine if you might be eligible for their credit products.
If you want to determine if you will be approved or not, you have to formally apply for the product. You will have to fill out a credit application and the financial institution will pull your credit, affecting your score appropriately.
It's important to know that being pre-qualified or pre-approved for a credit product definitely increases the chance that they'll approve you. After all, financial institutions aren't in the business of sending offers to people who they know can't use their products effectively.
However, you do have to complete the full credit application process to actually be approved.
Pre-qualification or Pre-approval: Which is it?
In many cases in finance and credit, people often use the two terms interchangeably and incorrectly. However, they actually mean two different things.
In this case, however, they are actually interchangeable. Different financial institutions will define pre-qualification and pre-approval slightly differently.
In some cases, a pre-qualification is a screening offer and a pre-approval is a bit more final. But the long and short of it is, both are acceptable terms for the same thing.
So how do I know if I am Pre-approved?
Pre-qualifications and pre-approvals come in many forms. There are a few things you can do to determine if a company has pre-approved you.
Check your Mail
Financial institutions will send both paper snail mail and email pre-approval offers. Do use caution whenever you're considering an offer of credit received this way.
If you've never heard of the bank or financial institution, you should do a Google search. Also, be sure that you understand the terms and conditions of any offer.
Go Online
There are several websites that will check your pre-qualification status across various financial institutions all at once. Again, be sure to shop around. Certain websites partner with different companies so the card that's right for you may not appear.
Contact the Source
Don't be afraid to ask the financial institution directly if they've pre-approved you. They'll be happy to let you know and most have a dedicated website where you can check your status.
Tips before you check
First, make sure you have decent credit. If you do not have a fairly good credit score, it's unlikely that a financial institution will pre-approve you for a credit card. If you still want one, there are a variety of options for consumers with damaged credit, including the possibility of repairing your credit prior to applying.
Second and related to the above, ensure you have the credit score you require for the card you're looking to get. Financial institutions often have fairly strict requirements for various cards. If you'll only qualify for a product that you don't want, there's no use in checking.
Finally and most importantly, ensure that the financial institution delivering the pre-qualified offer performs a soft pull of your credit. The whole process is moot if they're logging inquiries on your credit report.
As always, do your research. Consider any pre-approval offers you receive as a starting point.
Don't be afraid to use the pre-approval offer you received from one bank "against" another. You may be able to get qualified for a card that you want in this fashion.