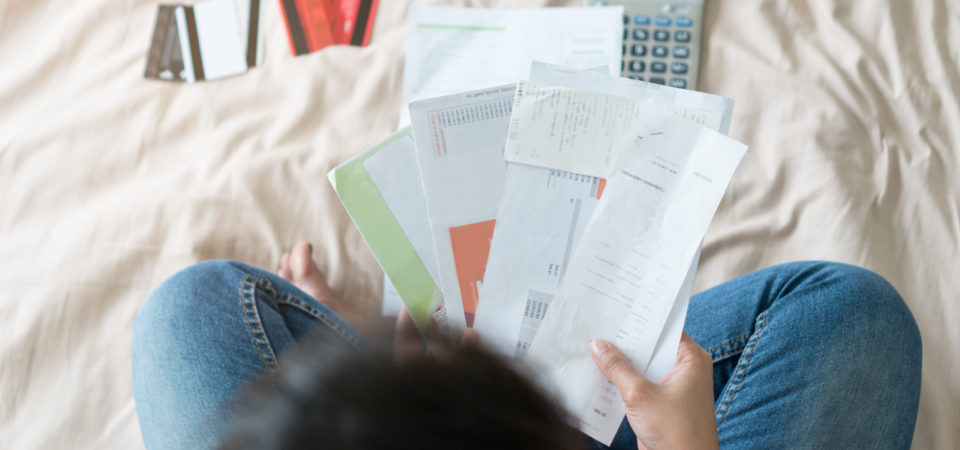 Have you been contacted by a company called Credit Collection Services, or CCS? You may be tempted to ignore them if you have, but don't.
They're a debt collection service, and they will not simply go away just because you don't respond.
Unfortunately, that's not the way debt collection agencies work.
If they are contacting you, it's because a previous financial service creditor or vendor has engaged their services to collect a past-due debt.
The debt may be legitimately yours, or it may be a case of mistaken identity. Either way, the outcome will be the same.
Credit Collection Services will continue to contact you until you respond and the debt is paid or officially removed from your name.
This can oftentimes lead to wage garnishment until repayment or other legal actions like judgments.
Whether you think the debt is legitimate or not, you're going to need to respond.
What is Credit Collection Services?
Based in Norwood, Massachusetts, Credit Collection Services has a deep history. The company was founded in 1969 and currently has more than 750 employees within the United States.
They collect debts for:
government agencies like the IRS
utilities
cable and telecommunications service providers
healthcare providers
student loan companies
retail company credit cards
banking and insurance companies
The company claims to receive annual placements in excess of $5 billion, making CCS Collection one of the largest debt collection services in the country.
A common practice of the company is to handle a large volume of past-due debt owed to a single client company.
That may include hundreds or thousands of individual debts.
Because of the company's size and long history, they operate nationwide.
It's possible you'll hear from Credit Collection Services no matter where you live in the US, or even if you move from one state to another.
Depending on the client company they're working with, Credit Collection Services may operate as the first line of collections for a company's accounts receivable department.
If they work in this capacity, they may not contact you about a past-due debt, but a current obligation.
However, like all collection agencies, one of their primary businesses is the collection of bad debt.
Your obligation has reached bad-debt status anytime it's been past due for well beyond what would normally be considered a reasonable timeframe.
And this is usually when debt collection services become most aggressive.
Is Credit Collection Services Legit?
When contacted by a collection agency, a common response is disbelief, especially if you have no recollection of the debt.
But the next question — and one that's totally natural — is to question the legitimacy of the collection agency.
As it turns out, Credit Collection Services is a real business that works with some of the best-known companies in America.
The company has been rated by the Better Business Bureau (BBB.org), giving them an "A+".
The Consumer Financial Protection Bureau, along with the BBB, report over 270 and 400 customer complaints respectively.
Credit Collection Services is a legitimate credit collection agency.
You'll only hurt your case if you don't respond to their communications and do what's necessary to remove them from your credit report.
How to Remove Credit Collection Services from a Credit Report
The strategies for dealing with a demand for payment from Credit Collection Services are similar to those you would use in dealing with any collection agency.
We're going to present specific strategies — and strongly recommend that you first assess your situation— then select the strategy you'll use to deal with it.
You especially need to be aware of all your strategy options if you're dealing with multiple collection accounts from several different collection agencies.
Now, let's zero in on the strategies you can use to remove Credit Collection Services from a credit report.
1. Learn Your Rights Under Federal Law
If you're going to take on Credit Collection Services, you need to become familiar with federal law and how it relates to debt collection practices.
Rest assured that the collection agency is aware of those laws. You need to be as well, to level the playing field.
You can learn your rights by reviewing the Fair Debt Collection Practices Act.
More specifically, study the more user-friendly Debt Collection FAQs provided by the Federal Trade Commission (FTC).
You may be surprised to learn what collection agencies can and cannot do to collect a debt, including following the statute of limitations and hours in which they can contact you.
Sometimes just letting a collection agent know you're aware of your rights under federal law can go a long way toward keeping your communications more civilized.
2. Get a Copy of Your Credit Report
This is a completely necessary step, because reporting a collection account to the credit bureaus is a common strategy employed by collection agencies.
They're well aware that consumers often ignore attempts to collect on an account until the entry on a credit report makes it difficult or impossible for a person to get a new loan.
Your credit report will also give you a better handle on exactly what you're dealing with. Collection agencies are not service providers or lenders.
Whenever they get involved in a collection situation, they still represent a company or lender that is the source of the original obligation.
Getting a copy of your credit report will help you to match a collection claim with an original obligation.
For example, if Credit Collection Services contacts you about a specific collection balance, you can match it up against a previous account you may have had problems with.
If you can match it, you'll know it's a legitimate debt. But if you can't, that will help you to know that you may be able to dispute the legitimacy of the obligation.
To get the most accurate information, you'll need to get a copy of your credit report from all three major credit bureaus: Experian, Equifax, and TransUnion.
Fortunately, that's not a complicated process at all.
You can get copies of your official credit reports from all three bureaus by ordering them through AnnualCreditReport.com.
They're the only source officially authorized to provide you with a copy of your credit report from all three bureaus.
What's more, the reports are free of charge under federal law. The entire ordering process takes place online.
Get a Free Copy of Your Credit Report
3. Request a Debt Verification Letter from Credit Collection Services
You're within your legal rights to request a debt verification letter from Credit Collection Services.
The debt verification letter is provided by the collection agency and must provide all necessary information relevant to the debt.
This includes the amount of the debt, the original creditor, significant dates for the obligation, and any other important information.
Under federal law, if the credit collector is unable to furnish full or even complete information, the obligation must be canceled and removed from your credit report.
This is especially important while we are the current COVID pandemic and identity theft is significantly increasing.
Two Primary Reasons Why You Need To Obtain This Letter:
To confirm the legitimacy of the debt, and
To make sure you're seeing the same information the collection agency is.
The debt verification letter request should represent the entirety of your first conversation with Credit Collection Services.
There's no point arguing payment, details, or obligation legitimacy until you have something in writing from the collection agency.
But from that point forward, all communication with Credit Collection Services needs to be in writing.
When dealing with collection agencies, it's mission-critical to have a paper trail at all times.
That paper trail will ensure that whatever terms you agree to will be enforceable in court, if necessary.
It will also prevent you from committing yourself to any procedures you may not be able to follow up on, which is always possible in a live conversation.
If you do get involved in a phone conversation with an agent from Credit Collection Services, use it purely as a fact-finding mission.
In other words, it should serve for you to obtain information from the agency, and not to provide information to them.
4. Your Strategy if the Debt Isn't Yours
If the debt verification letter fails to prove the collection account is legitimately yours, and you can't match it to any information on your credit report, insist that Credit Collection Services remove the negative information from your credit report and immediately cease contacting you about it.
Companies like Credit Collection Services that work with past-due accounts in bulk often have erroneous information.
For example, it may be a case of mistaken identity, such as when someone with a similar name owes the actual obligation.
Or, it may be that your name has been associated with a debt you're not legally required to pay.
Still another possibility is that it's a debt you have already paid, and the original creditor did not record the payment.
In any case, an incomplete debt verification letter — or one with no information at all — will give you the basis to demand removal.
And so will any evidence you come up with that can prove the original obligation was paid, like a canceled check or a copy of a bank statement.
If that turns out to be the case, insist that Credit Collection Services provide you with a letter confirming that it isn't yours and that the entry will be removed from all three credit bureaus.
Even if Credit Collection Services fails to remove the information from your credit reports, you can use the letter as evidence when you contact the credit bureaus yourself and dispute the obligation.
When you open a dispute with them, the credit bureaus have 30 days to investigate.
If they're unable to confirm the full details of the debt with Credit Collection Services, they are required by law to delete the debt from your credit report.
5. Your Strategy if the Debt is Yours
If Credit Collection Services can prove that the collection account is really yours, you'll need to settle the debt.
That's important because the collection agency always has the option to convert the account to a judgment.
If that happens, the debt will become a legal obligation — one you will need to pay in full.
There'll be no opportunity to negotiate a lower payment amount, and CCS will be legally able to garnish your wages.
But if the debt is yours, you should try to settle the debt for less than the full amount or agree on a payment plan.
That may be more doable than you ever imagined. Collection accounts are often years old, and have already been given up by the original creditor.
The collection agency is trying to recover at least some of the amount owed, and may be perfectly willing to settle.
Take advantage of that situation by offering to pay no more than 50% of the debt.
But you must insist that the payment be accepted as full satisfaction of the obligation.
And if they do, you must get the agreement in writing from Credit Collection Services before sending any money.I
If you don't, they may accept your partial payment, then continue to pursue you for the balance.
If they don't accept your initial offer, ask them to counter.
That will set off a negotiation process likely to result in you paying more than your original offer but still less than the full amount of the debt.
"Pay-for-Delete"
This is a strategy often recommended when dealing with a collection agency.
The purpose is not only to settle the obligation but also to have it completely removed from your credit report.
You offer the collection agency payment on the debt in exchange for them removing it from your credit report.
If they agree, they'll get their money, and you'll get a clean bill of health on your credit report.
But there's one glitch: a creditor is not legally required to remove an entry from your credit report, even if they've agreed to do so in writing.
In the credit reporting universe, paying off a collection account does remove the obligation.
The account will show as "paid" on your credit report. But the negative information remains on your credit report.
It will remain on your credit report for seven years from the time the account first became delinquent.
You can request a pay-for-delete arrangement — and we recommend that you do — but don't be surprised if it doesn't happen.
Either way, a paid collection is always better on a credit report than an unpaid one.
The passage of time will ultimately remove the negative information from your credit report.
If Credit Collection Services Plays Hardball, Get a Credit Attorney
You should exhaust all options in dealing with Credit Collection Services yourself first.
But if you can't make any progress, or they threaten to pursue a judgment, you'll have no choice but to get legal representation.
That will require a law firm or credit repair company that specializes in consumer credit.
An excellent example is Lexington Law. They're one of the biggest names in credit law to help you with your credit repair journey, and just having them on your side can persuade a collection agency to settle things more peacefully.
CCS Contact Information
Here is some contact information about the debt collector:
Address: 725 Canton Street, Norwood, MA 02062-2679
Phone Number: (617) 965-2000
Website: https://www.ccsusa.com/
Final Thoughts
If you're contacted by Credit Collection Services, we strongly recommend you move quickly to deal with them.
You know the obligation is yours or it's not. If it's not, force them to delete it from your credit report.
But if it is, work to settle the debt for less. And if things get complicated, seriously consider bringing in a credit attorney.