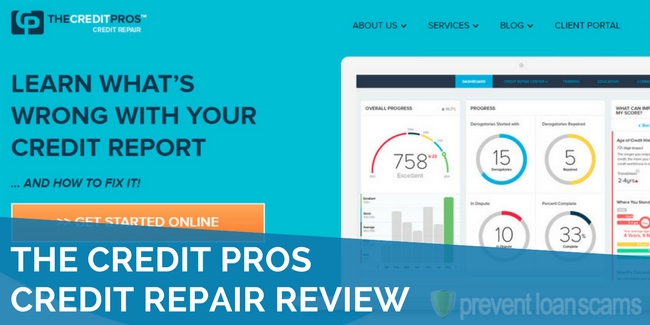 Bad credit can follow you for almost seven years and seriously impact your personal finance journey. While The Credit Pros is relatively new to the industry, the New Jersey-based company appeared on the credit repair company scene quite fast.
The company features the use of FICO (three credit bureaus-Equifax, Experian, and Transunion) specialists dedicated to working on each customer's case file.
In the following review of The Credit Pros' services, we'll go over the firm's pros & cons, what you can expect from their service, and a few frequently asked questions.
Company Background
The Credit Pros is owned by Jason M. Kaplan, an attorney and credit educator, who specializes in the Fair Credit Reporting Act.
He is a certified Credit Counselor and FICO Consultant. Kaplan created The Credit Pros with the desire to use his understanding of the law to help others repair their credit.
He built the company by employing experienced FICO experts and credit counselors to help clients navigate the complicated process of credit remediation.
What We Like About The Credit Pros
The credit repair services offered by The Credit Pros include certified FICO professionals who assist in credit building, credit monitoring for identity theft, and credit management. They also give the option to have public records errors deleted.
They offer a free consultation and offer a 90-day money-back guarantee in regard to your credit disputes. The process is relatively quick, starting within 3-5 business days.
The design of the website is clean, simple, and generally user-friendly. Contacting them is easy via a pop-up menu in the lower right corner of the website. TCP now offers a mobile app with easy access to your client portal.
We appreciate founder Jason Kaplan's desire to be a transparent and engaged owner. His name, contact information, and biography are readily available on the site for potential clients to evaluate.
A simple Google search returns generally positive reviews of the business, including the BBB A rating (as of this review, October 2020).
The amount of time it takes for each individual to have their credit information fully repaired will vary based on circumstance.
What We Dislike About The Credit Pros
The Credit Pros (TCP) now appears to have moved to a more traditional, monthly-fee approach (rather than their old model of 'fee for service'). So, the below paragraph no longer applies.
Although we love the simplistic design of the website www.thecreditpros.com, the business should expand the text of the site to allow for a better and more thorough explanation of their services.
Additionally, we would like to see them list the names and profiles of their team of FICO experts that they will assign to individual customers.
They do not report the results that an average consumer receives after using their service.
The Credit Pros has only been in business since 2009. It is possible that their strong reputation could be the result of not being in operation long enough to accumulate blemishes.
There are two distinct disadvantages associated with The Credit Pros:
Customers may be 'oversold' on services. While The Credit Pros does offer a wide variety of services, customers may find themselves being enticed to pay for services that they would not otherwise need.
They do not list the process by which negative credit items are deleted. This information is helpful for customer reassurance and serves to empower customers in the instance that they wish to take independent action. We would like to see The Credit Pros implement learning modules and feature information on what actions an individual may take on their website like other comparable credit repair agencies.
Credit Pros Reviews
The Credit Pros feature upbeat testimonials on their website and are accredited with an A+ rating by the Better Business Bureau.
The personal finance service is positively reviewed by Consumer Affairs, and the Consumers Advocate; however, Yelp reviews are less stellar, and present a mixed bag of complaints about cost and efficacy.
When to Use The Credit Pros
The Credit Pros service is intended for anyone who needs to have negative, inaccurate items removed from their credit report.
What Can Be Removed from Your Credit?
They can remove anything legally allowable from your credit. These items range from:
…and more.
How Much Do The Credit Pros' Services Cost?
They offer several packages all payable via credit card. As of 3/19/21, the prices are as follows:
CreditSentry Package: $19/month & a $19 first-work fee
Money Management: $69/month & a $119 first-work fee
Prosperity Package: $119/month & a $119 first-work fee
Success Package: $149/month & a $149 first-work fee
See more about what's included in each package on their website as each varies on the type of credit repair services offered.
What Results Can You Expect from The Credit Pros?
Although results vary for each individual, most clients can expect at least some credit issues to be removed from their credit report.
Correspondence with the FICO expert will give them a greater understanding of their own credit and their rights vis-a-vis creditors.
They state on their website their customers can expect:
Assistance with the deletion of erroneous credit damage including goodwill letters, dispute letters, cease and desist, and debt validation letters.
Practical and honest credit advice regarding their credit profiles.
Help with setting realistic and reachable good credit goals.
Education on credit scores and consumer rights.
An action plan and tools to help avoid credit problems in the future.
Frequently Asked Questions
Are there any discounts for Couples, Families, or Military Service?
No. They do not currently offer discounts for any of the above scenarios as some other companies like Lexington Law.
Can deleted items reappear on your credit report after a seemingly successful repair?
Deleted items can always reappear on one's credit report due to error or unethical practices by the creditor.
The Credit Pros and other firms design their services to combat this potential problem with necessary follow-up for those who continue their subscription.
Where Are The Credit Pros Located?
The Credit Pros
60 Park Place Suite 200
Newark, NJ 07102
What is their phone number/hours?
Telephone number: (844) 257-4696
Hours of availability (phone) 9 a.m. – 8 p.m. (EST) M-F
How Do You Cancel The Credit Pros Membership?
You must contact the company directly via phone or email.