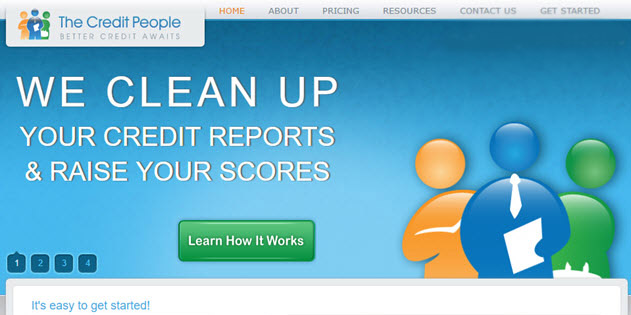 In our review of The Credit People's credit repair service, we found both positive and negatives for consumers to take into account before hiring the company.
The company does not have a reputation for anything distinctly outstanding. They're a credit repair company, not a miracle factory.
However, they do appear to at least have a distinguishable track record of helping customers build credit and remove negative items from their reports.
This review aims to help you determine whether Credit People has effectively lived up to their reputation, and if they are a viable credit repair company for those seeking to improve their credit and clean up their credit reports.
What We Like About The Credit People
Credit People provides an accessible, straight-forward website which consolidates all the necessary information for potential clients.
Their site offers a pricing feature, allowing individuals to compare prices and confirm they are receiving the best deal.
They provide links to well-known publication endorsements, such as The Wall Street Journal, Smart Money and USA Today.
In our review, there are several benefits of a subscription to The Credit People's service:
The compare pricing feature is a great advantage for customers. Their compare pricing feature breaks down the costs between different tiered services provided by various credit companies. Differences include: starting credit reports, credit scores, ongoing updated credit reports and the first fee.
Credit People's services are cheaper than comparable credit companies. Many other credit companies charge upwards of $90 per month for their services. Credit People advertises just $19 for the 'first fee' (the first-month's payment).
A Money–back guarantee. Many similar services do not feature guarantees, nor offer a refund if the customer is not satisfied with their results.
What We Don't Like About The Credit People
The 'unbeatable satisfaction' guarantee banner located in the top right corner of the website is vague. Satisfaction is subjective. There is no way this can be guaranteed.
This company is not accredited by the Better Business Bureau (BBB).
There is no explanation for why the product being offered is substantially cheaper than its competitors. While the cost is a benefit, it brings into question the quality of the product being delivered.
Below are some disadvantages we've identified for those considering using CreditPeople:
There are no indicators of prior successes. Does this make choosing The Credit People appear to be somewhat of a gamble?
Although they are featured on nationally syndicated periodicals, there are no listed facts on their website regarding the average number of credit removals per customer or their general success rate.
Without this information, customers are unable to form realistic expectations about the level of service they will receive from CreditPeople
Credit People's website does not outline a specific strategy on how one's credit report will be improved. Under the section of the website called 'How Our Service Works,' they don't offer concrete strategies for users to better understand what is happening during the process.
The website reads:
"Shortly after you sign up we'll give you login access to your online account…then a friendly Credit People expert is put to work right away. They'll begin a strategy to challenge and remove questionable items from your credit reports."
The website does not list credentials for the people working for Credit People. While many other credit companies refer to their personnel as experts with a wealth of experience in dealing with credit issues, there is no such mention by Credit People.
This results in a compound negative effect. Not only is the customer unfamiliar with the process by which their credit will be improved, but they are not provided reference materials by CreditPeople to suggest the company is knowledgeable in the actual service they're offering.
The Credit People Reviews
Overall, Credit People's reviews weigh more negative than positive.
The company received a grade of C- from the BBB, Better Business Bureau (at the time of Prevent Loan Scams' last check: December 2016). However, they've only received one customer review and two customer complaints on the website.
The one customer review was positive. The two customer complaints were extremely negative.
One of the complaints from a customer posted on the Better Business Bureau website claimed they were 'scammed'.
This customer claimed they never received their promised credit information and were not able to contact the Credit People website to inform them of the error or receive a refund.
The other complaint claimed they paid $119, and when they asked for a refund, they only received $59 – roughly half of the website's promised amount.
Credit People responded to the complaint, claiming the issue had been resolved. The customer was refunded the remaining portion of their fees, and the consumer responded to this update to verify this assertion.
When to Use The Credit People
Do you have potentially erroneous items on your credit report, and want to hire a firm to take care of the 'dirty work' for you in having those items removed?
The Credit People is an options to consider for you.
Anyone looking to clean up their credit report or learn more about their credit could do worse than hiring this company for help.
What Can Be Removed From Your Credit?
Credit People can remove (erroneous or expired):
bankruptcy
late payments
collection accounts
tax liens
student loan listings.
How Does Credit People Repair Your Credit?
Credit People has a three-step process in credit reparation.
They first inform customers how to initiate the process by paying $19. Afterwards, the company will retrieve the customer's credit reports and credit scores and load them into an online account for viewing.
Shortly after, Credit People claims one of their credit repair analysts will be in contact with the customer to help them develop a strategy for repairing the credit as they review the customer's credit information.
Once this is done, Credit People says customers will start seeing improvements in 60 days or less. At the conclusion of this 60-day period, Credit People says they will deliver updated credit reports to the customer so they can see firsthand the results which were gained by their efforts.
The company also states customers can expect to see continued improvements in their credit during each subsequent month after the 60-day period as long as they continue enrollment in Credit People's services.
How Much Does The Credit People Cost?
Credit People offers two types of payment programs.
The first program is a monthly membership. CreditPeople advertises that customers need only pay $19 for their first seven days in the program.
If a customer decides to continue with the service after the seven-day period, the cost will be $59 per month. CreditPeople's website states that customers have the freedom to 'pay as you go' with the possibility to cancel at any time.
The second option Credit People offers is a 'flat-rate membership' program.
This program is a one-time fee of $299 for their six-month credit repair program. This payment option comes with the guarantee of customer satisfaction or a full refund.
On their website, Credit People states customers will receive the same level of service regardless of which option they choose. One should expect to see the most improvement in their credit reports within the first 30-60 days of enrollment.
What to Expect When Signing Up
Customers should expect free credit reports with scores, and the ability to watch their progress online.
What Results Can You Expect From Credit People?
Clients will start seeing credit improvements within 60 days, per The Credit People's website.
Company Background
Who are The Credit People?
As the company's website puts it, an executive team consisting of individuals who "have a heart for helping people improve their credit and a mind for making it happen."
Who Owns The Company?
CreditPeople does not indicate a singular individual as the owner of the company.
Where Are They Located?
Orlando, Florida.
Frequently Asked Questions
Does The Credit People Offer a Guarantee?
Yes. The company offers a six-month satisfaction guarantee which allows customers to receive a refund at any time during the credit repair process.
Can Deleted Items reappear on my credit report After Deletion?
Yes. There is always the possibility that even after an item has been successfully removed from one's credit report a credit agency will continue to report where a customer has unsettled debt or other credit issues.
This is an event that is usually outside the control of any individual or agency a customer uses to repair their credit.
Credit People does, however, affirm they will maintain constant vigilance on their client's credit reports to remove such errors in the future, should they arise.
How Long Does Credit People Take to Repair Your Credit?
The company states users can expect to see results within 60 days of applying for membership.
Do they offer a discount for family members or couples?
Discounts are not available, at the time of our research.
What is their phone number/hours?
CreditPeople's phone number is 1-866-875-1478
Their hours of availability for phone support are 9 a.m. – 5 p.m. CST.
Their virtual services are open and functioning 24 hours a day.
How do I cancel with The Credit People?
You can cancel your subscription with this company through their main website or by phone.