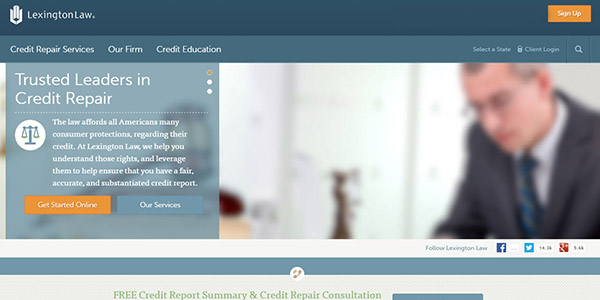 Lexington Law Credit Repair ranked #3 (or, 2b) in our review of the best credit repair companies.
Among the positives we like:
Personal touch of a dedicated personal case adviser
Established 26+ year history of getting results
Above-average customer service hours
The simple size of the company.
The firm's credit repair packages range in price from $79.95 per month for the "base" package, $99.95/month for the middle, and $119.95 for the top-of-the-line "PremierPlus" offering.
Usually, we're not huge fans of repair agencies over-complicating their pricing into multiple tiers.
In fact, the base-level package will likely be enough for most potential customers who are only looking for one thing: credit repair.
However, Lexington's 'upgraded' service levels offer potentially worthwhile benefits for certain credit repair cases.
The firm's expanded service offering, long track record, high marks for customer service, and relatively robust freely-available educational resources helped Lexington Law to a PreventLoanScams.org rating of 9.2 out of 10.
Our Lexington Law review dives further into the Pros & Cons, and answers frequently asked questions potential customers may have about the service.
What We Like About Lexington Law
With over 25 years in the industry, Lexington Law has developed a well-established and effective algorithm for solving credit issues. In addition, their team invokes many consumer protection statutes on behalf of each individual client in order to ensure the best outcome is obtained.
We really like the fact that Lexington Law offers free legal consultations and they only require payment after services have been rendered. This is very beneficial for potential customers because it allows them to gather all of the necessary information at no risk before deciding to retain Lexington Law's services.
Lexington Law ranked #3 in
our research
of the top companies in the industry.
Lexington Law is also very upfront about what they can and can't do. They forewarn clients on their website of illicit tactics that other credit repair companies use to entice customers.
While some competitors may only specialize in a few issues, Lexington Law provides excellent services on issues ranging from bankruptcies to charge-offs and even tax liens. This ensures their clients will receive high-quality legal representation in any scenario.
Facing credit problems alone can be an intimidating task. However, clients that opt to retain Lexington Law's services will receive the following advantages:
1) A team of attorneys and paralegals are assigned specifically to each client's case to help them review all of their credit reports and then adjudicate on the best strategy. Each legal representative is trained to assist with highly complex credit issues and will be able to quickly and efficiently parse out the most pertinent information for a given case.
Once the team of attorneys have isolated the points of concern in a client's credit report, the client will be given the option of deciding which items they would like to contest. Lexington's legal team handles the responsibility of reaching out to the three major credit bureaus on behalf of their clients.
2) Clients also receive a targeted credit score analysis on a monthly basis. In addition to the analysis, clients are given tailored advice and techniques on ways to improve their credit score.
There are no shortage of resources for this analysis either as Lexington Law has paralegals that can be reached via phone or e-mail for direct correspondence. This is extremely helpful for clients that have lingering questions or need further assistance in improving their credit score.
3) Lexington Law offers follow up services to their clients as well. Sometimes clients are still contacted by credit bureau services, so Lexington Law's follow-up is valuable in these instances.
The firm also offers ways for clients to digitally track their credit issues 24/7 through their web and mobile applications. Clients using these applications have the option of reaching out to one of Lexington Law's advisers directly through these apps.
4) Lexington Law offers a very quick response to all retainer requests. Once a client retains their services, a paralegal is assigned to them in a day or less.
The paralegal assigned to the client remains with them throughout the process. Their responsibility is to help answer any questions that clients have as well as liaise with the credit bureaus on their behalf.
5) Lexington Law offers free education on credit repair, as well. Located on the Education Center portion of their website, Lexington Law offers free resources for those wishing to learn about credit repair and the steps they can take to do so.
The education center features information that includes credit insider articles, a credit repair blog, list of individual rights when dealing with credit agencies, a credit revolution book and even a credit repair news blog.
What We Don't Like About Lexington Law
Unfortunately, Lexington Law is not accredited by the Better Business Bureau (BBB). Having this accreditation provides businesses with an objective validation of their legitimacy and ethics.
However, accreditation by the BBB largely comes down to just paying yearly dues. The fact that Lexington Law doesn't engage in paying those dues doesn't necessarily register as a strike against their company's ethics.
Online articles that happen to cover the firm's credit repair reports appear to only cover their pros without reviewing any cons. This makes it hard to properly assess the firm's true competency.
In addition, there appears to be a slew of mixed reviews about the firm from user-generated comments online. While there are bound to be individuals who are unhappy with an organization regardless of how well they performed their duties, it may be fair to view these comments in the scope of the organization's overall efficiency.
In summary, we'd like to see Lexington Law improve their service in the following ways:
1) Remove or modify service levels. On Lexington Law's website they feature three different plans that their customers can purchase: the PremierPlus plan, Concord Premier, and Concord Standard.
Unless members purchase the PremierPlus, they will not receive the full range of services that Lexington Law advertises. Having a tiered plan system such as this one may entice potential clients, who are already in financial trouble, to opt for the lower rated plan and ultimately receive less help than they otherwise need.
2) Less ambiguity regarding services delivered. As mentioned above, Lexington Law offers a tiered service program. The confusion lies in the fact that this is not a one time charge, but rather a monthly recurring fee.
If a customer has had the necessary services performed within the first month or so, what services would be further performed after their issues are resolved? Lexington Law could potentially outline this a little more clearly.
3) Lexington Law does not feature enough objective reviews for the client to accurately evaluate the company. Most businesses and services have some amount of outside news source, critique or feedback system that they direct customers to or display directly on their website or mobile app.
We would ultimately like to see Lexington Law seek more independent outside opinions and feature those opinions on their website. Then, clients will be able to truly evaluate the efficacy of Lexington Law's services.
4) There is no clear distinction between the duties of paralegals and attorneys. This level of ambiguity makes it a difficult task to discern exactly what level of expertise clients will receive for specific skills.
We would also like to see clients have a choice of their legal representative. While this may not be feasible because of Lexington Law's prominence, if this could be facilitated in some way, we feel that would be a great addition to their service.
Lexington Law Reviews
Many clients and article-writers alike have sung Lexington Law's praises.
Interestingly, many investigative articles note the Better Business Bureau has given Lexington Law a rating of A, despite being a non-member which speaks volumes to their standard of work.
In addition, they are one of the highest rated credit repair companies on BBB.
In one review, a Lexington Law client reported he saw his credit score rise over 150 points from the high 600s to over 750. We came across many other reviews online that confirmed the credit repair service either worked according to their expectations or exceeded them.
There are also a few negative reviews of note for Lexington Law.
One, in particular, claimed that the letters Lexington Law sent out on their behalf were not enough to solve their problems.
One client on Yelp noted while Lexington Law's services achieved their intended results, they felt that the firm was "milking the clock".
The client also noted that it took a longer time to achieve the intended results than expected.
Many other clients noted a large disparity in the amount of time it took for their credit repair situations to resolve.
A few other clients appeared to have concerns with the time it took to have items removed from their credit report, but in general there seemed to be a contentment with the effect of the services rendered.
In the end – no single credit report will be identical to another, and some items simply may take more effort (thus, more time) to remove. It's not surprising to find complaints of delays when delays are virtually inevitable by the nature of the credit repair process.
Overall, there also seemed to be an objectively higher number of positive comments in our research in relation to negative experiences.
When to Use Lexington Law?
There are numerous instances in which one should employ Lexington Law.
If you have a problematic credit report, Lexington Law is clearly a highly-preferred firm to hire (in fact, it is one of our top recommended firms here on PreventLoanScams.org).
Even if you have a problem-free credit report, and you're just looking to improve your credit score, you may consider using Lexington Law.
If you need to have items removed from your credit report, Lexington Law can assist.
If you have any questions about your credit report and the information contained therein, you might use Lexington Law.
If you need to be educated about the best course of action to take in regards to your credit report, you might also seek Lexington Law's services.
In a nutshell, anything credit related can likely be handled or solved by Lexington Law. While there are numerous credit items that you can handle yourself, it's always best to consult credit professionals like Lexington Law if anything is in question.
What Can Be Removed From Your Credit?
Lexington Law advertises that they can remove virtually anything that is removable from your credit report. They have a working relationship with all 3 credit bureaus and invoke several consumer protection statutes on behalf of their clients to help get items removed.
Examples of items that can be removed are:
Open accounts with no negative payment history.
Late payments.
Closed accounts with no negative payment history .
Collection accounts can be disputed as well, and potentially removed. This is equally true for inquiries.
How Does Lexington Law Repair Your Credit?
First, Lexington Law retrieves each client's individual credit reports from all 3 credit bureaus.
Lexington Law's paralegals and lawyers then comb through said credit reports and attempt to identify which credit issues can be isolated and challenged.
They invoke consumer protection statutes to help protect clients and determine what can be challenged or overturned. This represents the legal element.
The company then sends several letters to all 3 credit bureaus on behalf of their clients in regards to each individual line-item issue.
Lexington Law also offers advice to their clients on what actions they should personally take in order to have certain issues resolved.
In addition, the company's follow up service through their app allows you to continually check on on correspondence from credit bureaus and other agencies regarding the status of your credit report.
Lexington Law also works to guarantee that your reports are displayed accurately.
The company will communicate with the individual creditors to help maintain your scores and ensure their protection.
With their 'InquiryAssist' tool, the company allows customers to manage the negative impact creditor inquiries can have on their credit scores.
Lexington Law also gives their clients detailed credit reports on a monthly basis, so the customer can remain vigilant and identify any abnormalities they may like to challenge.
Additionally, Lexington Law includes training on how to challenge credit report issues in the future or outside of their firm.
How Much Does Lexington Law Cost?
As mentioned earlier, Lexington Law offers a tiered service with three different price levels. The tiears are as follows: Concord Standard Plan, Concord Premier Plan and the PremierPlus plan.
The Concord Standard Plan is the lowest level, offered for $79.95/month. In this package, clients receive Bureau Challenges and Creditor Interventions.
The Concord Premier Plan is the mid-range tier, pricing in at $99.95/month. In this package, clients receive Bureau Challenges, Creditor Interventions, InquiryAssist, Score Analysis, ReportWatch and TransUnion Alerts.
The PremierPlus Plan is the company's highest service offering, with a price of $119.95/Month. In this package, clients receive all of the benefits of the Concord Premier with the additional benefits of having the firm send Cease & Desist Letters as well as a FICO Score Tracker, Identity Protection Services and Personal Finance Tools.
What to Expect When Signing Up
As soon as a client signs up with the Lexington Law firm, they will be contacted by a paralegal that serves as their personal representative within 24-48 hours of their initial retainer.
Afterwards, that paralegal will obtain the necessary details from the client to retrieve credit reports from the three major credit bureaus: TransUnion, Experian and Equifax. Afterwards, they will reach out to the client themselves and identify which credit report issues they find to be most pertinent and able to be challenged.
Once they have confirmed a course of action with the client, the paralegal assigned to the individual client will then direct the appropriate correspondence to the creditors and bureaus.
There will be a brief waiting period. Lexington Law mentions on their website that results vary, and there are a number of different measures they may use to dispute/remove certain items on a customer's credit report. Exact timing will depend on what processes are necessary to remove certain items from your report.
When the items in question are finally resolved, the client then receives a credit score analysis (if the customer has purchased a Concord Premier Plan or higher).
The final step will consist of consistent follow up and escalation of any remaining issues..
What Results Can You Expect From Lexington Law?
Looking at Lexington Law's reputation in light of the reviews they garner, and considering the credit reporting industry as a whole, most clients should expect to have a successful experience dealing with Lexington Law.
The firm's wealth of experience in the industry has allowed them to forge solid algorithms allowing for effective elimination of multiple negative items on their clients' credit reports.
Clients can expect to have a 24/7 accessible team in Lexington Law that is remarkably responsive to customer queries and complaints.
Although there is no guarantee of the extreme positive results some of their clients have had, most every client should expect to see a rise in their credit report (whether modest or large).
Clients can also expect to receive a thorough and in-depth follow-up that will enable them to manage any problems that may crop up in their credit report in the near future once the primary identified issues are resolved.
Company Background
Lexington Law began its practice in the early 1990's. They began with credit repair services, and eventually expanded their firm to handle other services.
The firm's base of lawyers now expands to cover over 15+ states in the U.S.
Who Owns Lexington Law?
The Directing Attorney or 'owner' of Lexington Law is John C. Heath.
John has served as the Directing Attorney of the Lexington Law firm since 2004. With a solid background in litigation, John has helped push the firm forward during his tenure.
Under John's leadership, Lexington Law has continued its ascension as one of the nation's most popular credit repair firms.
Where is Lexington Law Located?
Lexington Law's headquarters are located in Utah.
They also have office locations in Arizona, Alabama, California, Delaware, Illinois,  Indiana, Louisiana, Maine, Maryland, Michigan, Mississippi, Nevada, North Carolina, New York, Ohio, Pennsylvania, West Virginia, South Carolina, Virginia, and New Mexico.
Frequently Asked Questions (FAQ)
Does Lexington Law Offer a Guarantee?
Lexington Law offers no guarantee of any results. They acknowledge every client's case is unique, and there are certain nuances that lead to different results from one individual to another.
Lexington Law does, however, tout an extremely high success rate.
Is it Possible for Deleted Items to Reappear on Your Credit Report after Working With Lexington Law?
Lexington Law does acknowledge the possibility of items possibly recurring on your credit report after concluding their work.
They offer their follow-up service to remedy this situation in the instance this issue, while rare, occurs.
How Long Does the Company Take To Repair Your Credit?
The company does not make any guarantees or estimates as to the time it takes to repair your credit.
As every customer's case is unique, the length for each individual case may vary.
However, Lexington Law will begin working on your credit repair services as soon as possible after receiving the initial retainer.
Is there a Couples, Family or Active Military Discount?
Lexington Law does offer a Family discount. If you sign up a friend or family member within 72 hours of your original signup, each party (you and your referred member) will receive 50% off their first work fee.
There is no exclusive discount that would apply to military.
What are Lexington Law's hours?
Lexington Law's hours are 9-5 M-F.
What is Lexington Law's Phone Number?
How to Cancel Your Lexington Law Membership?
You can cancel Lexington Law's Membership by phone or via the company's web portal.