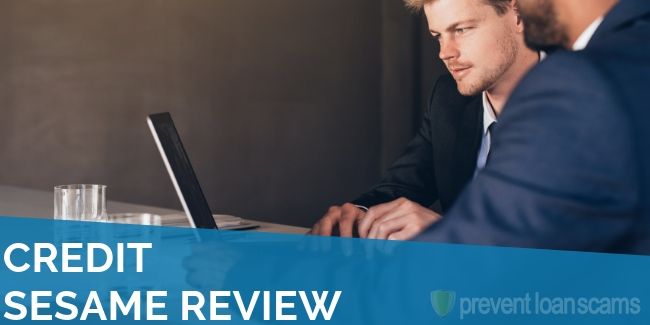 Credit Sesame leverages credit report and score models to bring you custom-tailored financial products that may be right for you. Launched in 2010, Credit Sesame's goal is to change the way that consumers think about and apply for credit.
The site provides tools that allow consumers to do more with the credit history they have and recommends products and financial literacy resources to improve reports and scores.
We researched & reviewed the best 
credit repair services
. They can help you dispute inaccurate items on your report & work towards improving your credit score.
How does Credit Sesame Work?
Research is the basis of everything in your financial life. Understanding what you have, the types of accounts that are available to you and how you can best use your credit history is critical.
This is where Credit Sesame can be exceedingly helpful. Credit Sesame uses a whole host information to make quality, data-driven suggestions for financial products that you can use.
You'll need to do a few things to get started. First, you'll need to submit an application which includes a substantial amount of information, including your name, address, employment information and Social Security Number.
The necessity for your Social Security Number is similar to other companies asking for it. They need it in order to access your credit report and score.
Once you enter the correct information, you'll find some challenge questions to ensure that it's you. These can include questions that don't have a correct answer at all.
After you create an account, the Credit Sesame screen will be populated with a whole lot of information that can look confusing. Luckily, Credit Sesame makes things very easy.
First they'll give you a very straightforward look at your credit report and break it down by letter grade. You're striving for all A's and B's!
Next, you'll find some handy recommendations about the loan products that are available to you based on your credit history. Some of these may be credit cards and others might be mortgages and personal loans (from companies like Discover, SoFi, etc).
Finally, you'll find information about your borrowing power, or how much you can realistically borrow from companies based on your credit report and score.
All of this information helps you understand the best next steps to meeting your financial goals. Moreover, if your credit is damaged, Credit Sesame will help you activate those tools to begin to rebuild your report.
Credit Sesame also offers identity theft protection and tax audit assistance. They are truly a full service company.
So it's a debt settlement company, right?
Wrong! Credit Sesame only makes suggestions. Many debt settlement and consolidation companies are very unscrupulous and may end up causing more harm than good.
These companies specialize in lowering your bills by making agreements with credit companies to take a hit on what you owe. This typically reflects extremely poorly on your credit report, and they'll charge you a fee for the "service."
Credit Sesame keeps you in control of your finances and gives you the tools to make financial decisions for yourself. It works on all types of debt, from mortgages to credit cards, and never hurts your credit.
Make sure that you think very carefully about your proposed use of debt settlement companies. They almost never turn out in a positive way.
How does Credit Sesame make money?
When you're debating using any financial product, always think about how the company offering the product is getting paid. In the case of Credit Sesame, they take a small commission fee when you close a loan or card with one of the companies they've advertised to you.
Now, this may lead you to believe that they'll offer you anything, but remember, they only make money when you close the loan, so it's in their interest to serve you products that you have a high likelihood of qualifying for.
What do their suggestions look like?
This very much depends on the type of credit consumer you are. If you've got excellent credit, you may find lots of offers for credit cards or personal loans.
These likely offer lots of welcome bonuses or extra rewards points. The loans will likely offer competitive rates and the ability to access high balances.
If you're on the lower end of the credit spectrum, you're not likely to get suggestions for credit cards with rewards programs or low rate loans. More than likely, you'll see lots of suggestions that can help your situation, like a credit builder loan or a secured credit card.
The loans will also have higher interest rates. This is to offset your lower credit score. Why are these so effective? Because the single largest portion of your credit report and score is made up of on-time payment history.
Seems like a great resource!
It is, but it is only one. Make sure that you are looking around at a number of different resources, especially if you're working to rebuild your credit.
Also, ensure that you check your credit report specifically for inaccuracies and missing entries. Credit Sesame and similar websites are good, but not perfect when it comes to reviewing scores. You are the only one that is able to effectively know what should and should not be on your report.