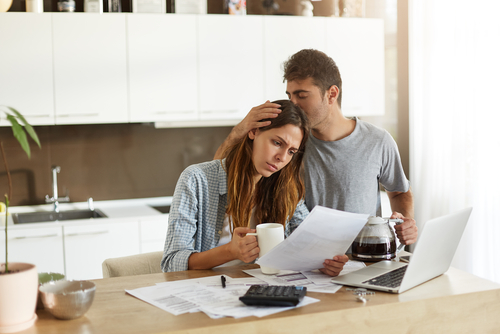 Money's been tight for a lot of people these days. If you've fallen behind on one or more of your bills, it's possible that you will start getting contacted by Direct Recovery Services.
As you may have guessed, they are a third-party collection agency hired by your initial creditor to recover a debt from you.
They are completely legitimate and are lawfully allowed to collect from you.
One of the most serious repercussions of being contacted by a debt collector is their impact on your credit report.
They must open a collection account on your credit report, which can remain on your credit history for as long as seven years.
Collection entries will cause your score to drop and interest rates to skyrocket.
Fortunately, there are ways that you can remove them from your credit report altogether.
About Direct Recovery Services
Direct Recovery Services is a medium-sized debt collection company that was founded in Minnesota in 2015.
Currently, their headquarters are located in Two Harbors, MN.
They do not specify the industries in which they collect.
This means that they likely collect across a wide variety of businesses.
You can expect to hear from them if you have an overdue account in credit cards, utilities, telecommunications, health care, student loans, and many more.
If you are overwhelmed by dealing with negative entries on your credit report,
we suggest you ask a professional credit repair company for help.
How to Deal with Direct Recovery Services
Tired of dealing with Direct Recovery Services?
Here are the four necessary steps to remove the collection from your credit report and stop their calls.
Ask for a Deletion
Some debt collectors may be inclined to let customers off the hook if their debt was due to the struggles of the pandemic.
If you paid the balance of the debt, you may be able to get Direct Recovery Services to agree to grant you a goodwill deletion.
A goodwill deletion is typically granted when a debt collector can tell that the customer is generally good with money but had a one-time slip-up.
Given the state of things under COVID-19, this is becoming more commonplace.
To ask for deletion, you will need to write a letter to them explaining your circumstance.
This is known as a goodwill deletion letter and is generally polite in tone.
Whatever reasons you give them regarding why you were late on your payments, make sure that they are verifiably true.
They will probably ask for you to provide proof that your story is true, whether that be hospital bills or a pink slip.
Ultimately, asking for a goodwill deletion is asking Direct Recovery Services for a massive favor. Make sure that you are apologetic and kind in your note.
This will take you far when it comes to gaining their favor.
Request Debt Validation
One of the most important and time-sensitive steps when dealing with a debt collector is requesting debt validation.
Debt validation is important for a number of reasons. It allows you to ascertain whether Direct Recovery Services is collecting the debt based on inaccurate information.
It also can give you an opportunity to get the debt removed if any of their data is erroneous.
Just like asking for a goodwill deletion, you will ask them for debt validation by writing them a Section 609 letter.
This letter is less courteous in tone and more official.
In this letter, you will ask them to provide proof that the debt they are attempting to collect is yours.
Make sure that you include your name and account number so that they can find your debt.
Direct Recovery Services should respond to your request for validation in about 30 days. They should return with various documents that list information about your debt.
Cross-reference these documents with your own paperwork about your debt. If you find anything to be incorrect, you can file a dispute with Experian, TransUnion, and Equifax.
They should investigate the matter and remove the account if they believe that inaccurate information is being reported.
Make a Pay-For-Delete Agreement
Requesting debt validation doesn't always end in a deletion.
If Direct Recovery Services is able to prove that the debt is yours, your next bet is to make a pay-for-delete agreement with them.
Pay-for-delete agreements are essentially when the debt collector is willing to remove their collection account from your record because of your payments.
It usually takes a fair bit of negotiation, but it is worth it to clean up your credit report.
You'll never hear this from them, but they may be willing to settle for less than the full balance.
To start, offer them 50% of the balance and work your way up from there.
The key is to get them to agree to fully delete the account. They may try to offer a 'paid' status instead, but this will still affect your credit score down the road.
Once you come to an agreement with them, ask Direct Recovery Services to send the full terms and conditions in writing.
This will bolster your claims in court if they try to go back on their word after you make your first payment.
Make your first payment after you receive the full contract from Direct Recovery Services.
It should take around a month for their account to disappear from your credit report, you can get a free copy of your credit report here.
Ask for Help
No one enjoys having to handle a debt collector.
However, you will thank yourself down the road when you can more easily qualify for loans with a clean credit report.
If negotiating with Direct Recovery Services isn't your strong suit, you can always work with a credit repair company.
They can handle the back and forth so that you don't have to.
Does Direct Recovery Services Have Any Complaints?
Debt collectors typically have complaints filed against them by customers. Most of the time, it's because people don't believe that the debt is legitimate.
But other times, it's a more serious problem with a companies' compliance to the FDCPA.
The Fair Debt Collection Practices Act (FDCPA) is federal law that requires debt collectors to abide by certain guidelines throughout the collection process.
The purpose is to keep the collection process civil and professional and maintain consumers' rights.
In their short lifetime, Direct Recovery Services has had a number of customers claim that their FDCPA rights were violated.
There have been 215 complaints filed against Direct Recovery Services with the Consumer Financial Protection Bureau (CFPB) and 80 complaints filed with the Better Business Bureau (BBB).
If you are having problems with Direct Recovery Services, you should consider filing a complaint with the CFPB. They are in charge of enforcing the FDCPA and can help get Direct Recovery Services to comply with the rules.