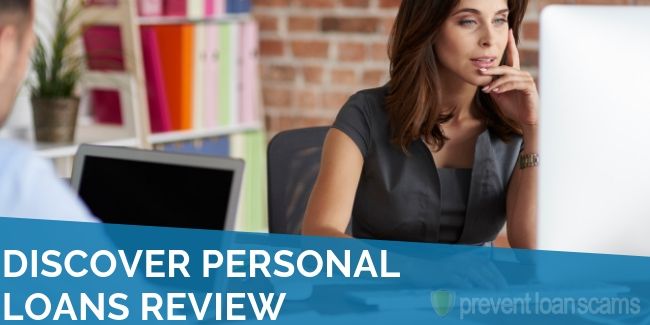 Discover personal loans are products offered to people that are toward the higher end of the credit spectrum. They are for people looking to consolidate existing debt or cover upcoming large purchases.
We often think of companies that offer credit cards and personal loans as separate entities. Discover, a long running company that offers credit products to a whole host of credit tiers, is one of these companies.
They have a long history of offering credit options, new tools like credit monitoring, and competitive pricing. Discover personal loans could be a good option for your financial life.
Let's take a look at a few of the elements that make Discover personal loans a quality product. We will look at how they work and who they're right for. We will also examine who should think about another loan product.
What is a Discover Personal Loan?
Discover personal loans are fairly straightforward, vanilla loans. Loan amounts range from $2,500 to $35,000 with APRs between 6.99% and 24.99% (as of 3/26/21). It depends on the term, which ranges from three to seven years.
As with all personal loans, Discover loans are fully amortized. That means you are making payments against your principal as well as your interest. This helps get the loan paid down evenly, more quickly, and often, more cheaply than another type of loan (payday loans, for example).
There is no origination fee with a Discover personal loan. That is the hallmark of a quality credit product. However, there is a $39 late payment fee.
Discover caters to the higher end of the credit spectrum, requiring a minimum score of 660. The average score is nearly 750, however.
Discover also requires a minimum income of $25,000. However, borrowers who work with them typically have far higher incomes.
Because of these two factors, Discover personal loans (similar to other companies, like Upstart) are often best for individuals with good credit history. This means that they have a quality history of paying off debts on-time and in-full. Additionally, it means the length of their credit history is fairly long.
Discover personal loans work particularly well for debt consolidation loans. That is because they are able to pay other lenders directly. They offer low rates with short or extended repayment terms.
If, for some reason, you find that the Discover personal loan product isn't right for you, you can return the funds and pay no interest for 30 days.
Discover notes, however, that you can use a personal loan for most anything. From wedding financing to the purchase of a one-of-a-kind vacation experience, Discover personal loans can help you pay for the things that you want the most.
Are they wrong for me?
That depends on a few factors. If you have a checkered credit history, than Discover personal loans may not lend to you.
If you're still working to rebuild your credit after a misstep like bankruptcy or collections payments, Discover may not be the best option for you. Credit builder loans and cards are a good option and Discover may be a possibility down the road when your credit improves.
Additionally, if you need more than $35,000, Discover personal loans probably aren't right for you. Discover advertises their home equity loan product for consumers seeking larger balances.
Credit Checks and Flexibility
One of the very best features of Discover personal loan products is their soft credit check policy. Relatively new in the lending space, lenders will often perform a soft credit pull to gauge your report without impacting it.
This means that they are able to give you a fairly good idea of what term, rate and loan size you can expect before they make a hard inquiry on your report, which would then affect your credit.
Discover also offers flexible payment plans that allow you to tailor the loan to your needs.
Discover Personal Loans Drawbacks
Discover personal loans have some very positive features. However, some users of the product report a change in their interest rate after they are pre-approved for funding.
Discover advertises 6.99% as the lowest APR that they offer. It seems, however, that this APR is exceedingly difficult to get. In our research, prospective borrowers with self-reported excellent credit have noted that the lowest rate they received was in the area of 9%.
How to Apply for Discover Personal Loans
The application process is very easy and Discover's interface makes it much easier.
Online Application
First, head to discover.com/personal-loans and check your rate.
They will ask you for a whole host of information, including your full name, address, Social Security Number, income information and any outstanding debts.
If your credit profile matches what Discover is looking for, they'll likely automatically approve you for a loan and move to the signing process.
There is a small possibility that they will review your application separately, which can take a few days.
Complete Paperwork
If they approve you, they will ask you to complete some paperwork to ensure you understand the loan product, how much money they will expect you to pay back, and agree to the terms and conditions.
Here, you'll be able to enter the account numbers and payment options for other creditors that you need to pay off.
This is especially useful if you're getting a Discover personal loan to consolidate other debt.
You'll also receive your FICO credit score, with a whole listing of your recent inquiry, the score and lots of other helpful information.
Receive Funds
If you apply and are approved for a Discover personal loan on a weekday, you can expect to receive funds in your bank account overnight.
If there are errors on your application and/or you apply on a weekend, you may find that funds take a few days to arrive in your account. Discover notes that it could be as long as seven business days.
If you've got good credit, a solid income and a big need for financing, a Discover personal loan may be the right tool for you. Remember to check your credit report thoroughly and shop around for the best rate for your specific credit tier and needs.
Discover is a great option for debt consolidation or most any purchase because of their long terms and flexible payment options.