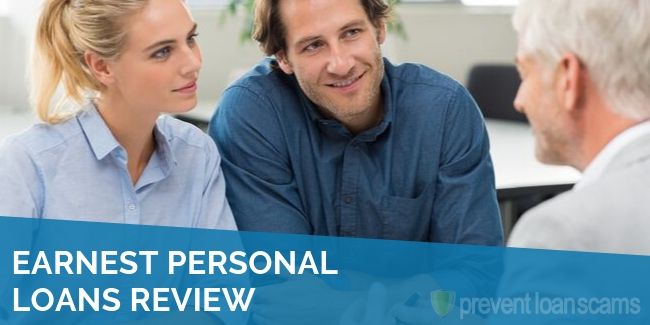 The internet has made a whole slew of things easier. From buying a car to going to college, it has revolutionized the way that we interact with our world – and so has Earnest Personal Loans.
Borrowing money has also completely changed with the advent and proliferation of the internet. Lots of companies have sprung up to accommodate online lending and one of the most popular is Earnest.
Established with the idea that there are plenty of responsible borrowers out there who simply don't have credit histories, Earnest offers competitive rates and loan amounts.
Let's take a look at the types of products Earnest offers so you can evaluate if they're right for you.
Who is Earnest?
Earnest is one of the latest entrants into the Artificial Intelligence-powered lending space.
The company looks at thousands of data points, everything from social media to your utility bills, and compiles it along with your credit history, all to offer you a competitive rate.
While credit history is important, Earnest also takes a close look at your financial strength more broadly. How much are you bringing in each month?
What are your other liabilities that may hinder your ability to repay the loan?
Earnest will look closely at each of these items and offer a credit decision quickly.
Earnest's customer service team will keep you apprised of the process and ensure your application isn't slowed down by undotted i's and uncrossed t's.
As of 3/24/21, Earnest offers loans between $1,000 and $100,000 with APRs as low as 4.99 percent.
How do I Apply for an Earnest Personal Loan?
Like most personal loan companies, Earnest offers soft credit pulls for quotes. This means getting a broad idea of what you'll pay for a loan won't cost you a hit to your credit score.
When you're ready to apply completely, you'll enter your Social Security Number and other contact information that allows Earnest to perform a hard inquiry on your credit. You'll be asked how much you want, what your desired term is and how much you're looking for your monthly payment to be.
There are a few things to keep in mind when you're applying to Earnest. The company accepts borrowers who have newer credit files but you should have good credit in order to have your loan accepted.
This is a bit of a double-edged sword – you need good credit but also don't have to have any. What this means is, essentially, what credit you do have should be positive.
Specifically, Earnest is looking for consumers with minimum credit scores of 680, proof of consistent income, a history of on-time payments, no bankruptcies in the past three years and no open collections accounts.
Anything that Really Sets Earnest Apart?
Flexibility is the big one here. Earnest offers consumers flexible payment options and has the lowest fees of any other personal loan institution out there.
Consumers can change their monthly payment amount as well as their due date. Additionally, like SoFi personal loans, there are no fees for early payment or extra payments (the hallmark of a good personal loan).
The Earnest customer service is also nearly second to none. Consumers who frequently contact their financial institutions will love the ability to get a live person on the phone (or via chat) quickly and easily.
Anything to Watch Out For?
One of the big things that sets Earnest apart from other lenders in a not-so-positive way is their requirement that they scan your checking account. The idea here is a simple one – part of the reason consumers with little credit are able to get loans from the company is because they have verifiable consistent income.
The company wants to learn about your financial behavior and uses the data to make more accurate credit decisions. Essentially, Earnest wants to see evidence of your ability and tendency to repay the loan they're thinking of offering you.
This isn't the worst thing in the world, particularly if you don't have much credit history in the first place (but maybe not if you need to repair your existing credit). Still, it is a bit of a larger step than other lenders take. If you tend to be privacy-conscious, it is something to be aware of.
Earnest personal loans are a great option for consumers who have little credit history. That history should be positive, however, and you should be prepared for the company to scan your bank account to get a good look at your financial habits.
Still, Earnest offers competitive rates and loan sizes and offers some of the most flexible repayment options in the personal loan industry.
Loan Comparison
| | | |
| --- | --- | --- |
| | Earnest | Similar Lender |
| Loan amounts | $5,000 to $75,000 | $1,000 to $40,000 |
| APR range | 4.99% to 17.24% APR | 6.95% to 35.89% APR |
| Origination fee | 0% | 1% to 6% |
| Minimum credit score | 680 | 600 |
| Time to funding | 2-3 days | A week or longer |
| Soft credit check with application? | Yes | Yes |