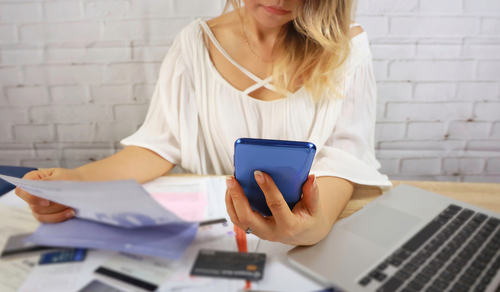 If you've been contacted by Enhanced Recovery Company, LLC, it's probably not a hoax.
They are a recognized participant in the credit and collections industry and is widely used by many organizations.
If you have been contacted by them or you see an entry on your credit report, it's best to approach it constructively.
There are ways to have a collection removed from your credit report.
If you haven't figured out how to remove Enhanced Recovery Company from your credit report, this article will help.
Who is Enhanced Recovery Company?
Enhanced Recovery Company (ERC) describes itself as "an international business process (BPO) and full service, an end-to-end provider of every aspect of the customer lifecycle, including debt collection".
For most consumers who have dealt with ERC, the debt collection side of the company is the one they're most familiar with.
Based in the United States, specifically Jacksonville, Florida, ERC Collections has been in business since 1999.
Who Does ERC Collect For?
The company is not a debt buyer, which means they don't own the outstanding debt claims they attempt to collect.
Rather, they act as a collection agent or outsourcing agency for clients in various industries.
They also participate in market research and business processing outsourcing.
Those include telecommunications like cell phone companies AT&T and Sprint, utility companies, banks, cable companies, financial service providers such as credit card companies, and student loan lenders, among others.
That means you may be contacted by ERC attempting to collect a debt from just about any type of organization you can imagine.
ERC is a legitimate company. They are a member of the Association for Credit and Collection Professionals (ACInternational.org) and have a Better Business Bureau rating of "B", which is on the higher end of the BBB rating scale, which runs from A+ to F.
Shockingly, this debt collector has over 7,000 consumer complaints lodged with the Consumer Financial Protection Bureau (CFPB) and 1,100 with the BBB.
Put another way, if Enhanced Recovery Company attempts to contact you, or you see an entry from the company on your credit report, it's probably not a scam.
It's most likely a legitimate attempt to collect a debt.
What To Do After Enhanced Recovery Company Contacts You
Let's start this part of the discussion by emphasizing what you shouldn't do: you shouldn't ignore a call or letter from Enhanced Recovery Company.
Debt collection letters and phone calls are one of those things in life that don't get better with age. The sooner you deal with one, the sooner you'll get it out of your life forever. But, you'll have to be proactive to make that happen.
There is a real possibility you don't owe the debt Enhanced Recovery Company is claiming you do. But if that's the case, you'll have to do more than just tell them on the phone or send them a letter attempting to disavow the obligation.
In fact, if you are contacted by Enhanced Recovery Company, the only thing you should do is listen (or read the correspondence). Never argue with the representative, and never answer any questions asked.
There are two facts to be aware of if you're contacted by a collection company, especially by phone:
The call (or letter) is an attempt to collect a debt, and
The phone call is almost certainly being recorded.
Let's camp out on the second point for a bit. There's a reason why collection companies routinely record phone conversations with you. It's to collect evidence supporting their claim that you owe a debt.
DO NOT GIVE ANY INFORMATION OVER THE PHONE
With that reality in mind, never provide collection companies with any information. That includes not answering any questions they may ask. Instead, you should ask all the questions!
Find out who they are, what their contact information is, the amount of the claim, and the name of the original creditor. By asking questions, you're turning the tables and gathering information, rather than providing it.
If you receive a letter from Enhanced Recovery Company, or there's an entry on your credit report as reported by the three major credit reporting bureaus from the company, use the same strategy. If you call in, ask questions, but don't answer any.
Dealing with Enhanced Recovery Company
After the initial contact (or discovery of the credit report entry), your communications with Enhanced Recovery Company should all be in writing.
Any letters you send should be by certified mail. You must accept from the very beginning that your communications with the company may turn into a legal matter, and begin taking steps immediately to protect yourself.
The reason why you'll want communication to be in writing is so that you will have a paper trail. But it's also to avoid phone contact.
After all, it's much easier to control the flow of the conversation in writing than it is over the phone.
You can make sure your letters say only what you need them to say, and no more. With a phone conversation, there's always the potential to ramble and say things you shouldn't.
For example, collection agencies are particularly skilled at getting consumers to commit to paying money toward debt.
If you agree to do so in a moment of weakness, but fail to send the payment, the company can use that as evidence of bad faith should they decide to pursue legal remedies.
Never promise to make any payments to Enhanced Recovery Company or any other collection agency unless you plan to honor your commitment.
How To Remove Enhanced Recovery Company from Your Credit Report
Here are some critical steps to follow to get ERC removed from your credit report:
Get a Copy of Your Credit Report
First, get a copy of your credit report from each of the three major credit bureaus.
You don't have one credit report, but three. That's because there are three major credit bureaus – Experian, Equifax, and TransUnion.
You'll need a copy of all three to determine exactly where ERC is reporting the debt.
You can do that, free of charge, through an online service provider known as AnnualCreditReport.com. They're the only source officially authorized to provide you with a copy of your credit report from all three bureaus.
Once you receive a copy of the credit reports, check to see if ERC is reporting on all three, and exactly what information shows up on each. You'll need this in future negotiations.
Get a Free Copy of Your Credit Report
Validate the Debt
Second, one of the most important jobs in dealing with any collection agency is to make the agency prove you legitimately owe the debt. You can do this by requesting a debt validation letter.
The agency must provide you with a letter that will include the name of the original creditor, the amount owed, relevant dates, and any other important information.
If they can't provide the information, or if significant information is missing, you'll have grounds to declare the debt is not yours. Identity theft is prevalent, and you don't want to be on the hook for someone's unpaid phone bill.
Write the company a letter telling them they have failed to prove the debt is yours, and insist they remove any negative entries from all three credit reports, and immediately cease collection efforts. Also, demand they supply written notice the debt is not yours.
If they still fail to cooperate, you can use the debt validation letter to contact the three credit bureaus and ask them to remove the negative information.
By law, the credit bureaus have 30 days to investigate your claim.
If Enhanced Recovery Company is unable to provide complete information to the credit bureaus, they'll remove the collections from their reports, saving your credit score.
Negotiate a Settlement: If The Debt Is Yours
If Enhanced Recovery Company verifies the claimed debt to be yours, the best strategy will be to settle.
You can do that in one of two ways:
Pay the full amount owed, or
Agree to a partial payment in full settlement of the debt.
In the second scenario, you'll offer ERC less than the full amount owed.
HOW TO NEGOTIATE A SETTLEMENT
For example, you could start by offering to pay 50% of the claimed debt. ERC may accept that amount, or counteroffer with a higher amount (but still below the original debt owed).
You should always try to pursue paying less than the full amount owed. This is particularly true if the debt is old.
Collection agencies are often willing to negotiate the final settlement amount, rather than risk getting nothing at all. After all, if you file for bankruptcy, the collection agency will get nothing.
Whichever payment method you decide on, make sure the details of the settlement are confirmed by ERC in writing. Do not send any money until you receive written confirmation that they've accepted the terms.
Collection agencies are notorious for accepting partial payments, then coming back at the consumer to collect the remaining balance.
Also insist that once they have received payment, they'll report the debt as paid to all three credit bureaus.
And if they don't, you can use their confirmation letter to contact the credit bureaus yourself.
If ERC Won't Cooperate: Hire a Professional
If in spite of your best efforts, Enhanced Recovery Company refuses to cooperate with you, you'll need to get professional help.
You may need to work with a good credit repair company. They work with collection agencies all the time and will know the best ways to make them more agreeable.
If the debt obligation is large, or if ERC is being particularly hostile, you may need to engage the services of a credit law firm.
If so, we recommend Sky Blue. They're one of the best-known credit law firms in the country.
Often, just having a collection agency contracted by a credit law firm will be enough to get them to be more willing to negotiate.
What Can ERC Legally Do?
If you legitimately owe a debt to Enhanced Recovery Company and fail to pay it, the agency can pursue legal action.
They can bring a suit against you in court, which will result in judgment if they win – which they probably will if the debt is legally yours.
Once they obtain a judgment, they can garnish your wages, or even your bank account. Put another way, they can continue pursuing active collections against you until the debt is fully paid.
One of the problems with a judgment is that it will remain your legal obligation until it is fully paid, and a warrant of satisfaction is issued.
It's not the kind of obligation that will simply fall off your credit report in seven years, and no longer be a legal obligation.
Know Your Rights
As a consumer, you have certain rights under federal law in dealing with collection agencies.
Collection agents know this, but they're banking on the fact that you don't. Make sure that isn't the case.
Learn your rights under the Fair Debt Collection Practices Act (FDCPA) by reviewing the Debt Collection FAQs provided by the Federal Trade Commission (FTC).
Knowing your rights under federal law will force collection agents to treat you with more respect.
Complaints Against Enhanced Recovery Company
There are more than 940 complaints filed against Enhanced Recovery Company through the Better Business Bureau alone.
Surprisingly, the content of the complaints are not disclosed in most cases.
However, all the complaints surveyed indicated either "resolved" or "answered".
It would appear Enhanced Recovery Company is more honest in its dealings with consumers than many other collection agencies.
ERC Contact Information
Here is a little contact information about the debt collection agency:
Headquarter Mailing Address: 8014 Bayberry Road Jacksonville, Florida 32256
Phone Number: (800) 942-0015
Website:ercbpo.com
​May Show Up as: Enhanced Recovery Corp, Enhanced Resource Centers, ERC Company, Enhanced Recovery Group, Enhanced Recovery Co.
The Bottom Line
Though we've provided you with the basics of how to deal with Enhanced Recovery Company, you should only do so if you feel comfortable negotiating in what is a decidedly adversarial relationship.
After all, collection agencies are engaged in the business of debt collections, and they do it every day.
Unless you've had experience dealing with collection agencies successfully in the past, you may not want to take them on directly. That's perfectly understandable.
If not, make use of a good credit repair company, or even a credit law firm if you think the situation is that serious.
If you want to learn more strategies for dealing with collection agencies, or if you have multiple collection accounts to deal with, check out our article, How to Remove Collections From Your Credit Report, for a more comprehensive strategy for dealing with collection accounts.