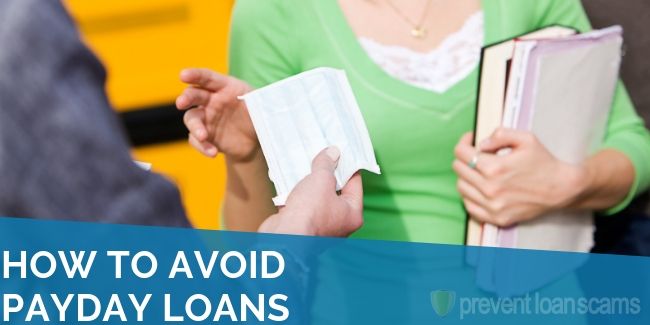 There are few products as nefarious as payday, title, and cash advance loans. That's why we needed to provide you with some of the best alternatives to payday loans you could utilize.
With exorbitant interest rates and a complete lack of underwriting, these payday products trap consumers in a cycle of debt that is often too much to bear.
7 Alternatives to PayDay Loans
There are plenty of options out there that can help you begin to climb out of the debt that required looking into a payday loan in the first place.
Keep in mind, some of these things may be uncomfortable.
No one wants to sell personal possessions or reach out to friends and family, but if it means the difference of not going to a payday lender, it's likely very worth it.
Ensure you do your research on these options, as well.
There are a number of options that also include other financial products. You'll want to ensure that you fully understand what you're getting.
Finally, ensure that you're only buying things you can afford and need.
Obviously, if you're considering a payday loan, you probably aren't looking to use the funds for a great night out, but still, make sure you do some critical thinking.
1. Payment Plans
If you're getting a payday loan to pay off other debts, your first step should always be to work with your current financial institution. Financial institutions often want to help you work through your troubles.
It seems straightforward but we often forget, financial institutions want to make money. If that means giving you a little wiggle room, they are likely to help you do that. Payment plans can often be tailored to factor in your current debts and payment schedule.
2. Your Own Accounts
As a last resort, consider using your own savings or retirement accounts for large debts. Be sure that you've exhausted all of your other options.
You'll face penalties and fees if you're under retirement age and you may pay taxes depending on the type of account you have. Still, using your own money can be preferable to getting an extortionary loan product.
3. Sell Things
As we said above, you don't want to have to sell things. It's uncomfortable and you have the things you do because you like them!
But still, if you've got some big-ticket items, it could help you bridge the gap. Consider things like musical instruments, hobby equipment, or electronics.
Additionally, think about your commuting options. Do you have a car that you may not need? If you live in a major city, public transit is likely going to be cheaper.
4. A Personal Loan
Personal loans come in a variety of shapes and sizes for super prime (SoFi, Discover, Best Egg) to subprime customers (BadCreditLoans.com, RISE, OppLoans). These are more akin to a mortgage than a payday loan and require some serious underwriting.
Your lender will determine your ability to repay, look at your credit report and take a look at your budget. Understand, too, that these loans can still have a fairly high interest rate, sometimes upwards of 39%.
However, they are fully amortized, meaning that you make equal payments of interest and principal, working the debt amount down over time. They are underwritten and generally don't require collateral. And your payment activity is reported to credit bureaus.
You can get personal loans at a variety of locations, including your bank or credit union. If you're a credit-damaged consumer, specific financial institutions can often help.
5. Employer Advance
It can be awkward to ask, but your employer likely knows that financial hardships affect everyone. The worst they can say is no. Employer advances on your paycheck generally come without interest and so you really can't beat the rate.
6. Friends & Family
Again, another awkward ask, but it is preferable to a high-interest, high likelihood of failure payday loan. When asking your friends, lay out clear guidelines and both agree to rock solid repayment terms.
Don't leave anything to "we'll sort it out later." This often leads to gray areas that can raise questions down the road.
7. Credit Cards
If you've got a credit card, the rates are certainly going to be better than a payday loan. Consider your ability to move that debt around as well.
You may be able to apply for a new, 0% balance transfer card that will help you pay for your needs over time. Even if you don't, most credit cards have an interest rate of between 22-32%, still far better than even the best payday loan.
Whatever you do, get help. Credit counseling is often available in the community from a number of different organizations.
Additionally, your bank is likely to offer a similar service. Payday loans are never the answer because of high rates and a high likelihood of default. Choose other options.
Why You Should Utilize Alternatives to Payday Loans
There are several reasons all people should avoid payday loans. Sure, they seem attractive. Get money today, at almost no cost, and repay it down the road.
It may seem like a decent deal. You may even believe or know that you'll be able to repay the loan.
Unfortunately, if you're borrowing $500 to get you to payday on a Monday, it's highly unlikely you're going to have the $585 required to pay the loan two weeks later.
Payday loans sprang up in the 1980s as officials were deregulating financial markets. They served as the answer to loan sharks and for a time, the plan worked.
Illegal lending dropped as people began using payday loan products. Unfortunately, their practices led to the same cycle of debt that ended up with bodily damage in loan sharking days.
Payday loans have exorbitant rates, sometimes in excess of 400%, and have balloon payments, meaning that the entire amount is due at the term of the loan, and payment activity is not reported to credit bureaus.
What happens if you don't pay? The entire amount is rolled into a new loan, with a new interest rate attached.
Thus, a $500 payday loan rolled into a new one can quickly cost you upwards of $750 in a month.
In short, there are virtually no occasions where that type of quick cash is absolutely required and there are no options available to you elsewhere.