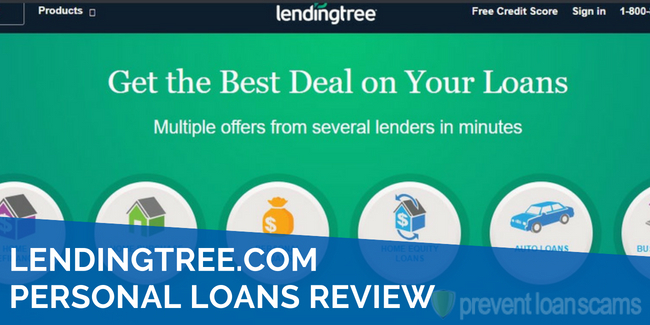 Whether you read the newspaper, watch TV or only listen to the radio, you've likely heard of LendingTree.com. The company has been around a long time and is very successful in matching lenders with borrowers.
The company's motto "When Banks Compete, You Win," has become something of a ubiquitous and familiar statement when searching for a loan.
Founded in 1996 and launched nationally in 1998, LendingTree has made a name for itself for giving consumers the ability to shop around for loans rooted in great customer service. Since its inception, the company has offered a variety of different loan products, including purchase mortgages, refinance loans, home equity loans and lines of credit, auto loans, personal loans, business loans, credit cards, as well as student loans and commercial lending products.
Offering Many Loans – What's the Difference?
LendingTree offers so many different types of loans, choosing the right one for your needs can be confusing. The application process for each kind of loan is similar in many ways, but the personal loan product is what we'll be dealing with here.
It is slightly different. For example, an auto loan is tied to a specific asset; a credit card is open-ended.
Personal loans, on the other hand, are generally not based on collateral (a thing like a house or car that serves as the backing of your loan) and are not open-ended. The lender provides a certain amount of funding once, for whatever your needs may be. Additionally, the personal loans generally feature equal monthly payments of principal and interest.
The loans also have a predictable payoff date and there is never a penalty for paying off a loan early.
The value of working with a company that offers so many different types of lending options is that generally, the good ideas from one flow to the other. Additionally, you'll benefit from the great customer service from a large company that works with borrowers every day.

Back to Top

What Can I Use a Personal Loan For?
All sorts of things! LendingTree breaks these down and provides helpful calculators so you understand how much you'll be paying for each loan you're applying for. Debt consolidation, weddings, medical bills, vacations and any other purchase can be financed with a personal loan.
Telling LendingTree the type of personal loan you're looking for and what you need the loan for will help them connect you with the lender best fit to meet your needs. If you need a loan for debt consolidation, LendingTree can help you get in contact with a lender that specializes in it.
How Does LendingTree Work?
First, ensure you have a good budget in place. Make sure you take the time to understand how much money you're bringing in and how much you are already obligated to take out.
Next, you'll need to apply. Ensure you are applying for a personal loan through LendingTree. It is easy to apply for a number of different types of loans.
You'll have to provide a wealth of information, the bulk of which can be acquired from your pay stub. You'll also be asked for your social security number and other identifying information so LendingTree can check your credit.
It's important to note that there is no hard pull on your credit in order to check the rates offering by LendingTree partners. Once you do choose a lender, however, they will hard pull your credit. You can acquire your credit report and score and should review it carefully.
You'll also have the option to customize the term and loan amount. LendingTree makes this very easy and their calculator allows you to look at the possible fees and amount you'll pay back. Remember to look at the amount you'll be paying for an item.
Getting Offers Right from LendingTree
After you apply, LendingTree will provide you with up to five offers from lenders. The screen makes it easy to review and compare the different offers.
What Should I Look for in my Offers?
There are a few key factors you should look for in your offers:
Ensure they are a good fit for you
Lenders are required to look at your ability to repay a loan based on the information you provide them. However, they don't know everything and LendingTree is just the conduit between you and them.
Make sure you look closely at your own financial situation and compare it with the offers presented. LendingTree makes this easy and quick by presenting all the offers and terms on one page.
Amount, Term, Rate Triangle
Remember that the amount of your loan, the term you repay it back under and the interest rate are all closely connected. A $10,000 loan at a 4.9% interest rate over a five year term will have you paying $11,295.27 at the end of the day. Each month, you'll be paying $188.25 and whatever you're getting your loan for will cost an additional $1,295.27.
If that payment is too high, that is understandable. Your options there are to either lower your loan amount (which may not be tenable) or increase your term.
Extending your term to 10 years means a more doable monthly payment of $105.58, however you'll end up paying $12,669.29, more than $2,500 than you needed originally.
Look for the fees
LendingTree requires that lenders list their fees when they make you a quoted offer. Make sure you understand the fees and the effect they will have on the money you actually receive.
For example, a one percent origination fee on a $10,000 loan will mean that you only receive $9,900. This may fall short of the amount you actually need.
No obligation
You can simply use LendingTree as a tool to shop around. There is no obligation to borrow money from any of the lenders listed.
It Doesn't Look Like LendingTree is Returning Any Offers
This happens very rarely but can happen for a number of reasons. Your income may be too low, your credit score not high enough (if so, look into options for repairing your credit) or you simply are asking for too much money or a term that doesn't fit in the lenders' guidelines.
Try changing your term or loan amount. Alternatively, you can add a co-borrower to your loan.
Choose carefully. A co-borrower or cosigner is someone that is equally responsible for the repayment the loan as you are. You should make sure that your co-borrower has good credit and income as well, and understands what cosigning with you means.
How Long Does it Take to Get my Money?
The time it takes to get your money completely depends on the underwriting process of the lender you have selected. The internet has made getting money much easier and faster.
Still, lenders take time to work through your income and credit report. Most lenders advertise that it can take them as few as one and as many as seven business days to deposit money into your account. Your financial institution may also hold the funds for a time, particularly if the amount is large.
Are They a Good Resource?
Yes! LendingTree's business relies on consumers coming to their website to shop for loans. Lenders pay to be featured on the site (that's how LendingTree makes their money), so it is important that they offer quality explanations and resources to consumers.
LendingTree offers a number of great consumer resources, including excellent customer service that helps match consumers with lenders that are offering the products they need.
Conclusion
LendingTree is an excellent resource for loans of all kinds, including personal loans. Their interface is easy to follow, the disclosures clear and the lenders' offers simple to review. Additionally, the consumer resources they offer, including a loan calculator, blogs and educational graphs and charts can help you determine the loan that's right for you.