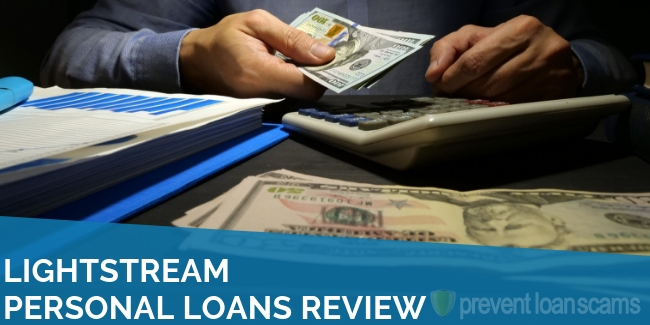 There is a certain sense of comfort when you're working with a large, recognizable financial institution for your loan needs. You are more likely to get great service, you can take advantage of the economies of scale and you'll likely get more favorable rates than your mom and pop location down on Main street.
LightStream is a division of SunTrust Bank which means it is backed by a large depository institution that is very familiar with lending and customer service.
What does a LightStream Loan look like?
LightStream loans are designed and built for people with good to excellent credit. The company puts itself forward as the premier consumer lender that rewards its customers for having excellent credit history, with few or no negatives.
A loan from LightStream can vary greatly based upon what you're planning to purchase. For example, someone who is purchasing a vehicle may pay a much lower rate than someone getting a loan for installing a pool, all other criteria being equal.
This is because the vehicle can be easily repossessed if the borrower defaults on the loan. This type of flexibility may seem a bit harsh, but if you're a responsible borrower who has every intention and plan to pay back what you borrowed, it can make the loan you need much more affordable.
As with all high-quality personal loans, there are no prepayment penalties, which means if you want to make extra payments to wrap up your loan obligation sooner, you can do that.
Moreover, one of the overwhelming positives of a LightStream is that they do not charge an origination fee. This means that there will not be any extra charge for getting the loan itself.
Rates
LightStream loan rates are some of the most competitive on the market today. This stems from their focus on good to excellent credit consumers. Still, as of 1/6/21, a loan from $5,000 – $9,999 with a 24-36 month term would range between 4.99% – 17.99%.
LightStream loans are also simple interest structures. This essentially means that interest is only calculated on the principal of the loan, not the principal and the interest charged in a given period.
For example, if your LightStream loan balance is currently $1,000 and the interest charged this month is $50.24, you'll only pay interest on $1,000, not $1,050.24.
Best of all, your on-time payments are reported to both Experian and Equifax, which means your credit score continues to improve during the life of your loan. Also, there are no late, origination or prepayment fees.
Rate Beat & Loan Experience Guarantee
LightStream's Rate Beat guarantee means that the company will beat any qualifying interest rate from any other lender. What this means in practice is if another lender (SoFi Personal Loans, for example) quotes you a 4% interest rate and you submit the same application to LightStream, they'll match that APR.
The company has also taken steps to ensure their customer service is second to none. If customers aren't entirely happy with the loan approval process, LightStream will send along $100.
LightStream may be right for you if…
You have good to excellent credit
You need or want a loan for different purchases
You need a loan between $5,000 – $100,000
You are looking for a fixed rate
You are looking for a loan with a longer term, as long as 12 years
You have several years of credit history and evidence of liquid assets like real estate or retirement savings
You have stable income
You have a credit history with you few or no blemishes
Co-signers
LightStream is one of the few companies that offers multiple borrowers on a single loan. This can be exceptionally useful if one borrower has less than perfect credit and can pair with someone who has a high score.
Online Loans
It's important to recognize that online loans are just that. Online companies develop, design and sell their products to be digital. It may disappoint you if you're expecting to be able to quickly and easily call up a lending officer.
E-sign, electronic statements and an electronic transfer to your bank account (no cash!) make these loans very easy to get and distribute. Do keep this in mind, however, if you're expecting a more customer-centric and unique experience.
Downsides
There is no perfect company out there and LightStream is no different. They do many things well, but there are a few slight hiccups.
Hard Inquiries
Something to prepare for more than to avoid is that LightStream will take a hard credit pull from both your Equifax and Experian credit reports. This means that your credit score will likely fall.
This is perfectly fine and exactly what is supposed to happen when you apply for credit. Just know that it may not be the perfect time to buy a house, finance a car, and get a LightStream loan all at the same time.
Due Date Changes
Once they fund your loan, you must pay by the due date you selected during the application process. This can present some sticky situations for people who may not have a regular, weekly or biweekly paycheck.
Customer Service
Because you're dealing with a larger company, customer service has a tendency to degrade. This is true of LightStream as well. In a number of reviews posted online, LightStream scored exceptionally well.
Those that reported positive experiences were able to complete the process entirely online. Those who reported issues or unsatisfactory experiences were those who had to call the company to receive service.
Credit Card
In order to verify your identity, LightStream asks for an active Visa or Mastercard. The company won't charge the card, but instead uses it to ensure that you are you. This can be a hindrance for anyone who may not have a card.
Overall, LightStream provides very competitive rates on loans of varying sizes for borrowers who have good or excellent credit. If you're comfortable using an online lender and need a loan for a non-traditional purpose, like a vacation or a boat, LightStream could be a great fit for you.