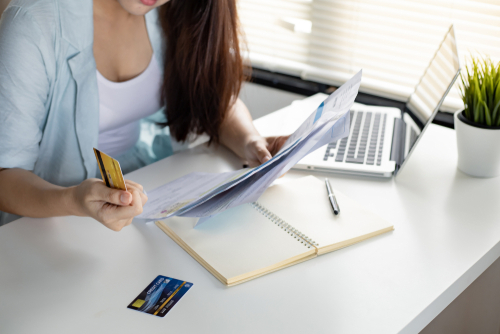 Studies show that one in three Americans have a debt in collections. If you are one of those, you may have been contacted by a company called McCarthy Burgess & Wolff.
They are a debt collection agency that collects on behalf of a variety of industries. They may have been hired by your original creditor, or they may have purchased the debt.
Either way, they will pursue you until you pay them for the debt.
In order to collect the debt from you, they will open a collections account on your credit report in their name.
This entry will stay on your credit report for seven years and can cause significant damage to your credit score.
To prevent this from severely impacting your credit and finances, you will need to remove the collections account from your credit report as soon as possible. But what is the best way to do this?
To learn more about how to deal with McCarthy Burgess & Wolff and repair your credit score, read our full article below.
About McCarthy Burgess & Wolff
Founded in 1980 in Ohio, McCarthy Burgess & Wolff is a medium-sized debt collection agency.
They are headquartered in Cleveland, OH, but they also have locations in Middleburg Heights, OH, and Tulsa, OK.
As a medium-sized debt collector, they offer third-party collection services on behalf of a variety of industries.
This includes:
credit cards
utilities
medical bills
auto loans
student loan debt
Steps To Remove McCarthy Burgess & Wolff From Your Credit Report
If you have a collections account on your credit report, you have two courses of action: request a goodwill deletion or negotiate a pay-for-delete agreement.
Request Debt Validation
One of the worst things that you can do when facing a debt collection is to ignore the debt collector. This will only cause the situation to spiral out of control.
Instead, you should take advantage of the situation immediately and request debt validation from McCarthy Burgess & Wolff.
Under the FDCPA, debt collectors must provide proof that they are authorized to collect on a debt.
However, you can only request that they verify your debt in the first 30 days after they contact you. Otherwise, they may not respond to you.
To verify your debt with the collector, you will need to send a debt validation letter. Make sure that you include your name, account number, and any other relevant information regarding the debt.
Because debts tend to move quickly from the original creditor to the debt collector, collectors are often unable to provide proper validation.
If this is the case, they must update the major credit bureaus and remove the debt from your credit report.
In fact, you may not have to pay the debt at all.
Request a Goodwill Deletion: If You Have Already Paid the Debt
A goodwill deletion involves having the debt already paid and asking McCarthy Burgess & Wolff if they would kindly remove the collection entry from your credit report.
You will typically have the most luck with this method if the debt collector can see that this is a one-off occurrence.
To request a goodwill deletion, you will need to write them a letter explaining why you were late on your payment in the first place.
If there were extenuating circumstances, such as a job loss or medical emergency, this is good to mention.
If you are convincing enough in your letter, McCarthy Burgess & Wolff may grant you a deletion.
Negotiate a Settlement
However, most people have more success in negotiating a settlement instead. McCarthy Burgess & Wolff wants your money more than anything.
This makes your payments a bargaining tool that you can use to get the collection account removed.
They may even let you get away with paying less than the full amount if they are desperate enough.
Start by offering to pay half of the total balance of the debt. You may get some pushback, so work with McCarthy Burgess & Wolff until you come to a compromise.
Have them send you the agreement in writing before you make a payment on the debt.
Once you make your first payment, wait 30 days, and then check your credit report. You should notice that the entry has disappeared from your credit report.
If it hasn't, reach out to them and remind them to uphold their end of the deal.
Get a Free Copy of Your Credit Report
Dealing with McCarthy Burgess & Wolff
Instead of handling all the back and forth yourself, you can always hire a credit repair professional to deal with the situation for you.
Credit repair companies negotiate with collection agencies on your behalf to negotiate settlements and remove any negative entries from your credit report.
This will help you clean up your credit report and boost your overall credit score. They are an excellent resource to improve your credit and loan eligibility.
Working with a trustworthy company is extraordinarily important when it comes to credit repair. Review our comparison of some of the best credit repair companies and make sure to choose the best one for you.
McCarthy Burgess & Wolff FAQs
Can McCarthy Burgess & Wolff Pursue Me?
Yes, McCarthy Burgess & Wolff can pursue you for a debt if they have been hired by the original creditor or if they have purchased the debt at a discount.
While they may be authorized to collect the debt from you, this does not give them free rein to walk all over you.
Many debt collectors use a number of questionable tactics to coerce you into making payments including harassment, verbal abuse, and even wage garnishment.
A lot of commonly used debt collection tactics are actually illegal under the Fair Debt Collection Practices Act (FDCPA.) Debt collectors don't want you to know this because it disrupts their ability to intimidate you into making payments.
That is why it is enormously important to familiarize yourself with the FDCPA before communicating with McCarthy Burgess & Wolff.
If you would prefer to not communicate with then directly, you can work with a credit repair company or law firm. Credit repair companies help you dispute the debt and get it removed from your credit report.
Does McCarthy Burgess & Wolff Have Any Complaints?
If you have already received calls from McCarthy Burgess & Wolff, you probably already know that they are not pleasant to deal with. Unsurprisingly, this has resulted in many complaints being filed against them over the years.
They have 308 complaints filed with the Consumer Financial Protection Bureau (CFPB) and 104 with the Better Business Bureau (BBB). Most complaints are about inaccurate reporting, harassment, or failure to verify a debt.
If you are facing similar issues, you may also consider filing a complaint. In fact, you may even walk away with a damages payout for your trouble.