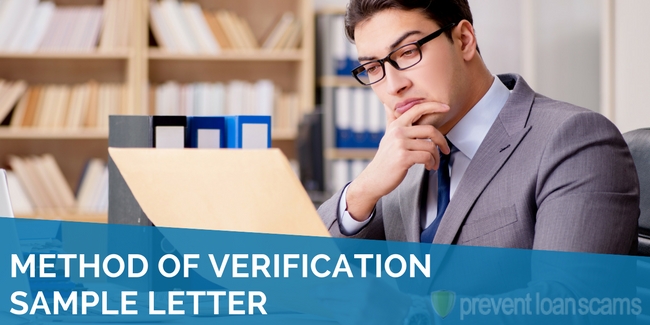 We've been getting more and more questions about the "why's" and "how's" regarding the method of verification letters.
This article and accompanying "method of verification" letter template is my enthusiastic response to increasing popular demand.
Did your credit report get hit with a reported delinquency that doesn't belong there? You need to take action.
The problem is very unlikely to fix itself. It's important to know what steps to take and how to take them.
The first thing anyone should do when faced with a suspected discrepancy on their credit report is read the Fair Credit Reporting Act (FCRA) Section 611 on the Federal Trade Commission website.
Don't worry, you need not be a lawyer or a CFO at a major bank in order to look it over and at least get a sense of what rights you have as a consumer of credit.

We researched & reviewed the best 
credit repair services
. They can help you dispute inaccurate items on your report & work towards improving your credit score.
What is a Method of Verification Letter?
​A method of verification letter is essentially a means to an end.
It can help you to follow up with a credit reporting agency after receiving verification of a disputed delinquency.
You aren't really asking for a second opinion. Rather, you are asking for documentation that provides clear evidence that supports their first opinion.
You are essentially telling the credit reporting agency the following. "You got it wrong, this delinquency on my credit report should not be there. I demand proof that you went through all the proper and logical steps that would have been necessary to validate or refute my dispute."
You may have doubts about whether it even makes sense to pursue this course of action.
But believe me, it's always worthwhile to exercise your rights. You need to do so in order to help your financial standing.
At this stage of the process, it's especially worth pursuing next steps.
This is because credit reporting agencies typically don't do much "investigating" at all. They often rely on an automated third-party system called e-Oscar.
So it's questionable at best how much real human effort is actually applied during the course of their investigations.
In your verification letter, you should demand specific and relevant information from the credit reporting agency.
Demand proof that specific they took reasonable actions.
This will help you to definitively determine whether or not the dispute had merit. This could obviously be important in any potential future litigation.
What Should I Include in a Method of Verification Letter?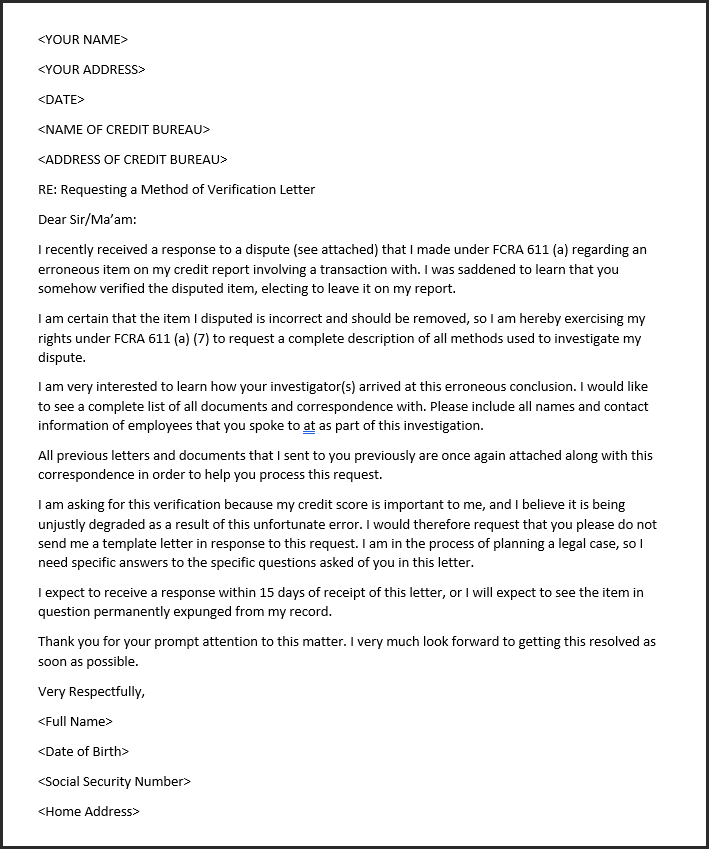 There are several things to keep in mind when writing a method of verification letter. You obviously need to reference the dispute you are challenging, as well as the section of the FCRA that you are invoking.
You should also include ALL documentation that they previously sent with the original dispute. In addition, include any new documentation that you may have compiled more recently.
This type of credit repair letter should follow the basic format of a business letter. The tone of the letter should be "direct and in control."
However, be careful not to seem rude or belligerent. You want the reader to know that you are fully aware of your rights under FCRA. Communicate that are not someone who is going to go quietly into the night.
Remember that you are simply exercising your rights to obtain a description of their investigation of your dispute, so include any details that you think may be relevant to your case.
SAMPLE METHOD OF VERIFICATION LETTER
Here is a sample method of verification letter:
<NAME>
<ADDRESS>
<DATE>
<NAME OF CREDIT BUREAU>
<ADDRESS OF CREDIT BUREAU>

RE: Requesting a Method of Verification Letter

Dear Sir/Ma'am:

I recently received a response to a dispute (see attached) that I made under FCRA 611 (a) regarding an erroneous item on my credit report involving a transaction with. It saddened me to learn that you somehow verified the disputed item, electing to leave it on my report.

I am absolutely certain that the item I disputed is incorrect and should be removed, so I am hereby exercising my rights under FCRA 611 (a) (7) to request a complete description of all methods used to investigate my aforementioned dispute.

I am very interested to learn how your investigator(s) arrived at this erroneous conclusion. I would like to see a complete list of all documents and correspondence with. Please include all names and contact information of employees that you spoke to at as part of this investigation.

All previous letters and documents that I sent to you previously are once again attached along with this correspondence in order to help you process this request.

I am asking for this verification because my credit score is important to me, and I believe it is being unjustly degraded as a result of this unfortunate error. Therefore, I request that you please do not send me a template letter in response to this request. I am in the process of planning a legal case, so I need specific answers to the specific questions asked of you in this letter.

I expect to receive a response within 15 days of receipt of this letter, or I will expect to see the item in question permanently expunged from my record.

Thank you for your prompt attention to this matter. I very much look forward to getting this resolved as soon as possible.

Very Respectfully,

<Full Name>
<Date of Birth>
<Social Security Number>
<Home Address>
Here's a downloadable Word Document version of our template:
Method-of-Verification-Template-PreventLoanScams-org
Do you have a specific idea about where they may have failed in their investigation? Then you should include it in the main body of the letter where you ask for supporting documents and correspondence.
For example, do you think they might have contacted the wrong person at the creditor's company? You should point out that possibility. Give them the name of the person you believe they should have spoken with.
What Happens After I Send a Method of Verification Letter?
Regardless of what you decide to do after sending the letter, you should always make sure to keep copies of all correspondence on file.
This will ensure that you have all proper documentation in the event you decide to pursue legal action as a next step.
You should receive a response within about 15 days.
It is possible that they elect to remove the disputed item(s). If the response is not the one you were hoping for, you still have options (for example: the 623 Method).
If you end up considering the merits of potential legal options based on the information you receive back from a credit reporting agency, I would advise you to conduct a thorough cost/benefit analysis to determine if it's really worth it.
You would want to give careful thought to the amount of money you may wind up spending on legal fees.
Balance that against how much financial benefit you would stand to gain if you were successful in removing the item from your report.
This can be a lot to think through. Different situations have varying chances of success in litigation.
Know Your Rights
The FCRA will guide you through all the relevant steps you need to take. These will help you to challenge a discrepancy on your credit report. If all goes well, the credit reporting agency(s) will find it to be in your favor.
What if they uphold the delinquency and they don't provide adequate information supporting their findings? Paragraph 7 of Section 611.a of FCRA gives you the right to demand a "description" of the investigation. That's when the method of verification letter come into play.
Consider Asking for Help
You may want to consider procuring the services of a reputable credit repair company. They can help you navigate through these issues.
A good credit repair company can help you prepare your method of verification letter. They can apply their considerable expertise to weigh in on the variables of your cost/benefit analysis, should a potential legal situation arise.
I've used credit repair companies to help me with past credit issues. I found them to be extremely helpful and well worth the cost.
It's important to remember that you are in control of your financial health. You always have options to help improve your credit score. It's ultimately up to you to take action, seek out any help you may need, and fix any problems that need fixing on your credit report.