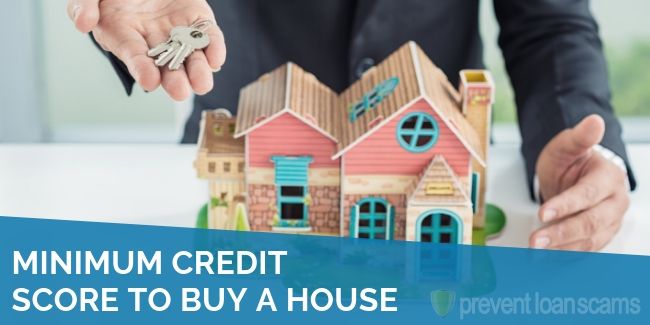 Purchasing a home is one of the larger purchases you'll make in your life. That organized pile of wood, concrete, glass, and steel all sitting on land is incredibly expensive. Depending on where you live, a one-bedroom condo could go for as little as $45,000 to as much as $1 million. Where you're living and how much space you need or want drastically change how much a home costs. What doesn't change as much, however, is the minimum credit score to buy a house in the first place.
You're more than likely not purchasing a home for cash. If you were, you wouldn't be reading this.
So, that means you're going to need to rely on credit. That credit is supplied by a financial institution that takes a close look — nearly microscopic — at your finances. What do you owe, to whom and when?
How much money are you making? What kind of job do you have: part-time, full-time, seasonal, etc.? A gigantic part of the calculus of buying a house is your credit score.
When you're buying a home, there are a few things to remember, only one of which is your credit score.
Let's take a look at the score you need and how the other elements play into your ability to purchase a home.
What Credit Score Is Needed To Buy a house?
The minimum credit score needed to buy a house massively depends on the type of loan, how much you can put down, where you are in the country and your interest rate:
FHA Loan
The Federal Housing Administration (or FHA) backs loans of certain individuals.
These loans generally require a minimum credit score of 500 if you give a 10% down payment or 580 if you give a 3.5% down payment.
FHA loans are conventional mortgages that are backed by the federal government in order to encourage home ownership.
Qualifying for and getting an FHA loan can be a long, drawn-out process and there are certain requirements that are necessary during the life of the loan, including private mortgage insurance.
Conventional mortgages are just that: plain.
There are a number of different sizes and shapes of mortgages and you can decide how much or how little you want to place as a down payment.
USDA Loan
A United States Department of Agriculture (USDA)-backed mortgage requires a 640 credit score.
USDA loans are similar, but generally for farmers that are purchasing large tracts of land.
Their credit scores may be much better, but the amount they need to borrow is too much for them to take on themselves.
Again, the government backs these mortgage to ensure farmers are able to keep supplying food.
VA Loan
Veterans Affairs loans require no credit score and conventional mortgages, on the other side of the spectrum, require a 620 or better.
VA loans are specifically for former service members and their families and have a number of different requirements, similar to FHA loans.
These include restrictions on location and amount borrowed.
Down Payment
Generally, the higher the down payment, the lower the credit score requirement can be.
Different loans require different scores, as well.
A jumbo loan, for a million dollars or more, likely requires a fairly high credit score, whereas a smaller loan may not.
Location
The location also plays a big role in the credit score requirement of mortgages.
It simply may be more difficult and more expensive to get a mortgage in an area in which many people want to live.
This is a function of how expensive the home will be in the first place.
Interest Rates
Interest rates have a direct correlation with credit score.
If you have a lower score, expect to be denied or pay very high-interest rates.
If your score is over 740, you can expect to pay far less and enjoy the best rates.
According to a recent study by CreditKarma, the user's average credit score is 648.
Hopefully, this gives you an idea of where you stand.
Which Credit Score is Used?
Mortgage lenders do not just use a single score, but instead use either VantageScore or a FICO score.
These two products are combinations of the various credit bureau reports and are specifically tailored to help lenders make a decision specifically about home mortgages.
Additionally, many large lenders will apply proprietary scoring information to the reports that they receive from FICO or VantageScore.
What Do I Need to Do?
There are several things you can do to help pump up your credit report and score before you buy a house.
First, think ahead and begin monitoring your credit report.
Additionally, save up for a larger down payment; large down payments equal better rates and lessened credit score requirements.
Finally, consider holding off on other purchases. If you're looking to get a new car as well as a home, it may be a good idea to prioritize your needs.