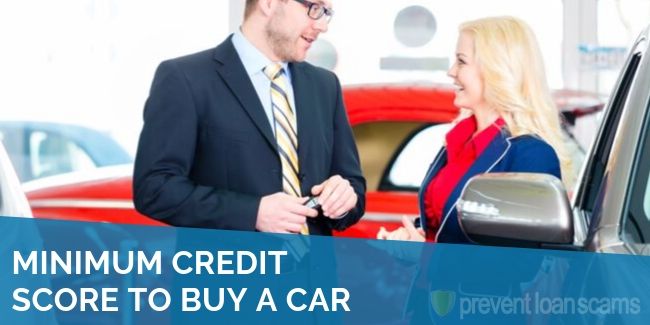 So what is the minimum credit score to buy a car? It very much depends on the kind of car you're looking to purchase.
Your credit report and score is your key to affording the thing that you want. That is, unless you're independently wealthy, and can afford to pay cash for large purchases.
This means that financial institutions need a reliable way of measuring your ability to repay a loan for a specific purchase.
They do that by looking at your credit report and score. It gives them a historical look at how well you've performed in the past on all types of loan products.
There are a whole host of different products available to fit many different financial needs.
Regardless of your credit score, you'll likely be able to purchase a vehicle and finance it. The question is whether it's worth it.
So, What is the minimum credit score to buy a car?
According to a report from Experian in June 2020, a credit score of 660 will land you an interest rate around 6% or lower.
On average, the credit score needed for a used car purchase was 657.
The average credit score needed for a new car purchase was 721.
Credit score models generally list scores between 300 and 850. This shows you that new car buyers, generally, have fairly good credit scores.
Used car buyers are generally a bit lower, but certainly not in the basement. Remember, these are averages, so there were scores above and, most importantly perhaps, much lower than the above.
These low scores are called deep subprime and they do still get financing for vehicles (although at much, much worse rates). Let's take a look at new cars vs. used.
New Car Credit Score
If you want to get into a new car, you're going to need a fairly high credit score or be prepared to pay a jaw-dropping interest rate, if you can find someone to lend to you at all.
This is because, more often than not, new vehicles are purchased at the dealership, with dealership financing. These financing arrangements generally require higher credit scores.
Interestingly, interest rates tend to be lower on new cars because there is more value available to recoup if you default on the loan. Buying a new car with subprime or deep subprime credit is not terribly popular. The combination of high initial cost and credit score requirements means the bar to entry is generally much higher.
A super prime customer will pay an expected monthly payment of $472 on a 72 month, $30,000 loan. A deep subprime customer (scores 300 to 500) will pay $632 a month on the same loan, paying more than $10,000 more in interest over the life of the loan.
This is simply not a tenable option for most consumers. In short, if you want to get into a new car, you likely need at least a 600 credit score to make it financially feasible.
Used Cars Credit Score
Used cars have exploded in popularity over the last several years as automakers make vehicles that last longer and retain value. This has spawned a whole new area of sales for dealers, the certified pre-owned vehicle.
Once a gimmick, many dealers now offer certified pre-owned vehicles as a way to capitalize on the longevity most cars now have. This means that you can get a reliable vehicle, for less money than a new car, and that likely still has a manufacturer's warranty.
You can get a used vehicle more easily with a lower credit score because a finance company will not be able to recoup as much value on that vehicle if you fail to pay. To compensate for this, lower credit score individuals will almost always pay a higher interest rate. In fact, subprime borrowers can expect to pay a rate that's about 10% higher than higher credit score buyers.
Know What's Right for You
The long and short of it is that you can get into a car with just about any credit score. The question is whether it's worth the price you'll pay.
Generally speaking, paying double-digit interest rates on any car is not going to be worth the hassle. Let's say, however, you own your own business and absolutely need a truck.
You've got damaged credit but you've got to get to work and you have to be able to carry the tools you need. Simply put, you may have to pay a bit more per month and a bit more over the life of the loan so that you can get what you need. Buying a new Corvette with damaged credit may not be the best idea.
Lowering your interest rate
If you've got bad credit and want to purchase a vehicle, there are a few things you can do to lower your interest rate and pay a bit less. First, make sure you've got as many of your loans as possible paid down. Ensure they're current.
Next, consider making a sizable down payment. Lenders will look more favorably at consumers that make large down payments.
Additionally, if you have incorrect or faulty information on your credit report, consider hiring a credit repair company or pursuing the DIY route towards fixing & improving your credit.
Finally, ensure you're getting into the right vehicle for your situation. Shopping around for both vehicles and financing options can help ensure that you get the car and loan that are right for you.