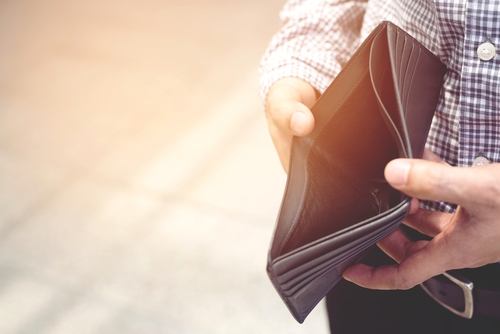 Have an overdue bill weighing on your mind? You may start to hear from a company called MRS BPO LLC.
MRS BPO, LLC is a debt collection agency that collects debts on behalf of creditors.
If you have an overdue bill, your original creditor may hire them to get you to pay up.
Debt collectors are annoying, but their incessant phone calls are the least of your worries.
If you have heard from them, they are likely listed on your credit report as a collections account.
Collections are damaging to your credit score and will remain on your credit report for up to 7 years – even if you pay the debt.
However, it is possible to remove the account and prevent long-term damage to your credit score. You may not ever have to pay a dime of the debt in order to achieve this.
Read on for our full guide on how to deal with MRS BPO LLC.
What is MRS BPO LLC?
Founded in 2007, MRS BPO LLC is a debt collection agency that is headquartered in Cherry Hill, NJ.
They are medium-sized, and they collect debts on behalf of health care, credit cards, financial services, auto loans, student loans, telecom, and utilities.
Specifically, they are hired by a company in order to coerce payments from you on your debt.
They will use questionable and sometimes illegal tactics in order to scare you into making payments.
This can mean verbal abuse, intimidation, and even threats of legal action.
Does MRS BPO LLC Have Any Complaints?
MRS BPO LLC, like the majority of debt collectors, is not well-liked. They have had a number of complaints lodged against them over the years.
They have about 531 complaints filed with the Consumer Financial Protection Bureau (CFPB) and about 120 with the Better Business Bureau (BBB).
The majority of these complaints are in regard to inaccurate reporting or lack of response to debt verification requests.
You may also want to consider filing a complaint if you face any FDCPA violations from MRS BPO LLC.
You may even be entitled to damages payouts if you work with proper representation.
How To Deal with MRS BPO LLC
Debt Validation
One of the most important things to do with any debt collector is to request debt validation right off the bat.
This can help you ensure that you aren't making payments on someone else's debt.
It can also get you out of paying it altogether if you catch MRS BPO LLC report false information.
To verify your debt with the collector, you will need to send a debt validation letter.
This is a formal request for them to send legal proof that they are obligated to collect on the debt.
Make sure that you include your name, account number, and any other relevant information regarding the dispute.
It is critical that you send this letter within 30 days of the first contact with MRS BPO LLC. Otherwise, they may not respond to your request.
After you send the debt validation letter, they should return with various documents and details that will help you understand why they believe this debt belongs to you.
This is how you can determine if MRS BPO LLC is pursuing you in error or not.
Get a Free Copy of Your Credit Report
If You Have Paid The Debt: Request a Goodwill Deletion
A goodwill deletion involves asking MRS BPO LLC to delete the entry on your credit report out of the kindness of their hearts.
Obviously, this isn't just going to happen.
It usually involves you already having paid the debt balance and waxing poetic about why you were late in the first place.
If You Have Not Paid the Debt: Negotiate a Settlement
You will likely have more success negotiating a settlement with MRS BPO LLC instead.
Specifically, you are going to want to work out a pay-for-delete agreement.
A pay-for-delete settlement is when a collector agrees to stop reporting the debt to major credit bureaus in exchange for payment.
This type of settlement is ideal for all parties because it involves getting the collection entry removed from your credit report and MRS BPO LLC making some of their money back on the debt.
It's a win-win scenario for everyone.
To begin, offer to pay half of the total balance. They will probably initially refuse, so you will need to come to a compromise with them on the amount.
The important thing to make sure they agree upon is deleting the entry entirely, not just marking it as paid.
Once you reach an agreement, have MRS BPO LLC send the terms in writing. Make sure that you don't pay them before you receive this document.
After they send the written agreement, make your first payment on the debt.
Check your credit report 30 days after submitting the payment to ensure that MRS BPO LLC made good on their end of the bargain.
If the entry is still there, reach back out to them and remind them of the agreement.
Hire a Professional
Dealing with MRS BPO LLC is no one's idea of a good time.
If you would rather avoid the hassle altogether, you can hire a credit repair company to take care of them for you.
Credit repair companies will negotiate with collection agencies directly to remove any dings from your credit report and boost your overall score.
They are an excellent resource for people that are looking to clean up their credit report.
Removing collection accounts from your credit report is an arduous process, but it is worth it to prevent long-term damage to your credit score.
Do you have any tips on dealing with collections agencies like MRS BPO LLC? Please share them in the comments.
Can MRS BPO LLC Pursue Me?
In short, yes, MRS BPO LLC can pursue you if the debt does belong to you. However, they may not use the most above-the-board methods to do so.
It is pretty common for debt collectors to bully their customers into making payments. They may garnish your wages or bring a lawsuit against you.
In the end, their entire business structure relies on your payments on the debt. They will do close to anything to make sure this happens.
While it is within their rights to collect on the debt, it doesn't make it ok. Most people aren't aware that there is federal legislation in place that protects consumers from this kind of abuse.
The Fair Debt Collection Practices Act (FDCPA) is a federal law that makes sure that companies like MRS BPO LLC treat their customers fairly and with respect.
It keeps debt collectors in line when communicating with their customers. If a company oversteps its bounds, you can file a complaint with the Consumer Financial Protection Bureau and possibly win damages for your troubles.
You can also work with a credit repair company or law firm to help prevent direct abuse from them.
Credit repair companies can help you dispute the debt and get it removed from your credit report. It's also possible that you won't have to deal with MRS BPO LLC directly ever again.
Can You File a Dispute Against MRS BPO LLC?
If you find that the information MRS BPO LLC provided contradicts what you have, you can file a formal dispute with the major credit bureaus.
Look through the documents they send and mark any information that seems inaccurate. If any details don't match up with what you have, you can file a dispute with Equifax, Experian, and Transunion.
The credit bureaus will then look into the dispute independently. If they agree that they are reporting the debt in error, the entry will be removed, and you may not have to pay the debt at all.