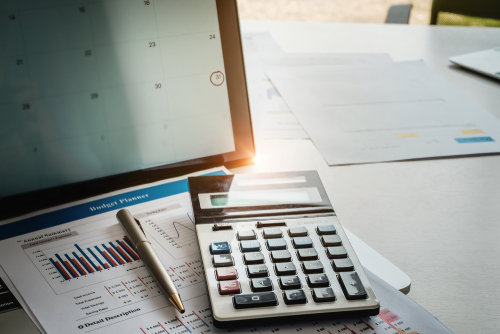 If you've been contacted by National Credit Systems,  chances are there's an unpaid balance owed to a landlord or apartment complex somewhere in your past.
National Credit Systems specializes in providing collection services for the multifamily industry.
If they ever shows up in your life, it's best not to ignore them.
In some states, landlords may have a greater ability to pursue unpaid housing debts than other types of collection obligations.
In addition, since a collection account tied to a rental carries more negative weight on your credit report and credit score than, say, a 30-day late payment on a credit card, it's a debt you want to get cleared up quickly.
About National Credit Systems
Casually known as NCS, National Credit Systems, Inc. is based in Atlanta, Georgia, and was founded in 1991.
The company specializes in collecting past-due debts for apartment owners and managers.
This includes debts by former residents who did not fulfill their lease obligations.
In fact, the company collects debt for more apartment owners and managers than any other in the US.
They are licensed to collect debts throughout the country and provide a full range of collection services to the multifamily industry.
You should also know that as a collection agency, they provide both pre-legal and full legal services, which means the possibility they'll institute a lawsuit against you can't be taken lightly.
The company also reports that it will add interest to any unpaid collection balances, where permitted under state law.
That means the longer your debt is outstanding, the larger it will grow.
So, is National Credit Systems legit?
National Credit Systems has a Better Business Bureau rating of "B", one of the higher ratings the agency gives, on a scale running from A+ to F.
That means it is a legitimate collection company.
How To Deal With National Credit Systems
Steps to take to remove a collection from your credit report:
Communicate in Writing
If your first awareness of National Credit Systems is a collection account on your credit report, contact them by phone.
However, when you make that phone call, don't provide any information. Simply get information as to exactly who and what department you need to contact to work the situation out.
If they contact you by phone, give as little information as possible, but get as much as you can.
When it comes to collection agencies, phone calls are a very unbalanced situation.
The collection agency is both looking to get additional information from you to tie you to the debt, and to get you to make promises of payments.
If you don't make those payments, they'll be able to include that information in any legal action they may file against you in the future.
Limit yourself to just one phone call with National Credit Systems, whether you contact them or they contact you.
After that, request that all communication be handled by mail. That will give you a paper trail of the entire process, as well as the ability to avoid phone calls that may weaken your case.
When sending letters them, keep them concise and use them only to request information.
Do not provide any information for the same reason you don't want to do it on a phone call.
And, never put a promise to pay money in a letter. All correspondence to the company should be sent by certified mail, return receipt requested.
Keep all your correspondence in a central file, along with notes on your phone call, or even the number of times National Credit Systems attempts to contact you.
You may need this information as evidence in legal action.
Get a Free Copy of Your Credit Report
Request Debt Validation
Either in the first phone call with National Credit Systems or in your first letter to the company, you'll need to request what's known as a debt validation letter from the company.
National Credit Systems and other collection agencies are legally required to furnish you with this letter to substantiate the legitimacy of the debt they claim you owe.
A debt validation letter provides the name of the original creditor, the original amount owed, the date the debt was first incurred, the day it went into collection, and other information that connects you with the debt.
Dispute: If the Debt is Not Yours
If National Credit Systems either fails to provide the debt validation letter or if it comes back incomplete, you can demand they cease any further collection efforts and remove any negative information from your credit reports.
If they fail to do so, you can either send the incomplete debt validation letter to the credit bureaus or compose your own letter, explaining that National Credit Systems was unable to provide a letter and you are disputing the account based on the partial or complete lack of information.
The credit bureaus will then have 30 days to respond to your dispute.
If National Credit Systems fails to provide the credit bureaus with complete information tying the debt to you, they are required to delete the collection account entries.
Negotiate a Settlement: If the Debt is Yours:
How you handle the situation will depend on the amount National Credit Systems claims you owe.
If it's $100 or $200, you may want to pay in full just to make them go away.
But, be sure to keep records of your payment in case the debt becomes an issue again in the future.
If it is a larger amount, you may want to attempt settling the debt for less than the full amount owed.
Collection agencies don't like to do that, but they're often forced to do so due to either the age of the debt or the financial inability of the consumer.
Start by making a lowball offer, like less than 50% of the full amount owed, in full satisfaction of the original debt.
That will start a negotiation process, and hopefully, you can meet in the middle.
For example, you may be able to use this method to lower a $1,000 debt to, maybe, $700 with some shrewd negotiations.
If National Credit Systems agrees to the settlement, insist they send a letter confirming your agreement before you will send payment.
The letter should not only include the agreement that the reduced amount will settle the entire debt, but also that they will report the paid status of the account to all three credit bureaus.
Pay the settlement amount only once that letter has been received.
That will be your evidence that they agreed to the lower amount, as well as the document you can use to go to the three credit bureaus if the collection agency doesn't report the account as paid.
Hire a Professional
Once again, we repeat our recommendation that you engage the services of a credit repair service in dealing with National Credit Systems.
Since they represent apartment complexes, rental management companies, and landlords, they'll be more difficult to deal with than many other types of collection accounts.
For example, because the collections are for either unpaid rent or unreimbursed expenses for damage to apartment properties, National Credit Systems will likely be a lot less inclined to settle your account for less than the full amount.
It also seems that the company shows a pattern of lack of response, at least based on the complaints filed with the Better Business Bureau.
A credit repair service will level the playing field, putting you on equal footing with the collection agency.
What's more, they'll save you time and the stress of dealing with the collection process, which is something the average consumer has little experience with.
And, of course, if they threaten you with legal action, you'll need to retain a credit law firm to represent you like Lexington Law.
They're one of the best credit law firms in the country, and it looks like that may be a necessary option in dealing with National Credit Systems.
What National Credit Systems Can Legally Do
Legally speaking, National Credit Systems can institute a lawsuit against you for full payment of the debt they claim you owe.
In the real world, however, collection accounts only rarely become judgments.
Even then, it's usually only if either the debt is particularly large or you completely failed to cooperate in the collection efforts.
Since National Credit Systems represents the multifamily industry, the likelihood of a collection turning into a lawsuit is greater than it is for other types of collection accounts.
Either National Credit Systems or the original creditor could file a lawsuit against you.
If they're successful, they'll legally be able to garnish your wages until the debt is paid.
If you believe National Credit Systems may bring a lawsuit against you, or they threaten to do so, you should hire a credit law firm to represent you.
Just bringing your own lawyer into the picture could short-circuit the lawsuit by the collection agency.
Your Rights in Dealing with National Credit Systems
Though it can often seem as if the collection agency has the upper hand over you, they're not without legal limits.
Consumers are protected against abuses by collection agencies under the Fair Debt Collection Practices Act (FDCPA).
You can learn these protections by reading the Debt Collection FAQs provided by the Federal Trade Commission (FTC).
It explains your rights in simple English.
Learn as much about your rights under federal law as possible.
If National Credit Systems violates your rights, such as being too aggressive or harassing you, it may be possible to have the debt dismissed based on those violations.
Complaints Against National Credit Systems
National Credit Systems had 338 customer complaints filed against them with the Better Business Bureau within the past three years.
They have answered the majority of those complaints, but only a handful have been resolved to the consumer's satisfaction.
Complaints against the company include:
harassing phone calls
lack of full verification of debts they claim consumers owe
lack of willingness to negotiate a debt settlement
placement of questionable collection accounts on credit reports
lack of confirmation of debt payments received
If you are dealing with National Credit Systems and experience any of the above events we recommend getting professional help.
For example, you can engage the services of a good credit repair company.
Such companies are accustomed to dealing with collection agencies—it's what they do.
They'll likely have greater success in resolving the debt situation and getting your credit repaired.
In Summary
If you feel you have the time and the inclination to deal with them on your own, give it a try.
However, if you find your efforts aren't getting you anywhere, engage the services of a credit repair service.
They're professionals who deal with collection agencies and will almost certainly produce a better outcome.