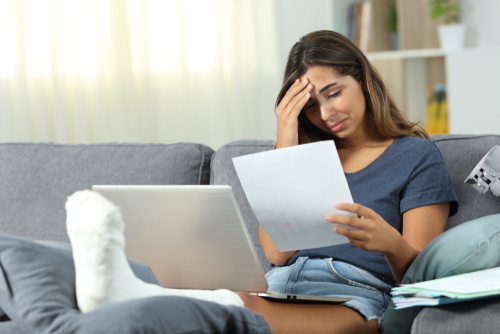 Nationwide Recovery Service is a debt collector that works specifically with health care companies to recover unpaid accounts.
If you have a large hospital or doctor bill, it's very unlikely that you are able to pay it all in one go.
But falling behind on any of your payments could spell trouble for your credit in the long run.
They are likely working with your doctor's office to help get you to make payments on your overdue bill.
In order to pursue you, Nationwide Recovery Service first needs to contact the major credit bureaus and open a collections account.
This entry will remain on your credit report for as long as seven years and can create financial problems for you down the road.
When dealing with a debt collector, the name of the game is deleting their collection account.
Doing so will help mend your credit history and stop their endless calls and letters.
About Nationwide Recovery Service
Nationwide Recovery Service is an average-sized collection agency that is headquartered in Dallas, TX.
Originally founded in 1979, they specialize in recovering payment for healthcare-related accounts.
Annually, they report their revenue at about $22 million.
They have roughly 200 employees across all of their locations and headquarters staff of 150 employees.
If you are overwhelmed by dealing with negative entries on your credit report,
we suggest you ask a professional credit repair company for help.
How to Deal with Nationwide Recovery Service
Want to stop Nationwide Recovery Service's communications for good? Here are three steps to making that happen.
Familiarize Yourself with the FDCPA
Debt collectors are bound by law to treat you with respect, but many companies ignore these rules under the assumption that you aren't aware of your rights.
One of the first things you should do when you begin hearing from Nationwide Recovery Service is to familiarize yourself with the FDCPA.
The Fair Debt Collection Practices Act (FDCPA) was passed in the 1970s with the purpose of preventing debt collectors from deceiving, abusing, threatening, manipulating, or insulting their customers.
It prevents them from certain collection practices, such as:
Calling at unreasonable hours.
Misrepresenting their identity when contacting you.
Contacting anyone but you about your debt.
Threatening legal action that they won't take.
Threatening criminal charges.
Using obscene language when contacting you.
Refusing to validate your debt.
Refusing a request for written communication.
If you are experiencing any of the above while working with Nationwide Recovery Service, you have a right to submit a complaint to the CFPB.
They will address the issue and help put a stop to it.
Write a Section 609 Letter
As we mentioned above, the FDCPA grants you several rights when it comes to dealing with debt collectors.
One of those rights, as specified under Section 609, is the right to request debt validation.
Debt validation is important in determining if Nationwide Recovery Service has the correct information regarding your debt.
This can prevent you from paying someone else's debt or paying based on false information.
Even if you know that the debt is yours, you should still request debt validation. Any slight error could allow you to have the entire debt voided and removed from your credit report.
How To Request Debt Validation
To request that Nationwide Recovery Service validate your debt, you must send them a Section 609 letter.
This is an official request for them to verify various details such as the dates of account payments, original creditor, and name associated with the debt.
Make sure that this letter is postmarked no later than 30 days after you first heard from them.
If you procrastinate beyond this, they are not required to validate the debt.
One of two things should happen after you send a Section 609 letter.
They will either be able to provide documents meant to prove that the debt is yours, or they will be unable to provide these documents and must remove the collection account from your credit report.
Even if Nationwide Recovery Service sends you documentation, you should still go through it and look for errors.
You might discover that their information is inaccurate, and you can file a dispute with the credit bureaus to have the entry removed.
Make a Deal with Nationwide Recovery Service
If they are able to validate your account, don't panic. You still have a chance at getting their entry removed from your account.
Your next step in the collection process is to make a deal with them that works for both of you.
Namely, you will need to make a pay-for-delete agreement with them.
Pay-for-delete agreements are common in the debt collection industry. But you may have a hard time getting Nationwide Recovery Service to agree to one.
Debt collectors use account deletions as a last resort to get their customers to pay.
This is because the practice is frowned upon and is seen as falsifying official records. It isn't illegal, but it will take some negotiating on your part to get them to agree.
I recommend offering to pay half of the balance in exchange for account removal.
This sets the bar pretty low, which means that Nationwide Recovery Service may be more willing to offer you a deletion at a higher amount.
Get the agreement with them in writing before you make your first payment on the debt.
This allows you to have proof to bolster your claims if they refuse to remove the account after you pay.
They should remove the account about one month after they receive your first payment.
Monitor your credit report to make sure that they follow through.
Ask For Help Dealing with Nationwide Recovery Service
Not everyone is comfortable taking on Nationwide Recovery Service by themselves. That's where hiring a credit repair company can come in handy.
Credit repair companies help consumers clean up their credit reports by working with debt collectors to negotiate deletions.
They will take over all of the communications with the debt collector so that you don't jeopardize your account removal.
It's critical that you work with a credit professional that is a good match for your credit needs.
No one said that dealing with a collection agency was easy, but it will certainly save you headaches when you go to apply for a mortgage or credit card.
Does Nationwide Recovery Service Have Any Complaints?
No one enjoys hearing from a debt collector, and this holds true for Nationwide Recovery Service.
Their customers have had a lot to say about them over the years, and not a lot of it is positive.
They have had 66 complaints filed with the Better Business Bureau (BBB) and over 100 complaints filed with the Consumer Financial Protection Bureau (CFPB).
They have been involved in at least 6 cases of civil litigation.
A lot of the problems with Nationwide Recovery Service stem from their disregard of the Fair Debt Collection Practices Act (FDCPA).
This is meant to protect consumers from various abuses from collection agencies. We will discuss what the FDCPA means for rights later on.
If you have been experiencing issues with Nationwide Recovery Service, you have a right to lodge a complaint as well.
If you have any tricks on how to deal with them, leave a comment below.