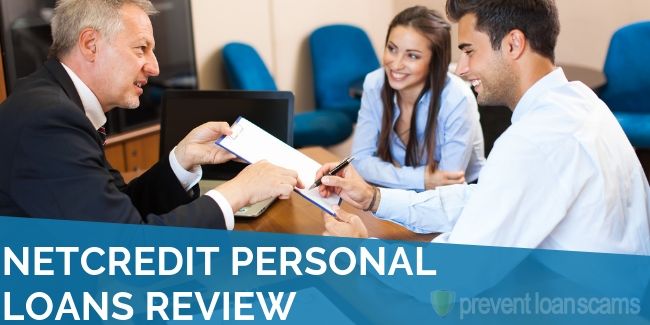 Borrowing money when you have damaged credit can be a difficult and often extraordinarily expensive venture. Folks who have bad credit, often more than others, need good credit to lower the loan rates. A quality personal loan provider like a credit union or a local bank can be a great way to go about it.
Still, it's pricey. Often, lenders who offer these types of loans specialize in products that benefit consumers with poor credit usually looking for a certain minimum credit score for approval.
NetCredit, a Chicago-based online lender and a subsidiary of Enova International, Inc, is just such a company. You can receive personal loan offers that have high rates. However, they have no prepayment penalty or insufficient fund fees.
Let's do a NetCredit loan review and the types of credit they offer.
What is a NetCredit Personal Loan?
NetCredit Personal Loans are geared toward individuals who have damaged or no credit at all. As such, they tend to be what we would consider being very expensive or having high-interest rates.
Still, lenders need to be compensated for the risk they take on with consumers who have a shorter or damaged credit history. NetCredit offers loans that are between $1,000 and $10,000.
It varies depending on the creditworthiness and the state in which you're located. They will even offer to refinance options to lower your rate or your monthly payment for consecutive on-time payments.
There are no prepayment fees, no application fees, and no insufficient fund fees. That is the hallmark of a reputable personal loan.
NetCredit will soft pull your credit report in order to check your eligibility. This is a big positive for consumers who already have damaged credit. Any additional hard inquiry can cause their score to plummet, meaning that soft pulls are essential. Loans are offered for terms of up to 60 months.
Here's the part that folks won't like to hear. As of 3/9/21, fixed APR (annual percentage rates) loans range from 34% to 155%. That is quite a bit of money, but remember, if you've already got decent credit, NetCredit isn't right for you (look into a lender that caters to borrowers with high credit scores like SoFi, Discover).
Try looking at your credit card interest rates, as they will most times have lower rates. They do still however have lower rates than payday loan companies. The products are designed for people who are unlikely to get loans from other companies due to poor credit or even fair credit.
Because of the high rates, NetCredit Reviews personal loans are not available in every state, but are offered in:
Alabama
California
Delaware
Georgia
Idaho
Illinois
Missouri
New Mexico
North Dakota
South Carolina
South Dakota
Utah
Virginia
Wisconsin
These are states that have higher usury limits than other states.
What should I watch out for?
There are several things to be cautious of when starting the application process for a NetCredit personal loan. First, they're expensive.
Make sure that you have the money coming in each month to repay the payment amount. While the underwriting loan application process of personal loan companies will do some of this figuring for you, you should do your own research to determine that you can effectively repay the loan.
Second, NetCredit charges an origination fee of 5% of the loan value. This means that if you apply for a $6,000 loan, you'll receive $5,700 in your cash disbursement. These fees and the interest rate you pay will very much depend on a variety of factors, from the size of your loan, your credit history to the state in which you live.
The upshot of all of this is that NetCredit is very transparent about what they charge and why. The loans may be expensive and they may charge origination fees where other lenders don't, but NetCredit always discloses what they're charging and why.
How to Apply for a NetCredit Personal Loan
After you determine a NetCredit personal loan is right for you, applying for one is relatively straightforward. You'll want to gather several pieces of information before you begin.
Because your credit history isn't spotless, NetCredit uses several other factors to determine your creditworthiness. You'll need to explain your loan purpose, your employment, and income information in detail.
You will also need to provide your full address, along with previous residences, your Social Security Number, and your loan amount and proposed repayment term. NetCredit may use other information, like utility bills, to determine your creditworthiness.
When you apply, NetCredit will perform a soft credit pull, meaning they'll get a look at your credit report and score without affecting it. After your application is approved, you can complete all the necessary paperwork right there online and sign your loan documentation.
You'll likely receive your funds in your checking account or bank account as soon as the next business day and you can choose to repay your loan via debit or paper check.
Several Tools to Help You
NetCredit offers a variety of tools to help individuals with a checkered financial history to repay their loans. The online application with the eligibility check means that there isn't a hard pull on your report which would pull your credit down further.
Customizing your loan amount, term and monthly payment means that you are able to make the loan fit your life. Additionally, NetCredit has the ClearCost for Me pledge. The company guarantees that there will never be any fuzzy loan terms or hidden fees in any of their products.
NetCredit allows you to return a loan with no charge, as long as you do so by 6:00 p.m. the following business day. Finally, and most importantly, NetCredit reports to all three major credit bureaus (Transunion, Experian, and Equifax) meaning that even the most restricted borrowers are able to raise their credit score out of NetCredit products eventually.
Is a NetCredit Personal Loan right for me?
If you've got no credit or damaged credit seeking a personal loan, NetCredit could be exactly what you're looking for. Remember, though, that the cost of a NetCredit personal loan is pretty steep.
This may not be the loan to take out if you're looking to finance a wedding or go on vacation. NetCredit loans should really only be used if needed, such as to consolidate other, higher rate loans or to pay for necessary repairs. They have a fantastic customer support team to help answer all your questions and concerns.
Late fees and APRs for NetCredit loans can be quite steep but they are willing to consider your application if you've got a ding on your report. Make sure you shop around for the best rates available to you.