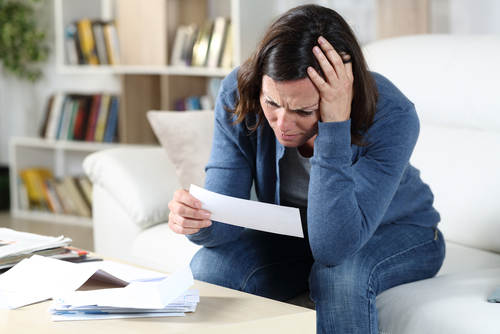 Have you been getting calls from Northland Group? It's probably because you have an overdue payment that they are trying to collect from you.
They are a debt collection agency that has probably been hired to collect the debt on behalf of your original creditor.
Their calls are annoying, but their impact on your credit score is more cause for concern.
Payment history makes up to 35% of your credit profile.
This means that the longer a debt goes unpaid, the more damage it does to your credit score.
However, paying the debt outright might not necessarily help. In fact, it could lower your score further.
The best way to deal with debt collectors is to remove the entry from your credit report entirely.
Read on to learn the best ways to do that and deal with Northland Group.
What is Northland Group?
Founded in 2006 in Minnesota, Northland Group is a medium-sized third-party debt collection agency.
They are headquartered in Edina, MN, and collect debts on behalf of:
automotive
mortgage
credit card
student loan
telecommunication
government
utility industries
They recently merged with another debt collection agency called Radius Global Solutions, LLC.
This means that you may see that name appear on your credit report as well.
As a debt collector, they acquire old debts that other companies are looking to offload.
After all, companies don't want to waste resources and precious man-hours attempting to collect a debt that you consistently haven't paid.
Instead, they are willing to take a loss and sell the debt to a collection agency for pennies on the dollar.
Since you technically still owe that amount, Northland Group will continue to pursue you for the full debt.
They often utilize aggressive tactics in order to harass and intimidate you into paying the debt.
If you pay the debt or they receive a judgment to garnish your wages, they will make their money back and turn a profit.
Get a Free Copy of Your Credit Report
Steps To Remove Northland Group From Your Credit Report
There are certain steps to take to remove a debt collector from your credit report and get your credit back on track.
Here are is the best course of action when it comes to dealing with Northland Group.
Communicate In Writing
First, tell Northland Group that they must communicate with you strictly in writing.
Under the FDCPA, you are allowed to request that they only contact you through U.S. Mail.
This allows you to keep track of all your correspondence and bolster your case with major credit bureaus.
Request Debt Validation
The most important and time-sensitive step when it comes to dealing with a debt collector is submitting a debt validation request.
Because Northland Group isn't the original creditor on the account, they may not have all of the proper documentation when it comes to your debt.
Without this, they are not legally allowed to collect on your debt.
If this has indeed been lost in the shuffle, you can catch them on a technicality by requesting debt validation.
If they cannot provide proof that they can collect the debt, it must be deleted from your report immediately. You may even get out of paying the debt altogether.
Make sure that you include your name, account number, and any other relevant information so that they can locate the debt. Also, make sure to request a return receipt so that you can prove they got your letter.
Northland Group should return with documents that prove that the debt belongs to you. Look through them and mark any information that is inaccurate.
You can then follow up with the major credit bureaus and file a dispute. If the credit bureaus agree that Northland Group is reporting the debt in error, they will delete the entry from your report.
If You Paid the Debt: Request a Goodwill
If you gave into Northland Group's harassment and paid your debt, you can still get the entry removed from your report.
You can do this by asking them for a goodwill deletion.
A goodwill deletion is exactly what it sounds like; Northland Group agrees to delete the entry out of goodwill – and the fact that you have already paid.
To request a goodwill deletion, write Northland Group, Inc a letter that explains why you were late paying off the debt.
If you experienced a family emergency or a layoff that prevented you from making the payments, this is good to mention.
However, make sure that you are being truthful in your account. Debt can tell if you are lying about what happened.
In some cases, they may even ask you to provide supporting documentation.
If You Haven't Paid the Debt: Pay-For-Delete Settlement
If you are unsuccessful in securing a goodwill deletion, your next bet is to negotiate a pay-for-delete agreement.
As its name suggests, a pay-for-delete agreement involves paying the agency to have their collection entry removed from your report.
It's not enough to simply pay the debt, however. You must get Northland Group to agree to delete the entry from your credit report specifically.
Otherwise, the account will simply be changed to a paid status, and it will keep hurting your score for seven years.
Start by offering to pay half of what you owe Northland Group. Negotiate with them until you reach an amount that you're both comfortable with.
Ask them to send you an agreement in writing to ensure that they don't go back on their word.
Once an agreement has been reached, you should see Northland Group deleted from your credit report quickly.
If it's still there after 30 days, contact them and remind them to hold up their end of the bargain.
Dealing with Northland Group
If you would prefer to not go up against Northland Group alone, you can always hire a credit repair company to help you.
Credit repair companies can identify and help remove damaging accounts from your credit report.
They will do all the communicating and negotiating so that you don't have to. You may not even have to speak directly to Northland Group again.
Does Northland Group Have Any Complaints?
Northland Group is indeed a legitimate debt collector, but this doesn't mean much when it comes to their likeability.
Like the majority of debt collectors out there, Northland Group has a consistent record of treating their customers poorly.
They currently have over 450 complaints filed with the Consumer Financial Protection Bureau (CFPB).
These complaints are in regard to violations of the Fair Debt Collections Practices Act (FDCPA), which is a piece of federal legislation that prevents harassment and abuse from debt collectors.
They have been accused of several violations, including harassment, inaccurate debt reporting, and failing to validate debt information.
If you experience similar FDCPA infractions when communicating with Northland Group, you may also consider filing a complaint.
Do you have any tips on dealing with collections agencies like Northland Group? Please share them in the comments below.