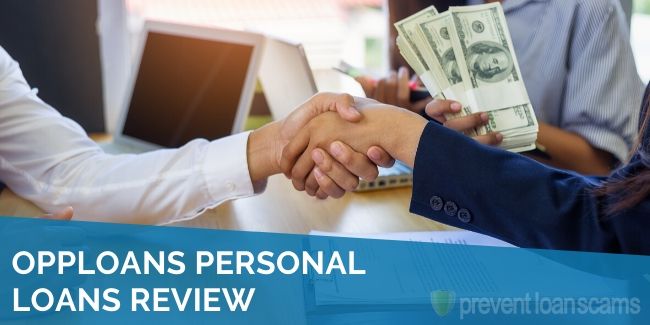 Opportunity Installment Loans, otherwise known as OppLoans, is known as the "lender of last resort."
If you're running out of options, you've had a few bad experiences with debt in the past.
Your credit score may be suffering because of it. You may have very few options of where you can get credit.
And, if an emergency comes up and you need credit, you may not necessarily care about the issues you've had in the past.
You need money now and may not care about the price you'll pay for it.
OppLoans does not perform a credit check in the traditional sense.
They do take a close look at other data and scan your bank account to get an idea of credit flow. However, damaged credit may not be an issue.
Sounds great, right? Well, the price you pay for that is what can only be considered an extraordinarily high-interest rate – OppLoans APRs average 140 percent.
Let's take a look at how OppLoans can get credit to people with very damaged credit histories.
We'll also look at how the loans work and what you need to do to get one.
About OppLoans
OppLoans operates somewhere between a payday lender and a traditional installment lender. In fact, they are (more or less) a traditional installment lender that focuses on individuals with damaged credit.
Their average borrower has a credit score of just 560. Additionally, they make under $45,000 a year and borrow an average of $1,400.
Founded in 2009, OppLoans caters to consumers who have damaged credit and who may otherwise use a payday loan to solve their financial issues. The company notes that over 300,000 customers have had their credit needs met since the company's founding.
Loans offered by OppLoans are between 59-160 percent, as of 3/26/21. When you compare those with payday loans offering upwards of 400 percent interest, the loans can be a relatively good option if you absolutely need a loan.
So they don't run my credit?
Yes, and no. OppLoans does not run a traditional credit score through one of the three major credit bureaus, TransUnion, Experian or Equifax.
However, they will run your credit through Clarity Services, which is now a subset of Experian, an alternative credit bureau that factors in a number of other areas into your report and score.
Clarity specializes in "no-file" or "thin-file" consumers that either do not have a credit report at all or have a very limited one. They also specialize in consumers with damaged credit.
What's the application process?
First, make sure you meet some of the requirements. Since OppLoans specializes in consumers that have poor credit to begin with, there isn't a terribly high barrier to entry.
There is no minimum credit score and you must have a bank account in your name that is more than 40 days old. Additionally, you must have a consistent income of at least $1,500. Finally, make sure OppLoans operates in your state.
If OppLoans fits for your financial situation, you'll fill out an application. This includes your income information, as well as your bank account number. Additionally, you'll need to include your Social Security Number and address information. You can check your rate without including as much information.
Finally, you'll get an approval and have your money deposited in as little as one day.
Who is this loan right for and who should skip it?
OppLoans is right for you if you can't get money anywhere else and absolutely need it. OppLoans should be viewed as a lender of last resort without whom you would have considerable trouble making ends meet or you'd end up taking a payday or title loan.
Funding is very fast and repayment options are flexible. You can even change your payment due date after taking out the loan, something that can be very useful for consumers in a pinch.
Think carefully, however, if you actually need this money. Going without something or even selling some items may be more beneficial than an OppLoans loan.
If you do need to take one out, you should view it as a temporary solution. The company does offer refinancing, or rollovers, for consumers who have a positive payment history with the company. However, this activity can get very expensive very quickly.
One key positive — if you do have damaged or thin credit and are trying to build it, OppLoans could work well. Since they report to the three major credit bureaus, your payment activity will be tracked and ideally, build your credit score to where you'll never need to consider this type of loan again.
If you do take a loan with OppLoans, prioritize paying it off as quickly as possible — like all traditional installment loans, there is no prepayment fee.
OppLoans is far from the best option for credit. It can be so expensive in fact, that it is often better to go without or sell possessions to make ends meet. If, however, you do need credit, you should work to pay off your loan from OppLoans as quickly as possible to avoid excessive fees.