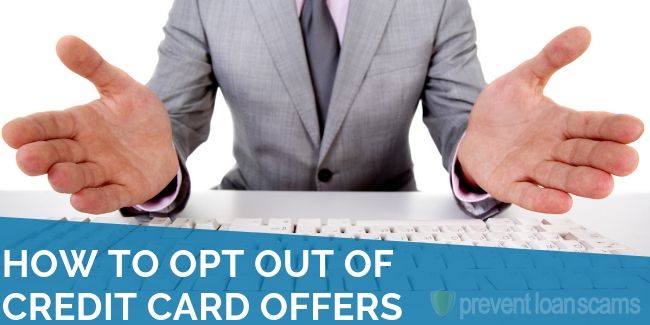 So how do you opt out of credit card offers?
Are you tired of having your mailbox, inbox, and voicemail box filled with junk?
The worst junk is the stuff from credit card and loan companies that looks pretty legitimate.
But when you open it up you're staring at a form saying that you could get $10,000 right now!
Banks, persona loan, and credit card companies likely fill your box with pre-screened offers that you almost certainly didn't ask for.
Perhaps once in a great while you have an interest in them.
However, more than likely it's junk.
The good news is that it's relatively easy to opt-out of credit card offers. Let's take a look at what these offers are.
We will explore how you end up with them in the first place and how you can be rid of them.
What are Pre-Screened Offers?
Pre-screened offers of credit come in a whole bunch of different forms. They come from a whole host of different companies.
Your mortgage lender may send you a credit card offer.
Your credit card company, or maybe a company like Best Egg, LendingTree, SoFi, or others may offer you a personal loan.
Additionally, your bank may offer you a refinance deal on your mortgage.
In short, there are lots of pre-screened offers out there. That is because financial institutions are always trying to get more business.
If you've got a house and a mortgage, it's likely that you'd need credit for purchasing things for that house.
The types of pre-screened offers you'll receive are dependent on several factors, mainly your credit report.
If you've got stellar credit, some debts and a great job, you're likely to get pre-screened offers based on those criteria, like solicitations for high rewards credit cards, home equity loans, and mortgage refinancing.
If you're struggling a bit or have some derogatory marks on your report, you may receive offers for things like secured cards or credit builder loans.
Financial institutions can buy your data anonymously from a whole host of different places and, using that data, target their specific needs.
For example, a bank may be looking to expand its profile to individuals with great credit living in a particular area of the country recently hit by a hurricane.
They can tailor and send credit offers just to highly qualified people in that area.
Perhaps they'd target single-family households with personal loan options, thinking that they can use the extra capital.
Essentially, financial institutions can send offers to consumers that they know will be high-quality borrowers.
How Did They Get My Address?
Your name and address can end up on a whole host of different lists for a variety of different reasons.
If you're already a customer with a particular financial institution, they're likely just extending marketing opportunities to you using information you've already provided.
If it's an affiliate of the company, they likely got your information from the same list.
For example, auto finance arms of big banks will often share their customer rolls with the depository portion of the bank, offering sign-up bonuses for things like credit cards or bank accounts.
Other companies may get your contact information from the public record.
If you own a home or purchased a vehicle, your name is likely present on a number of different government websites.
Financial institutions will scrape these sites for quality leads.
Remember, this isn't illegal and in fact, can be helpful if you really are in the market for financial products.
I Still Don't Want The Pre-Screened Credit Card Offers!
No problem. You can opt out of all pre-screened credit offers by visiting the Federal Trade Commission (FTC) website and opt out of pre-screened offers.
You can decide either to block pre-screened offers for five years or indefinitely, based on your name and address.
There are a few key things to know about this process, however.
irst, pre-screened offers can be helpful. They can help you understand the types of products for which you qualify if you're in the market for financial products.
Second, because the financial institution is sending you the offer, they have a very limited ability to turn you down if you decide to respond to it.