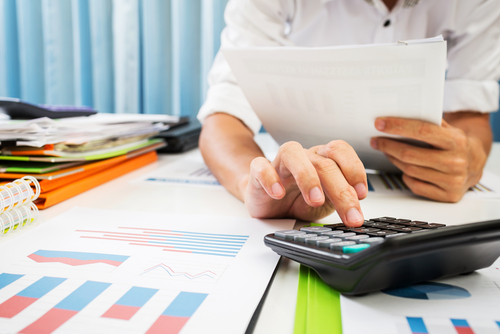 Palisades Collection LLC is a debt collector that may be hired by your creditor.
If you've noticed their name show up on letters in the mail, you'll need to deal with them as soon as possible.
If you begin dealing with Palisades Collection LLC early, you can prevent a lot of stress and credit damage later on.
What is Palisades Collection LLC?
Also known as ASTA Funding Inc., Palisades Collection LLC is a debt collection company that is headquartered in Englewood Cliffs, NJ.
They are often associated with AT&T collections, but they work with a variety of commercial debts like credit card and retail accounts.
Founded in 1998, they are considered an average-sized debt collector.
They have a staff of roughly 200 employees at their headquarters in New Jersey and report annual revenue of $24.1 million.
If you are overwhelmed by dealing with negative entries on your credit report,
we suggest you ask a professional credit repair company for help.
Does Palisades Collection LLC Have Any Complaints?
In the debt collection industry, it is relatively common for debt collectors to have complaints filed against them.
Unfortunately, Palisades Collection LLC has some unscrupulous collection practices that have resulted in complaints over the years.
The Better Business Bureau has closed 20 complaints against them in the last several years.
The Consumer Financial Protection Bureau has closed 43 complaints against them.
Additionally, they have been named as the defendant in 12 civil suits.
They have earned many of these complaints and lawsuits because of their disregard of consumer law.
I encourage you to read up on your rights under the FDCPA and FCRA so that you can be aware of your rights and enforce them.
If they abuse your consumer rights, you have every right to file a complaint.
You can also choose to sue for damages, but you will have to work with legal representation.
How to Deal with Palisades Collection LLC
We've broken down the ABCs of dealing with a debt collector below.
Keep reading to learn how to stop Palisades Collection LLC's collection attempts and get the collection account off your credit report.
Ask for Debt Validation
The most important and time-sensitive step when it comes to dealing with Palisades Collection LLC is asking them for debt validation.
Requesting validation is a massively important and often disregarded step in the process of dealing with a debt collector.
This step allows you to confirm that they are reporting correct and up-to-date information about your debt.
Your right to request debt validation is protected by the FDCPA and the FCRA.
However, you are only allowed to request validation within the first 30 days of hearing from Palisades Collection LLC.
That is why it is important to not procrastinate when handling a debt collector.
To request debt validation, write Palisades Collection LLC a Section 609 letter.
There are templates for Section 609 letters that you can use to create an official debt validation request.
Once you have crafted the letter based on your account information, send the letter via U.S. Mail.
Make sure to request that the carrier send you a return receipt so that you know when the collector gets your letter.
Within 30 days of receiving your letter, they should send you several documents meant to provide proof of your debt's validity.
Review them carefully and compare them with your own information about your debt.
If you happen to find any glaring errors between the two reports, you should contact the major credit bureaus and file a dispute.
Ask them to review Palisades Collection LLC's collection account for inaccurate reporting and provide evidence.
If the bureaus agree with your assessment, they will remove Palisades Collection LLC's account from your credit report.
The collector will also be forced to stop all collection for the debt.
Be Ready to Negotiate
Most people look at debt validation requests as a way to get out of jail-free.
In reality, it is pretty unlikely that Palisades Collection LLC will have any reporting errors large enough to warrant an account deletion.
Instead, you should be ready to work with them to negotiate a settlement.
You will specifically want to negotiate a pay-for-delete settlement with them.
Pay-for-delete settlements hinge on the fact that they paid less for the debt than what you actually owe.
That means that you can work with them to negotiate a lower payment on the debt in exchange for account deletion.
Begin by offering them 30% of the total balance in exchange for them to no longer report the debt to the credit bureaus.
It's not likely that they will accept this offer, so work with them to come up with a reasonable amount for a deletion.
Once Palisades Collection LLC agrees to remove the account, ask them to send a written contract for both parties to sign.
This will serve as physical proof that there is an agreement in place.
After you get this document, make an initial payment on the debt.
They should contact the bureaus to remove the account shortly after receiving your payment.
Credit Repair Professional
Palisades Collection LLC is not the easiest company to negotiate with on your own.
If you need some extra help, you should consider hiring a credit repair professional.
Credit repair professionals are amazing resources for people that are looking for some backup when working with debt collectors.
They can help you identify and remove damaging accounts from your credit report, which will boost your credit score over time.
I personally recommend working with Lexington Law because of its stellar customer service and outstanding success rate.
They know exactly what to say and do to get Palisades Collection LLC off your back – and your credit report – for good.
Conclusion
No one looks forward to dealing with a debt collector. However, you will thank yourself for doing it later on when you go to apply for a mortgage or loan.
If you have proprietary knowledge on how to handle Palisades Collection LLC, we'd love to hear from you! Leave us a comment below, and help others repair their credit after debt collections.