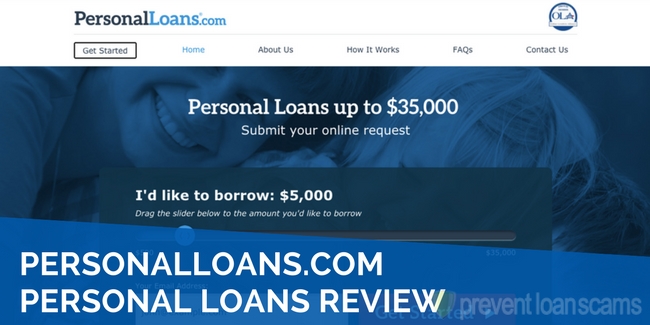 Personal loans can be an important tool to consider as part of your financial toolbox. Whether you're planning for a vacation, fixing a car, making home improvements or just consolidating other debts, personal loans offer a wide variety of options for consumers to fit their needs.
However, shopping around for and actually getting a personal loan can be a difficult process. Submitting the same information over and over to a variety of different lenders is tedious and boring. That's why sites like PersonalLoans.com exist. They take the hard work and tediousness out of shopping around by taking your application and presenting it to lenders for you.
About PersonalLoans.com
PersonalLoans.com is what is known in the lending industry as a lead generator. These are central websites that allow consumers to submit applications to a variety of different lenders.
It's important to remember that PersonalLoans.com is not the lender. They are simply the middle man. There is no charge for the service and you should be wary of any site that charges a fee for finding you a loan.
So How Does it Work?
Lead generator websites like PersonalLoans.com are beneficial to both the consumer and the lenders. The websites make it much easier for consumers to shop around and find personal loans, and it serves as a convenient place for lenders to find new, qualified business.
Lenders create profiles with their specific underwriting requirements loaded into the website. They will note the type of customer they are generally looking for based on income, credit score and other items.
When a consumer fills out an application, their application is run against the various lenders' profiles and a few selections are offered. Some sites will present a menu of available loans.
Others will have lenders contact you directly. PersonalLoans.com redirects you to the lender's website directly.
Who should use PersonalLoans.com?
PersonalLoans.com is a great option for:
Individuals who are comfortable using the internet to obtain financing.
Consumers who have good credit.
People who are comfortable with reading and understanding disclosures without meeting someone face-to-face.
What kind of loans does PersonalLoans.com offer?
As with any financial product, it's important that you understand what you're applying for & buying. The company offers:
Unsecured loans: this means that the loan you receive is not based on the collateral of any type of property.
Loans from $1,000-$35,000: the wide range allows you to select the right amount for you, no more, no less.
Fixed terms: the percent you pay each month will stay the same for the life of the loan.
Fully amortized: meaning that each payment you make goes toward both the principal and interest of your loan.
No prepayment fee: Why should you pay a fee for being a responsible borrower? You shouldn't. If a lender is trying to charge you additional money to pay off your loan early, you should consider other options.
Is there anything to watch out for?
Absolutely. PersonalLoans.com is a third-party site, which means they take your business seriously and generally want to do business with quality lenders. However, always be skeptical. You should look out for any personal loan financial product that:
Asks for a down payment as a condition of receiving funds.
Requires ACH as a condition of the loan.
Has terms that are vague or that you do not understand fully.
Offers terms, rates or loan sizes that are not legal in your state.
When in doubt, ask a professional. Additionally, be sure you understand what PersonalLoans.com does with your information.
When do I get my money?
It greatly depends on the lender you choose to go with after visiting PersonalLoans.com. Some lenders will offer to deposit funds the next day. Others may take a bit longer. If getting money quickly is important to you, ensure that you select a lender that offers rapid deposits.
I'm ready to apply
PersonalLoans.com makes applying very easy. The first step is on your own: ensure you have money to repay the loan!
Take a look at your finances and understand the disposable income you have available. If you have, say $500 left over at the end of each month, ensure that your payments do not exceed this amount (actually, you don't want to get close to this amount – leave some for yourself, too).
Next, gather the paperwork you'll need to submit your forms. Personal Loans requires:
Age/ID/Residency Status: this is usually obtained from your driver's license.
Income: in order to calculate the size of the loan and the term, PersonalLoans.com will need to know how much you make. Additionally, some lenders after your application may require verification, like a paystub.
Bank Account: A lender will generally deposit funds directly into your account.
Credit Type: You don't have to have great credit to get a personal loan, but you do have to show personal responsibility. Pay rent on time? No late credit card payments? Personal loans may work for you.
Then, you'll decide the type of product that is right for you. There are three main types that are offered by lenders that work with PersonalLoans.com.
Peer-to-peer: These loans pair you directly with an investor (see: Payoff for another company who offers this type of loan). This could be another financial institution (not a bank) or an individual. You'll have the same rights and protections as any other type of loan.
Personal installment loans: Similar to a peer-to-peer loan, except that you will always be working with a financial institution.
Bank personal loans: Again, very similar to a personal installment loan, except you'll work with and receive your funds from a bank. Contact your local branch or the bank you already have a relationship for more details.
Personal Loans.com – Types of Loans
| | Peer-to-Peer | Personal Installment Loans | Bank Personal Loan |
| --- | --- | --- | --- |
| Loan Range | $1,000 – $35,000 | $1,000 – $35,000 | $1,000 – $35,000 |
| Min. Income | $2,000 per month, must be verifiable | $2,000 per month | $3,000 per month |
| Min. Credit Score | 600+ | 580+ | 580+ |
| Income Source | Employed or Self-employed | Employed, Self-employer, or Benefits | Employed or Self-employed |
| Time for funds | 1-4 days | Next Business Day | 1-4 days |
| Origination fee | 1-5% | Depends | Depends |
Conclusion
PersonalLoans.com is an excellent way to obtain funds without having to go into a bank or financial institution. Additionally, having your loan application shopped around to different lenders for you makes your process easy. If you are comfortable with using the internet and applying for and receiving your funds online, PersonalLoans.com may be a great option for you.