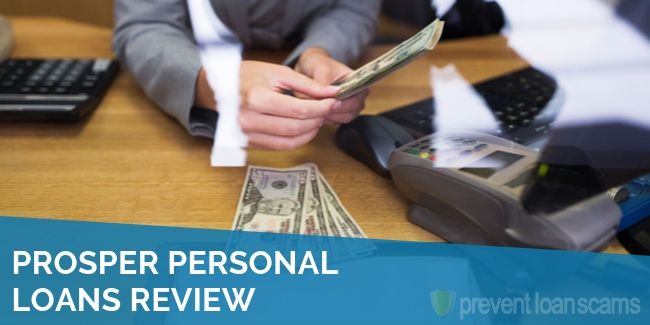 Peer-to-peer lending — or matching eligible borrowers directly with investors to fund loans — has been around for more than a decade. It has proven its ability to offer credit to consumers who may not otherwise be able to get it – this is where Prosper Personal Loans comes in.
Additionally, it can offer more flexible credit options to consumers who have decent credit but may need a larger loan than is normal or simply need to make a purchase quickly.
Prosper offers competitive rates. They also offer fees that can help you get the money you need to consolidate bills or make a large purchase.
Let's take a look at some of the features that make Prosper a great option.
About Prosper
Founded in 2005, Prosper was the very first peer-to-peer lender in the United States. Since then, the company has funded more than $12 billion in loans.
It focuses on individuals who are looking to borrow between $2,000 and $40,000. It's backed by a number of large investment partners.
The company offers a variety of different loans. Those include the standard personal loan and debt consolidation. It also offers loans specifically tailored for home improvement and a HELOC, a new offering.
Additionally, Prosper offers short-term or bridge loans. Those are for purchases where ready money is not quite available, but will be shortly.
Consumers often use this type of loan when flipping a house or a car. If repairs are needed before the sale, Prosper will create a loan for a small amount and on a short term.
The interest rate tends to be high. But if you're expecting proceeds from the sale of the home or automobile quickly, you can pay off the entirety of the loan.
How to Apply for a Prosper Personal Loan
As of 3/5/21, Prosper offers loans between $2,000 and $40,000 at 7.95-35.99% APR over a term of three to five years.
The minimum credit score is 640, which means that consumers who have less than stellar or poor credit can take advantage of some of what Prosper has to offer.
Funding is fast, generally the next day, and there is no penalty for prepayment, an important hallmark of a quality loan. There are some fees to be aware of.
Prosper charges a 2.4-5% origination fee and a late fee of either $15 or 5% of the unpaid amount, whichever is greater.
These fees can really add up if you are not careful. Additionally, the company charges a $15 insufficient funds fee.
Prosper gives a number of averages and ranges to make applying easier. While the minimum credit score is 640, the average is 717 (at the time of this writing). The company asks for a minimum credit history of two years, but the average is 11.
There is no minimum income requirement, but again, the average is nearly $90,000. You can see by looking at these averages that the company tends to take consumers who have relatively good credit and high incomes.
First, you'll get a quote from Prosper, paired with a soft pull of your credit. The company uses hundreds of data points, including credit history, to determine rates, eligibility and loan amounts.
If you're alright with the quote, they'll ask you to apply (with a hard credit pull) and you'll be paired with an investor who will fund your loan. Repayment is performed completely through Prosper. You won't work with anyone else.
You'll get a series of loan offers to look through from different investors. This allows you to tailor a payment plan and loan size and term that works for you.
Downsides of a Prosper Personal Loan
Prosper does not allow for cosigners and does not allow you to adjust your payment schedule. This can make repayment a bit difficult. Additionally, the company will not directly pay your creditors if you've applied for a debt consolidation loan. This puts the onus on your to pay your creditors directly.
Additionally, if you're interested in the new HELOC offering, it's limited to only Alabama, Arizona, Florida and Texas. A home equity line of credit allows you to borrow money against the equity in your home.
Prosper will place a lien on your home and you need to pay off the amount before you can sell your home. For consumers who have damaged credit but own a home with plenty of equity, a HELOC can be an excellent way to consolidate debt and ensure you're paying off necessary debts.
Prosper personal loans and other products are a great option for a variety of different borrowers and use cases. You should ensure that you have decent credit and a fairly high income before you apply. Additionally, if you're getting a loan for debt consolidation, ensure you have a plan to pay off the creditors, as Prosper will not do this for you directly.