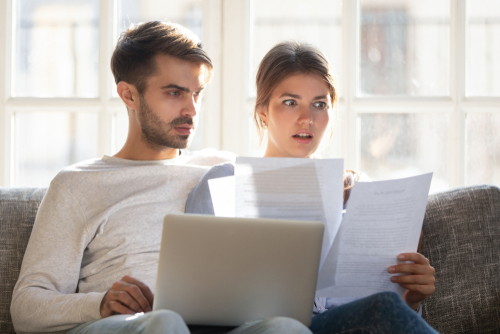 Have you been contacted by Radius Global Solutions, LLC?
If so, don't panic – but you will need to take action.
Even if the debt isn't legitimately yours, ignoring it has the potential to make it yours by default.
You'll need to face the situation head-on, and take whatever steps are necessary to delete the collection account from your credit report.
Who is Radius Global Solutions?
Based in Edina, Minnesota, Radius Global Solutions is a debt collection company that has been in business since 1982.
With 14 offices and more than 3,700 full-time employees both within and out of the United States, they are one of the larger debt collectors in the collection agency space.
Radius Global Solutions has a Better Business Bureau rating of "A+", which is the highest rating BBB.org provides, on a scale of A+ to F.
However, it has over 1,000 complaints lodged with the Consumer Financial Protection Bureau (CFPB).
Around 190 complaints with the BBB, despite claiming to provide business process outsourcing (BPO), account recovery, customer relationship management, and healthcare revenue cycles in a regulatory environment.
This is important information to know when dealing with a debt collection agency.
A company as large and well-rated as Radius Global Solutions should never be ignored.
Even if you believe the debt obligation they are contacting you about, or is showing up on your credit report, is not legitimately yours, you should still be proactive in working with them.
Your goal needs to be to get the obligation removed, which may come about by one of several methods.
Who Does Radius Global Solutions Collect For?
They collect debts for a wide range of organizations, including:
government and education agencies
retail and consumer goods
utilities
communications companies
entertainment and hospitality businesses
healthcare organizations
transportation agencies
financial services such as various credit card companies
What To Do After Radius Global Solutions Contacts You
A natural reaction to a call or letter from a collection agency is to either deny or ignore it.
Neither of those is a workable strategy.
Though some collection accounts do have a way of just going away on their own – usually when they're small or an old debt – larger and more current debts can follow you for years.
If you don't deal with them quickly, they can turn into legal matters and become much more complicated. Your mission is to prevent that outcome.
Do not provide information over the phone
If Radius Global Solutions contacts you by phone, which is most common, your job is to simply listen and take notes. Don't answer any questions, don't volunteer any information, and don't offer to make a payment unless you're completely serious about it.
If you first become aware of a collection with them after receiving a letter or an entry on your credit report, you can call to follow-up. But follow the same rules as above – ask questions and find out what's going on – but answer no questions and offer nothing.
Whenever you engage in a phone conversation with the collection agent, whether you contact them or they contact you, it's almost certain your conversation is being recorded.
There's a good reason why that's happening – the collection agency plans to use the content of the conversation as potential evidence against you if they need to implement a lawsuit.
By not providing any information or making any promises of payment, you'll keep yourself out of trouble. Use any telephone conversations as an attempt to get information, but not provide it.
And as a general rule, your first phone conversation with Radius Global Solutions or any other collection agency should also be your last.
From this point forward, your contact with the agency should be strictly in writing. That will both give you an opportunity to create a paper trail of your own evidence, as well as to avoid saying something in a phone conversation you shouldn't say.
How To Remove Radius Global Solutions from Your Credit Report
Get a Copy of Your Credit Report
One of the problems with collection agencies is that they often play a shell game with the debt.
Since there are three major credit bureaus, Equifax, Experian, and TransUnion, a collection account can appear on one or two credit reports and not on the other(s).
But it may later appear on a credit report where it originally didn't.
For that reason, you'll need to get a copy of your credit report from all three credit bureaus. That's the only way you'll know the extent of the damage caused by the collection account.
You can do this free of charge through AnnualCreditReport.com. They're the only source officially authorized to provide you with a copy of your credit report from all three bureaus.
When the report comes in, examine it carefully and look for Radius Global Solutions. At the same time, be looking for any accounts under different names that have similar amounts and dates.
Your credit report may show the original creditor in addition to the collection agency. And it's not unusual for one collection agency to sell a debt to another. It's possible to have more than one notation for the same account.
However, it is possible – but highly unlikely – that Radius Global Solutions did not report the collection with the credit bureaus yet. They may be attempting to get you to settle the debt before going that route.
However, don't assume the debt isn't legitimate because it's not on your credit report.
Get a Free Copy of Your Credit Report
Make Radius Global Solutions Provide Debt Validation
A debt validation letter is a document that will be supplied by the collection agency that must provide all relevant information regarding the collection account.
That includes:
the name of the original creditor
date of the original obligation
date it allegedly went delinquent
specific amount owed
other important information
You should be aware that many collection accounts are the result of a debt owed by someone with a similar name as yours.
If you suspect that to be the case, you'll need to press Radius Global Solutions or the original creditor to supply information on the original debtor. There's an excellent chance that won't be you.
The debt validation letter will either confirm or invalidate the debt. For example, if Radius Global Solutions is unable to supply important information about the obligation, they're required to delete the information from your credit report.
If they don't, you can submit the debt verification letter to the three credit bureaus and ask them to investigate.
They will have 30 days to conduct their investigation, and if Radius Global Solutions can't supply complete details, the credit reports are required to delete the information.
Negotiate a Pay-For-Delete Agreement
If the debt validation letter confirms that the debt is yours, your best course of action is to settle as quickly as possible.
If it's a small amount, you may want to pay it in full. But if it's a large amount, and particularly if it's old, you should offer to pay less than the full amount.
That may start a negotiation process in which you'll pay more than your original offer, but less than the full amount owed.
Once an agreed-upon amount is established, get written confirmation that Radius Global Solutions will accept that amount in full satisfaction of the debt.
Do not send any money until you receive that letter. It will be your only defense if Radius Global Solutions accepts the partial payment, then reverts to attempting to collect the original balance.
It will also give you written evidence if you have to go to the credit bureaus directly.
What if Radius Global Solutions Doesn't Cooperate?
Not all collection agencies are cooperative. If you find that to be the case with Radius Global Solutions, consider working with a good credit repair company.
Since they know the collections business, they'll be able to deal more effectively with Radius Global Solutions.
There may be certain circumstances where you'll need to go beyond a credit repair company and engage the services of an accredited attorney.
If so, Lexington Law is an excellent choice. Collection agencies are much more flexible in dealing with a law firm than our consumers and even credit repair services.
Dealing With Radius Global Solutions
If your initial contact with Radius Global Solutions was a phone call, all subsequent contact will need to be not only in writing, but by certified mail.
This will provide evidence that letters to Radius Global Solutions were not only sent, but also received by the agency. In this way, you'll be building your own legal case against Radius Global Solutions.
The advantage of written correspondence is that it can be limited to the facts only. It will give you an opportunity to request information or get confirmation of agreements, without providing any information yourself.
That's much easier to do in a letter than it is in a phone conversation. After all, collection agents are trained and experienced when it comes to getting information and concessions out of consumers. That's why phone conversations are best avoided entirely.
And whether your contact is by phone or in writing, never make a promise to pay any amount to Radius Global Solutions unless you fully intend to follow through and send the funds.
If you make a promise, then renege, Radius Global Solutions may use it as evidence against you in a lawsuit.
What Can Radius Global Solutions Legally Do?
Generally speaking, they will not pursue you legally as long as you are cooperating with them.
Lawsuits can enter the picture when the collection agency determines you are not cooperating.
That doesn't mean you should pay a collection simply out of fear of legal action.
If the debt is not legitimately yours, there are steps you can take to have the collection removed from your credit report. But if the obligation is yours, and you refuse to settle, that can invite a legal response from the collection agency.
Radius Global Solutions can bring a lawsuit against you based on the evidence they have of your obligation on the debt. Unless you can prove in court that the debt isn't yours, the agency can get a judgment against you, which could lead to the garnishment of your wages until the debt is paid.
One of the problems with a debt-related lawsuit is that you may not even be aware it's happening. You may get a single piece of correspondence advising you of the lawsuit.
If you don't read it, under the assumption it's junk mail, you may fail to show up for your court date, in which case Radius Global Solutions will get a summary judgment against you.
And once a judgment has been declared, the only way to make it go away is to pay it.
Never let it get that far!
Your Rights
You should be aware that you have rights in dealing with a collection agency under federal law.
These rights are guaranteed under the Fair Debt Collection Practices Act (FDCPA).
By knowing what your rights are, you can level the playing field. They know the law too, but they're hoping you don't.
You can learn what your legal rights are by reviewing the Debt Collection FAQs provided by the Federal Trade Commission (FTC).
Knowing your rights under federal law can help make an aggressive collection agent more reasonable.
Complaints
More than 170 complaints have been filed against Radius Global Solutions through the Better Business Bureau.
The majority reference attempts to collect debts allegedly owed to businesses and organizations that consumers have never had relationships with.
To their credit, they have answered virtually all the complaints we've reviewed.
However, only a small number of complaints report as resolved. That means the majority of complaints remain open as submitted.
Radius Global Solutions Contact Information
Here's a little contact information on the global company:
Mailing Address: 7831 Glenroy Road, Suite 250 Edina, MN 55439
Other Office Address:

50 West Skippack Pike Ambler, Pennsylvania 19002
108 Thomas Circle Monticello, MN 55362
4370 W 109th Street, Suite 100 Overland Park, KS 66211

Other Call Center Locations: Decorah, Iowa, Jacksonville, Florida, Ramsey, New Jersey, Houston, Texas, Missouri, Minnesota, Kentucky, Montego Bay, Jamaica, India, and Panama
Phone Number: (952) 831-4005
Website: www.radiusgs.com
The Bottom Line
Just because you are contacted by Radius Global Solutions, doesn't mean you owe the money.
Make them prove you do through a debt verification letter.
And if you don't feel comfortable challenging the debt yourself, hire a credit repair service or a credit attorney.