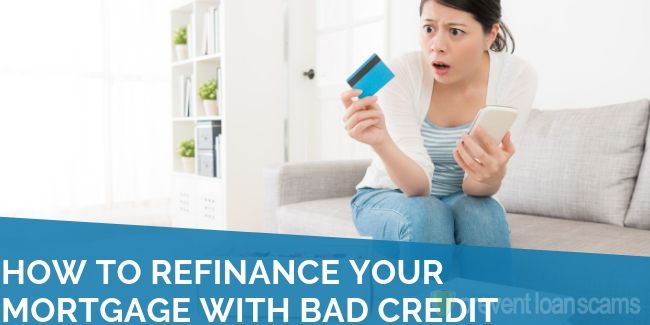 Let's take a look at how to refinance your mortgage with bad credit.
Refinancing your mortgage can be a helpful way to get your monthly expenditures down. More than that, in a rate-friendly environment, you can save lots of money over the long term.
However, we often think of refinancing mortgages as something that people who have great credit reports and scores are able to do. Realistically, this is correct.
However, people with less than stellar credit can still refinance their mortgages. They can also get their monthly payments down and end up paying less over the course of their loan.
It may even be possible if you've had to file for bankruptcy previously.
How To Refinance Your Mortgage with Bad Credit
There are a few things that you can do to increase your chances of being able to refinance your mortgage with bad credit.
Do Your Research & Shop Around
If you've got bad credit and are working to repair it, you're probably already experienced at shopping around as much as possible. There's no bigger purchase (or re-purchase, in this case) than your house. So shopping around for a refinancing loan is one of the most important things you can do.
First, ensure you understand what your goals are. If you're having trouble making ends meet each month, you're likely looking to lower your payments.
Understand that this is possible in a refinancing situation, but you'll likely have to sacrifice something else. That could be the overall cost of the loan.
If your main goal is to lower the overall amount you'll pay over the entire term of your loan, meaning you want to pay a lower interest rate, this is possible as well. But understand that the payment each month may be higher.
You can find a middle ground here. None of these observations are hard and fast, so ensure you do your due diligence.
Second, consider who is offering you the loan. Take advantage of other offers that may be available.
Credit unions, for example, often offer attractive refinancing rates to members who have other loans with the financial institution. If you're on the edge of qualifying for a mortgage refinance loan, this existing relationship may be enough to push you over the edge.
Additionally, ensure your credit report is in tip top shape. Most credit card companies and financial institutions now offer free credit reports and scores.
If they do not, you can access your free government-sponsored credit report. You could also quickly purchase one from one of the three main bureaus.
Look for inaccuracies and duplicate entries. Be sure you understand exactly why your report and score are damaged. If you need help here, consider contacting a reputable credit repair company.
Finally, shop around at a variety of different lenders. Even though your credit is damaged, you can still shop around for rates and take a small number of inquiry hits to your credit report.
It is better yet if they are soft inquiries. Lenders will see that you are shopping around for rates and factor that in appropriately.
Better yet, consider using an aggregation website to collate your rates for you. One example is LendingTree.com.
Here, you'll be able to submit your information, including existing debts, job information and grab a credit report, and have lenders pitch to you. Sites like Credit Karma can also make suggestions on the best options for you based on your existing credit profile.
Show Your Work
If your credit report has a few blemishes, it makes sense to upsell the other factors that would make you an attractive borrower to financial institutions. Make sure you include up-to-date figures about your work, including how long you've been there, when you receive paychecks, and how much you make.
Additionally, ensure that you include any savings or investment account balances. While these don't necessarily show your liquid assets, they do tell a story of fiscal responsibility aside from some credit errors.
No need to go nuts, however. Banks don't care how many cats you have or where your favorite burrito place is.
If you're filling out an application and notice that there doesn't seem to be a place to include all the information you want to, consider sending a cover letter. It may seem a bit unorthodox these days, but in the past it was fairly common to include a business-style cover letter when applying for credit. It can show that you are intelligent, articulate and understand the gravity of the contract into which you're entering.
Co-signers
A family member, partner or very close friend can also help you refinance your mortgage. Co-signers serve as guarantors in financial transactions.
In essence, they are telling the bank that if you don't pay the bill, they will. Make sure that the co-signer has better credit than you, not equal, and is in a stable financial situation.
This is a mistake people often make. In the world of financial transactions, two damaged credit profiles don't necessarily equal one quality profile. You want to have someone who has a great track record with debt.
Additionally, make sure that you and the cosigner understand that this is a heavy decision. If you don't pay, they will be legally obligated to do so. This can obviously make things financially and emotionally awkward.
Government Refinancing
If you're truly in trouble, the federal government has a number of programs to help borrowers lower their mortgage payments. The Home Affordable Modification Plan, or HAMP as it is known, can lower your mortgage bill to as much as 31% of your monthly pre-tax income.
That is quite a savings. The Home Affordable Refinance Program, HARP, in this case, helps underwater homeowners in the same way and was enacted after the 2008 financial crisis.
Be sure to reach out to the Department of Housing and Urban Development (HUD) for assistance. This government agency can offer free counselors to help you wade through these murky waters.
Don't Forget to Check the Loan You Have!
Your current mortgage lender may offer assistance for individuals who are having trouble paying their bills. These can include loan modifications, interest rate changes, forbearance, deferment or even simpler refinancing.
The Federal Housing Administration (FHA), which offers a number of loans, can help streamline this process and often doesn't require an appraisal of your home to participate.
Refinancing your mortgage when you have damaged credit can be difficult, but it isn't impossible. Do your homework and ensure that you have your ducks in a row. And shop around!