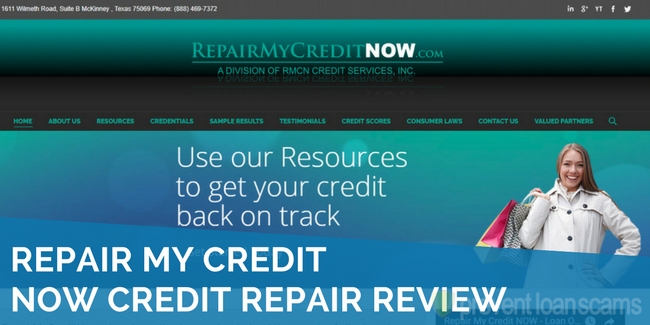 Our review of Repair My Credit Now (also referred to as RMCN throughout) reveals a credit repair company with heart.
However, deciding to hire a credit repair agency requires thorough research. A surface-level understanding of the way a company treats its customers may not be enough.
Though their passion is big and it shows, they have still had some big critics. We've taken a closer look at Repair My Credit Now to help you make a decision about hiring them to repair your credit.
Hiring a credit repair company is often not cheap. Aside from the cost, there are important considerations: discounts, guarantees, and the all-important question of the actual quality of service.
What We Like About Repair My Credit Now
It's clear from their website that Repair My Credit Now leads with their values. On their website they've posted "thank you" letters from charities they've worked with and extensive free resources that anyone could use for credit education.
This shows that the people who work there care about more than signing up customers and getting good reviews online. Here's what we like about RMCN.
1) Mission and Values
RMCN's mission is to have a positive impact on the lives of their employees, community and customers.
Their core values are balance, excellence, knowledge, community, celebration, adaptability, determination and communications.
2) Know Their Customers
Doug Parker, Repair My Credit Now's Founder and current CEO, started the company after having his own problems with credit.
Knowing what it's like to have credit issues means Doug can empathize with customers.
3) Credit Education
RMCN provides extensive educational resources for free on their website. Many other credit repair agencies do this as well, but they stand out because of how much information they provide.
In addition to a blog and videos, RMCN has detailed consumer law information posted on their site for free, such as the full Fair Credit Reporting Act.
4) Hands-On CEO
When looking at the company reviews online we noticed that the CEO took time to respond, particularly if they are negative.
He apologized for the bad experiences customers said they had. He would also provide his contact information in an attempt to amend any problems.
What We Don't Like About Repair My Credit Now
Even though there are a lot of positive qualities about Repair My Credit Now, there are some aspects that would go in our 'cons' column.
When deciding if you want to move forward with RMCN's services, you'll want to consider both pros and cons. Here's a look at what we don't like about RMCN.
1) Government Action
Records show that in 2014 the Federal Trade Commission announced RMCN had agreed to a permanent injunction and civil penalty.
Following the government action, RMCN has been permanently prohibited from making untrue statements to consumer agencies, and from charging fees in advance for restoration services.
2) Lack of Transparency
For information on how much Repair My Credit Now's services cost, we went to their reviews — most of them negative.
Considering the government action against them in 2014, it might help the company to improve their image to be upfront regarding how much the service costs, and how much customers could expect to spend.
Potential customers would also want to know about having an account with RMCN; for example, the sign-up steps, who works on customer accounts and an average of how long the process takes.
3) Questionable and Negative Reviews
All of Repair My Credit Now's reviews are either very positive or very negative.
We also noticed a couple reviews that were posted on review pages that seemed to be from the company, and not directly from customers.
Lastly, it's the BBB has given the company a C+ rating (at the time of this guide's last update, June 30, 2019).
Repair My Credit Now Reviews
RMCN has a mix of positive and negative reviews online. For the following summary we looked at the company's reviews with the Better Business Bureau (BBB), Google and Yelp.
The BBB page hosts 10 positive reviews. There are some positive reviews on the company's Google profile and a few reviews on Yelp that are both negative and positive.
Most of the positive reviews say much of the same thing: customers had an issue with credit before getting in touch with RMCN and after working with their team their bad scores raised and they were able to get the items they wanted.
However all the reviews are nearly all negative or all positive, and nearly all of the positive reviews sound very similar. One reviewer says: "…me and my husband are delighted to say that our credit score has improved so much."
One theme we found in positive reviews was that prices for RMCN services were relatively high. Negative reviews repeated this sentiment, as well.
A couple of the negative reviews also mentioned that after they cancelled with Repair My Credit Now, the customers were able to repair their credit on their own. Fern Poyser left a Google review that says: "They… charged me over $1,500. I managed to get a bankruptcy and all inquiries DELETED ALL BY MYSELF WITH MY OWN DILIGENCE AND HARD WORK."
How Does Repair My Credit Now Work to Repair My Credit?
RMCN helps customers repair credit by using a patented technique called the '"V" Phase Process®'.
They say that this process is unique to Repair My Credit Now, and helps them to remove all inaccuracies from customers credit reports.
In summary, the process involves getting your credit report from all three bureaus. This is one of the initial steps (as it would be with any credit repair program). An RMCN representative will audit and raise disputes with creditors based on the accounts listed in your report.
RMCN says that part of the process is submitting multiple dispute letters after getting responses from the credit bureaus.
The fourth step in the process is "[r]e-establishing credit with installments and revolving credit (if required)." It's not clear how this step happens; for example, if they help you apply for more credit or will give you a credit card.
Finally, Repair My Credit Now will review your file and give you guidance. Throughout the restoration you will receive 'updates about the process'.
If you're going to sign up for their services, make sure you're clear on what they're going to do and what you're paying for. It's the law that credit repair companies give this information potential and current customers.
What Can Repair My Credit Now Remove From My Credit Report?
Based on the results and information RMCN has posted to their website, the company is able to remove the following inaccurate & negative info from credit reports:
The US Federal Trade Commission (FTC) says that accurate negative information on a credit report can only be removed with time. They also warn that credit repair companies cannot tell customers to dispute information on their credit report that is accurate.
While RMCN may have been able to remove certain accounts from customers' credit reports in the past, this doesn't mean the company can guarantee results for the future.
How Much Does Repair My Credit Now Cost?
There was no information from Repair My Credit Now's website that detailed how much their credit restoration process costs, but we did find some online reviews that indicated how much customers spend for RMCN's services.
On the lower end some customers mentioned paying a little over $800 to have their credit fixed. One reviewer mentioned that this was supposed to be a one-time fee, but that they paid $800 to get their credit fixed and paid additional monthly fees.
On the higher end, some reviewers mentioned spending over $3,000 on RMCN, and one reviewer said they paid nearly $4,000.
A few reviewers mentioned the cost to be a customer was expensive and we would have to agree, particularly when compared to companies that offer competitive services like and Sky Blue Credit and Lexington Law.
What to Expect When Signing Up
Signing up starts with a free credit evaluation. Potential customers can fill out a form that's on the company site and asks for some basic information.
The form asks for your full name, day and mobile phone numbers, email address, the state you live in and how you learned about RMCN's services.
Click the green 'Get Started' button and your information will be sent to RMCN so that they can contact you to set up your account.
You can also call the company directly to start the process for a free evaluation of your credit report and score.
What Results Can I Expect from Repair My Credit Now?
RMCN says they can remove:
"bankruptcies, tax liens, judgments, slow payments, charge-offs, foreclosures, and collection accounts through credit repair".
But this doesn't guarantee that they'll be able to repeat these results, as the negative reviews and complaints posted online show.
Some of RMCN's past customers have reported that the company did nothing to help them restore their credit, but other customers have said their credit is now 'perfect' since working with the company.
One potential long-term result is being able to build and manage your credit on your own after working with RMCN. This would depend on using the educational services the company provides.
When To Use Repair My Credit Now
If you're thinking about hiring a credit repair agency, you'll want to at least understand all of your options.
But there's no real specific credit repair case when you would use RMCN as opposed to any other agency.
RMCN does offer some extensive educational resources on their website, so if you're looking to learn about consumer laws, consider browsing the agency's website.
Aside from this, you may want to consider hiring a credit repair agency if you've been turned down for a loan for a car, apartment or job. Before hiring an agency, however, consider doing your own credit repair.
Company Background
Who Is Repair My Credit Now?
They are a credit repair company that offers education and restoration as core services. According to their LinkedIn profile, the company employs over forty people.
A few key attributes set them apart from other credit repair agencies, according to their website: first is 'in-depth knowledge and expertise'.
They also say their specialists have an 'eye for detail' that helps clients, a 'holistic' approach to the process of restoring credit, a 'third-party' approach to research, and 'debt validation'.
Their mission is to:
"… be a company that has a positive impact on the lives of our employees, the lives of our clients and our community. DO WHAT'S RIGHT!"
Who Owns Repair My Credit Now?
RMCN is owned by Doug Parker, the company's current CEO. Doug started the company in 1997 after having problems with his own credit.
His personal experience led him to research credit repair, and use what he learned to work on his own credit.
In Doug's years as CEO, RMCN has been recognized multiple times for its growth by Inc. Magazine.
Where Is Repair My Credit Now Located?
RMCN offices are located in the city of McKinney, Texas.
The company is active in the local community. They participated in Habitat for Humanity and a local blood drive in 2015.
Frequently Asked Questions
Does Repair My Credit Now Offer a Guarantee?
There is no evidence that RMCN offers any guarantee of their services. In the reviews we looked at, customers did not mention money back or service guarantees.
There is a limit to the kinds of guarantees credit repair companies make. However, many agencies offer money back if a customer is dissatisfied with their service.
If you're planning to approach RMCN regarding credit restoration services, be sure to ask about guarantees.
Can deleted items reappear on my credit report after my credit is repaired by RMCN?
An item that is removed from your credit report and added again is not deleted. It doesn't matter if RMCN is handling your credit repair or if you decide to do it yourself.
In the credit industry, when an account is removed from a credit report and re-added, it was "soft deleted". When a dispute is sent to a creditor, they have 30 days to respond to the dispute.
When those thirty days pass, the disputed item is removed from a credit report. But even though this looks like a deletion, after the item is reviewed and found to be accurate it will be re-added to the report.
If you're working with a credit repair agency or doing your own repair, make sure you're clear on what's happening with your report.
How Long Does Repair My Credit Now Take to Repair Your Credit?
There's no information online that indicates how long it will take for RMCN to repair your credit. Information from online reviews can help us get an idea of how long their program will take.
One former customer who submitted a complaint to the BBB mentioned that they were told it would take three months for them to repair their credit, but claimed they didn't see any changes with their report after seven months.
Another reviewer said that he has seen RMCN help customers raise their credit scores in sixty days.
Is There a Couples, Family, or Active Military Discount?
Based on the research we conducted, RMCN does not offer discounts for couples, family or active military.
Many credit repair companies offer these types of discounts for new customers. If this is important to you, consider looking at an alternate agency for credit restoration.
What Are their Hours?
RMCN's offices are open Monday to Friday from 9 a.m. to 6 p.m. (according to their Yelp profile).
What is their Phone Number?
RMCN can be reached at the following phone numbers:
Toll Free: (888) 4-MY-REPAIR
Office: (972) 529-0900
How do I cancel my membership?
If you want to cancel your RMCN membership, call their office and speak to a representative directly. We also recommend sending an email so there's a record of when you requested your membership canceled.