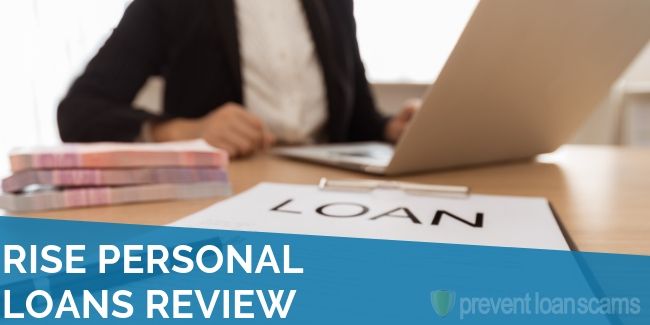 RISE personal loans attempt to access this very market.
By focusing on the subprime market, RISE is able to tailor loans that specifically help consumers build a positive credit history and begin to…rise, out of lower score tiers.
In fact, this is exactly RISE's goal.
Not everyone has stellar credit, and if you don't, it can be incredibly difficult to get funding for ordinary things like homes, cars, and other incidentals.
The internet and data analytics have made it more possible than ever before to provide credit to consumers that may not have the best credit score.
This is a great thing for both financial institutions and consumers.
Institutions get to lend with a higher degree of confidence that the loan will be repaid and consumers get access to the credit they need.
Let's take a look at the company, who it's right for, and what it offers.
Why RISE?
The company's Why Rise page details its view on consumers and the role it can play in building a better credit history for damaged reports and scores. The company's name is more than just a clever slogan — its goal is to help its members progress to better rates over the life of a loan.
Additionally, they offer products with very flexible terms that allow the consumer to match a schedule the works for them. Get your paychecks at odd times? RISE is generally able to tailor repayment plans to each individual.
RISE also offers a five-day, risk-free guarantee. If a consumer changes their mind, they only need to repay the principal and they will not charge any fees or interest. State laws often say this, but RISE takes it a step further by adding time to the guarantee.
One of the defining factors of RISE products is the on-time payment rate drop. If you make a number of payments on time, RISE will automatically lower your APR. For consumers who may have lower credit, a lower APR can be a lifesaver.
Finally, members have access to their TransUnion credit report and score, and the company reports their payment history to credit bureaus. This means that eventually, with on-time payments, you can credit repair yourself out of RISE loan products and get approved for better rates, longer terms and higher amounts.
About RISE Personal Loans
RISE offers traditional installment loans that are fully amortized, have defined payment terms, and feature clear payoff dates. Additionally, fees are prorated, meaning that there are no balloon payments or early termination fees.
Requirements & Features
Minimum credit score: 500
Term lengths: 4 to 26 months, although it varies by state
APR range: 50.00% – 299.00% (as of 3/24/21) although it varies by state
Loan amounts: $500 – $5,000, although it varies by state
Time to funding: 1-2 days if you choose online deposit; 7-10 days if you choose a paper check
Credit check: If you apply for a loan, RISE will do a hard pull credit check
Origination fee: N/A
Prepayment fee: None
Late payment fee: None
Other fees: None
RISE also takes a vested interest in your financial future. Along with your loan, credit report and credit score, you'll get access to RISE's tool that helps you budget and plan your loan repayment. This takes the form of spreadsheets and calculators that help you determine how much money you're committing each month to your loan, rent or mortgage, utility bills and other obligations.
The company also offers a flexible payment due date scheduling tool. On the Design Your Loan page, RISE allows consumers to select a number of different due dates that fit your schedule.
Additionally, RISE offers a seven day grace period for those times when consumers just need a day or two more to make a full payment. And as with all quality credit products, RISE loans allow you to make extra payments, which go toward the principal. Making these payments will help you pay down your loan faster, thereby reducing the overall cost.
Applying
Applying for a RISE personal loan is fast and simple. The site advertises that you could have money in your bank account as soon as tomorrow. This tends to be the case.
First, you'll fill out a credit application with your personal details, including your Social Security Number. The company will perform a hard inquiry on your credit report, meaning your score will take a hit.
Next, you'll confirm your loan size and the terms and sign. Finally, you'll choose your delivery method, either online or via paper check.
Who should/shouldn't get a RISE personal loan?
If you've got damaged credit and a low score, RISE personal loans could be perfect for you (similar to NetCredit personal loans). Approval is quick and funding is within a day, if you choose to be paid via wire. You'll also receive a free credit score and tools to help you manage your finances. If you make on-time payments, you APR may drop.
RISE is not right for consumers with good credit — you can definitely find more affordable options elsewhere. Additionally, RISE isn't available in all states. If you live in Arkansas, Colorado, Connecticut, Iowa, Louisiana, Maine, Maryland, Massachusetts, New Hampshire, New Jersey, New York, North Carolina, Pennsylvania, Rhode Island, South Dakota, Vermont, Virginia and West Virginia, you can't get a RISE loan. Finally, if you're a member of the military, you won't be able to get a loan due to the rates charged by RISE.
RISE personal loans are an excellent option for consumers who have damaged or no credit. The fast application, term selection and quick payment allows consumers to get the money that they need quickly and easily.
Additionally, the RISE financial wellness tools, including budgeting spreadsheets and loan calculators, allow consumers to make better financial decisions that will help them "score out" of RISE personal loans.
RISE's Score Drop feature allows consumers that make on-time payments to realize actual rewards — the company will drop the APR, thereby making the loan cheaper. If you have a low credit score and need fast money, RISE is an excellent option.